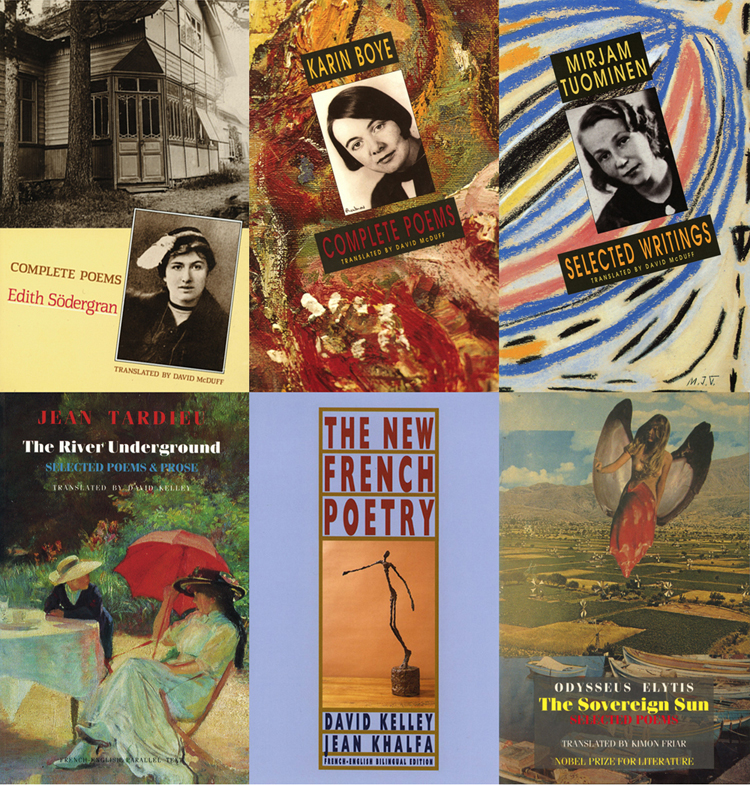 Bloodaxe reissues European poetry classics
Bloodaxe is reissuing a range of European poetry classics, including complete editions of the poetry of the trio of great Scandinavian women poets – Edith Södergran, Karin Boye and Mirjam Tuominen – translated by David McDuff.
Other poets whose books are being reissued include Greece's Nobel Laureate Odysseus Elytis, translated by Kimon Friar, and France's Jean Tardieu, translated by David Kelley.
Some key Bloodaxe anthologies are also once again available, including David Kelley and Jean Khalfa's The New French Poetry, Nathan Hamilton's Dear World & Everyone In It, Menna Elfyn and John Rowlands' Bloodaxe Book of Modern Welsh Poetry, Andrew McAllister's The Objectivists, and Robert Hass's The Essential Haiku.
Denise Levertov's New Selected Poems is also back in print, as is Edna Longley's classic study of 20th century Irish poetry, The Living Stream.
The translations of the European poetry classics in particular have been unavailable for several years:
When she died in poverty at 31, Edith Södergran (1892-1923) had been dismissed as a mad, megalomaniac aristocrat by most of her Finnish contemporaries. Today she is regarded as Finland's greatest modern poet. Her poems – written in Swedish – are intensely visionary, and have been compared with Rimbaud's, yet they also show deep affinities with Russian poetry, with the work of Blok, Mayakovsky and Severyanin in particular. David McDuff's translation of her Complete Poems (1984) was one of Bloodaxe's first poetry in translation titles.
Karin Boye (1900-41) is Sweden's greatest woman poet, a poet of ideas, best-known for her powerful prophetic novel, Kallocain (recently translated by David McDuff for Penguin Classics). Intellectually and emotionally, she was far ahead of her time, developing an interest in psychoanalysis during the 1920s. Her controversial writings included the novel Crisis, in which she depicted the religious turmoil of her adolescence and her discovery of her own bisexuality. David McDuff's translation of her Complete Poems was published in 1996.
Mirjam Tuominen (1913-67) was a major Finland-Swedish poet and short story writer, as well as a distinguished essayist, translator and artist. Her work progressed through traditional prose, modernist poetry and abstract painting to Roman Catholic mysticism. David McDuff's edition of Mirjam Tuominen's Selected Writings, first published by Bloodaxe in 1996, includes selections from her poetry and stories, as well as her seminal essay Victim and Tormentor. It is introduced by her daughter, the writer Tuva Korsström, whose prize-winning biography of her parents caused great controversy in Finland and Sweden last year.
Odysseus Elytis (1911-96) won the Nobel Prize in Literature in 1979. With Seferis and the 'Generation of the Thirties', he introduced French Surrealism into Greek poetry. First published by Bloodaxe in 1990, Kimon Friar's translation The Sovereign Sun begins with his brilliantly sensuous early poems. It has large selections from his master work, Axion Esti (1959), and includes the whole of his Heroic and Elegiac Song for the Lost Second Lieutenant of the Albanian Campaign (1945). His Nobel Prize citation stated: 'Against the background of Greek tradition, his poetry depicts with sensuous strength and clearsightedness modern man's struggle for freedom and creativeness.'
Jean Tardieu (1903-95) was actively involved with the literary Resistance during the German occupation of Paris. His poetry has an almost child-like simplicity, notable for its great immediacy and sense of fun. Tardieu was writing what was subsequently dubbed Theatre of the Absurd before Beckett's and Ionesco's plays had ever been performed in public. First published by Bloodaxe in 1991, David Kelley's selection of his poetry and prose, The River Underground, spans 80 years of Tardieu's writing. This dual-language French-English edition includes the sequence Space and the Flute (1958), which Tardieu wrote for drawings by his friend Pablo Picasso which are reproduced here with the poems.
For more details of any of these books, please click on their highlighted titles.
[06 August 2020]