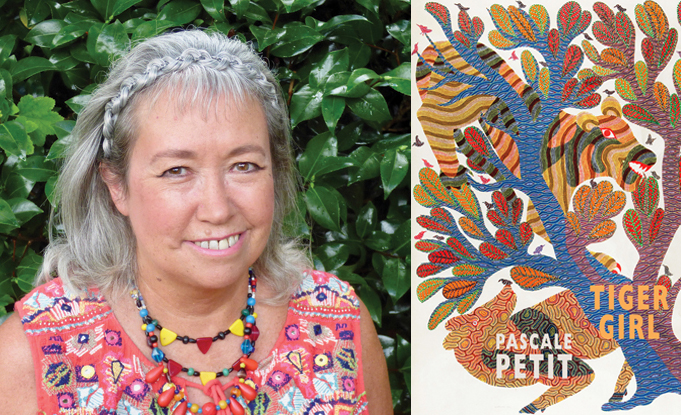 Pascale Petit's Tiger Girl reviewed on Front Row & in The Guardian
'...a very moving, powerful book' – Daljit Nagra, reviewing Tiger Girl on BBC Radio 4's Front Row
Pascale Petit's eighth collection Tiger Girl, published by Bloodaxe on 3 September, is on the shortlist for the Forward Prize for Best Collection, the winners of which will be announced on 25 October 2020. Earlier this year, Pascale won the 2020 Keats-Shelley Poetry Prize for a poem from Tiger Girl. Her seventh collection Mama Amazonica won the RSL Ondaatje Prize 2018, the first poetry title to win that award, and is shortlistsed for the inaugural Laurel Prize 2020.
~~~~
Bookanista featured three poems from the collection to mark publication day on 3 September 2020. Read here. The poems are 'Green Bee-eater', 'Prize Photograph' and '#ExctinctionRebellion'.
~~~~
Tiger Girl was reviewed by Aingeal Clare in The Guardian's Best Recent Poetry Round-up of 12 September 2020. Read the full review here.
'Family history is at the heart of Pascale Petit's Tiger Girl, the story of her grandmother, born in Rajasthan to her father's maid but brought up as his wife's child....Petit is a passionate laureate of the natural world, but alive to the cruelty of human depredation...' - Aingeal Clare, The Guardian

REVIEW COVERAGE ON RADIO 4'S FRONT ROW

Front Row, BBC Radio 4, Monday 24 August 2020, 7.15pm
Pascale Petit's Forward Prize-shortlisted eighth collection Tiger Girl was reviewed by Daljit Nagra on Front Row on 24 August ahead of publication on 3 September.

'I think this might be her best book so far because of this complexity of a family in crisis against a planet in crisis – she's very much a poet of the environment… She has a powerful, imagistic authority over the landscape. It's a very moving, powerful book I would say.' – Daljit Nagra, speaking on Radio 4's Front Row

'The poet Daljit Nagra, who curates the poetry programming on Radio 4 Extra, introduces three recently-published poetry books. Rachel Long's debut collection, My Darling from the Lions; Pascale Petit's mid-career book Tiger Girl, inspired by her grandmother's life in India; and the Selected Poems 1965 – 2018 of Jeremy Hooker, who in his eightieth year is still writing as beautifully and prolifically as ever.'

Daljit begins his poetry round-up at 21.48. He reviews Tiger Girl from 26.39.
Listen to his review here.
INTERVIEW WITH PASCALE PETIT

An interview with Pascale Petit, focusing on Tiger Girl in particular, went online at Versopolis on 27 July 2020.
'No one in these islands writes poems like Pascale Petit. Part of this is formal: Petit trained as a sculptor at the Royal College of Art in her youth, and didn't publish her first full poetry collection until 1998, in her mid-forties. Her poems bear out this history in their tactility, their keen awareness of space, their density of colour and hyperreal imagery. My only experiential comparison is walking into a room in a gallery, in which every surface has been transformed: often unsettling, often unsettlingly familiar, a lucid, vivid dream.' - Dave Coates, Versopolis
Read here.
TIGER GIRL POEM FEATURES

Two poems from Tiger Girl are featured on Extinction Rebellion's Writers' Rebel website are here.
Pascale Petit's poem 'The Anthropocene' from Tiger Girl is featured in the New Statesman of 3 June here.
~~~~
Some poems from Tiger Girl are featured on Pascale's blog here, along with photographs taken in India.
~~~~
Pascale Petit's poem 'Indian Paradise Flycatcher' from Tiger Girl won the Keats-Shelley Prize. More details on our website here.
[25 August 2020]