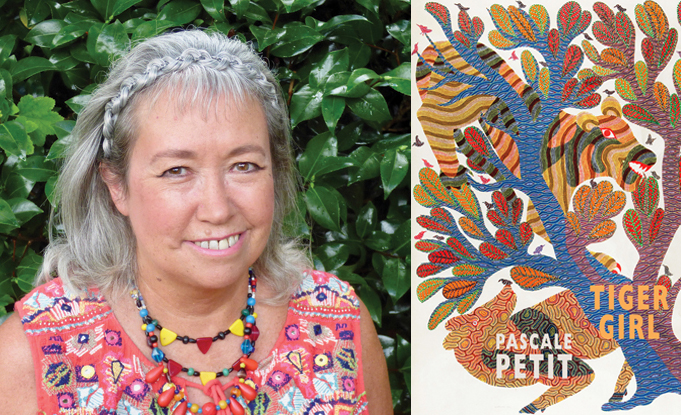 Pascale Petit's Tiger Girl reviews, interviews & poem features
'Tiger Girl is published by Bloodaxe. It pushes deep into the wilder places of the forest and the human heart. It shimmers with the colours of bee-eaters and flycatchers and rages at the darker regions of environmental expoloitation and cruelty... Pascale Petit, shortlisted for the alarming, mythic, beautiful Tiger Girl.' - Alexandra Harris, Chair of Judges, Forward Prize for Best Collection 2020
Pascale Petit's eighth collection Tiger Girl, published by Bloodaxe on 3 September 2020, was shortlisted for the Forward Prize for Best Collection 2020 and the English language poetry category of Wales Book of the Year 2021. She won the 2020 Keats-Shelley Poetry Prize for a poem from Tiger Girl. Her seventh collection Mama Amazonica won the RSL Ondaatje Prize 2018, the first poetry title to win that award, and the inaugural Laurel Prize 2020.
~~~~
Bookanista featured three poems from the collection to mark publication day on 3 September 2020. Read here. The poems are 'Green Bee-eater', 'Prize Photograph' and '#ExctinctionRebellion'.
~~~~
RADIO 3 INTERVIEW WITH PASCALE PETIT
The Verb: Green Memoir, BBC Radio 3, Friday 13 November 2020, 10pm - a BBC Radio 4 Pick of the Week

Pascale Petit was a guest on Radio 3's The Verb on 13 November. She and fellow guests were discussing what happens when we start to see the natural world as an integral part of our own histories, and spoke about the family history which informs her recent poetry collections.

Pascale read 'Her Tigress Eyes' and 'Green Bee-eater' from her eighth collection Tiger Girl and 'Kapok' from her seventh collection Mama Amazonica.

'Pascale Petit won The Laurel Prize earlier this year (a new prize for poetry on environmental themes), for her remarkable poems fusing myth, the natural world (the teeming life of the rainforest) and her family relationships. Her new collection 'Tiger Girl' has at its heart, an encounter between a tiger and a baby - a baby who grew up to be Pascale's grandmother. Pascale also explains why the kapok tree is so special to her.'

Pascale contributed and read poems at 06:54, 11:00, 28:24 & 36:06.
Listen here.

In his introduction, Ian mentioned the edition of The Verb of 18 September in which Poet Laureate Simon Armitage and fellow judge Moniza Alvi discussed the shortlist for the inaugural Laurel Prize, which was won by Pascale Petit's Mama Amazonica.

The Verb: Nature Poetry, BBC Radio 3, Friday 18 September 2020, 10pm

Mama Amazonica was discussed from 14:42.
Listen here.

PODCAST AND ONLINE INTERVIEWS WITH PASCALE PETIT

Pascale Petit was interviewed in depth for the first edition of the Planet Poetry podcast with Peter Kenny and Robin Houghton on 22 October 2020. Pascale spoke about and read poems from her 7th collection Mama Amazonica, which has since won the inaugural Laurel Prize, and from her 8th collection Tiger Girl, shortlisted for the Forward Prize. Pascale read 'Tiger Gran' and 'Flash Forests' from Tiger Girl, and 'My Mother's Wedding Dress' and 'Corpse Flower' from Mama Amazonica.

Listen here. Pascale Petit is interviewed from 4:04.
An in-depth interview with Pascale Petit was featured on Publishers Weekly Poetry Tumblr on 13 October. She was speaking to Maya C. Popa about her 8th collection Tiger Girl , which will be distributed in the US by Consortium Book Sales from November 2020. Her 7th collection Mama Amazonica has just won the inaugural Laurel Prize for eco poetry.
'Both books juxtapose a family in crisis with the natural world in crisis, and link abuse of women and children with abuse of animals and forests.' - Pascale Petit
Read the interview here. Tiger Girl is reviewed in Publishers Weekly here.
An interview with Pascale Petit, focusing on Tiger Girl in particular, went online at Versopolis on 27 July 2020.
'No one in these islands writes poems like Pascale Petit. Part of this is formal: Petit trained as a sculptor at the Royal College of Art in her youth, and didn't publish her first full poetry collection until 1998, in her mid-forties. Her poems bear out this history in their tactility, their keen awareness of space, their density of colour and hyperreal imagery. My only experiential comparison is walking into a room in a gallery, in which every surface has been transformed: often unsettling, often unsettlingly familiar, a lucid, vivid dream.' - Dave Coates, Versopolis
Read here.
Pascale Petit was interviewed for the online edition of New Welsh Review, 3 May 2021.
Yvonne Reddick talks to the poet Pascale Petit about her Forward Prize Best Collection nominated Tiger Girl, the Gond artist Jangarh Singh Shyam, tensions between locals, tourists and tigers, and the evolution of her wild beast, birdlife and megafauna poems.
Available to subscribers here. Tiger Girl is reviewed online in New Welsh Review here (also by subscription) - see below.
REVIEW COVERAGE

Pascale Petit's Tiger Girl was one of three Bloodaxe titles featured in The Telegraph India's feature of 27 July 2021 on nine powerful poetry books exploring current issues. Read here.
'Petit emerges as a strong voice of and for the natural world in this dazzling collection of eco-poems that unfolds like a poetic canopy of lush, throbbing images of the forests and fauna in Central India, dappled by the memories of her grandmother, the tiger girl. She explores her multiracial roots and childhood complexities as she reimagines and reconstructs matrilineal love and loss through the face and history of her 'tiger-gran', tracing it in the heart of the beasts and the wild, that is fraught with the ravages of environmental cruelty.' - The Telegraph India
'Tiger Girl shimmers with beauty and rage: for every exquisite description of a bird or tiger, there's an incident of cruelty and horror unfolded on the page by a poet who watches and refuses to flinch... If Petit is unflinching in her depictions of the cruelties of life, it is because she recognises that they are part of what is true. Poets may not change the world, but they can change our understanding of it. Bearing witness, celebrating beauty, honouring what is true: this is the work of poetry.' - Vicky MacKenzie, New Welsh Review
Tiger Girl was reviewed by Aingeal Clare in The Guardian's Best Recent Poetry Round-up of 12 September 2020. Read the full review here.
'Family history is at the heart of Pascale Petit's Tiger Girl, the story of her grandmother, born in Rajasthan to her father's maid but brought up as his wife's child....Petit is a passionate laureate of the natural world, but alive to the cruelty of human depredation...' - Aingeal Clare, The Guardian
An excellent review of Tiger Girl has gone online at DURA as part of a set of reviews of the books shortlisted for this year's Forward Prize. Read the full review here.
'… Petit succeeds in bringing to us a collection at once personal and universal, terrifying and transcendent, gory and gorgeous. She opens our eyes to beauty and death, fires and stars, transfixes us, and thereby transforms us. Tiger Girl is mandatory reading.' - Skendha Singh, DURA (Dundee University Review of the Arts)
Tiger Girl was reviewed in Publishers Weekly ahead of US distribution from 3 November 2020. Read here. This follows an online interview with Pascale Petit in PW here.

'The vibrant poems on animals and nature for which Petit (Mama Amazonica) is rightfully known are fully realized in this dazzling work. Petit considers her family history, her grandmother's Indian heritage, and the folklore that fills the speaker's mind with images of animals, night markets, and shouting vendors. Petit's gift for luminous juxtaposition shines...This mesmerizing collection is full of delights.' – Publishers Weekly

A full-page review of Pascale Petit's Tiger Girl was featured in the Autumn 2020 issue of Oxford Review of Books. Read the full review here.

'Petit's search for human heritage in the Indian jungles could not come at a better moment… Tiger Girl's poems, like 'hymns that burn/at the centre of the earth', are incantations and lamentations, conjuring lost animal spirits and a world in flames, but also constitute recovery, providing tenderness and beauty in the face of trauma.' – Natalie Perman, Oxford Review of Books
Tiger Girl was reviewed in great depth in the international online eco and world poetry magazine amberflora. Read the full review here.
'Petit teaches readers a new vocabulary, one that is truthful in its brutality, a language which: 'hisses and bites/ has a split lizard tongue'.' – Florinda, amberflora magazine

REVIEW COVERAGE ON RADIO 4'S FRONT ROW

Front Row, BBC Radio 4, Monday 24 August 2020, 7.15pm
Pascale Petit's Forward Prize-shortlisted eighth collection Tiger Girl was reviewed by Daljit Nagra on Front Row on 24 August ahead of publication on 3 September.

'I think this might be her best book so far because of this complexity of a family in crisis against a planet in crisis – she's very much a poet of the environment… She has a powerful, imagistic authority over the landscape. It's a very moving, powerful book I would say.' – Daljit Nagra, speaking on Radio 4's Front Row

'The poet Daljit Nagra, who curates the poetry programming on Radio 4 Extra, introduces three recently-published poetry books. Rachel Long's debut collection, My Darling from the Lions; Pascale Petit's mid-career book Tiger Girl, inspired by her grandmother's life in India; and the Selected Poems 1965 – 2018 of Jeremy Hooker, who in his eightieth year is still writing as beautifully and prolifically as ever.'

Daljit begins his poetry round-up at 21.48. He reviews Tiger Girl from 26.39.
Listen to his review here.
TIGER GIRL POEM FEATURES

Two poems from Tiger Girl are featured on Extinction Rebellion's Writers' Rebel website are here.
Pascale Petit's poem 'The Anthropocene' from Tiger Girl is featured in the New Statesman of 3 June here.
~~~~
Some poems from Tiger Girl are featured on Pascale's blog here, along with photographs taken in India.
~~~~
Pascale Petit's poem 'Indian Paradise Flycatcher' from Tiger Girl won the Keats-Shelley Prize. More details on our website here.
[25 August 2020]