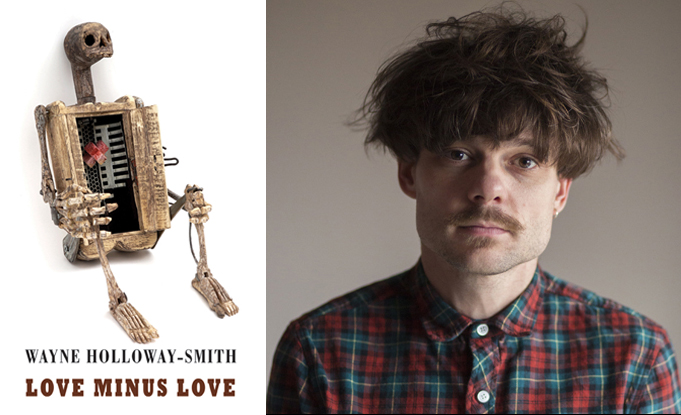 Wayne Holloway-Smith's Love Minus Love shortlisted for T. S. Eliot Prize
'Love Minus Love radiates an austere, sculptural beauty. This playful creativity forms an exquisite counterpoint to the poems' pain and the collection pulses with honest immediacy.' – John Field, reviewing the T S Eliot shortlist 2020 for the T S Eliot Prize

Wayne Holloway-Smith's second collection Love Minus Love, a book-length sequence of poems looking at masculinity, family, trauma and mental health, has been shortlisted for the T. S. Eliot Prize 2020. The ten-book shortlist was announced on 15 October 2020.
Love Minus Love includes his National Poetry Competition-winning poem 'the posh mums are boxing in the square'. The book was a Poetry Book Society Wild Card Choice, as was his 2017 debut collection Alarum.
The T. S. Eliot Prize is the most valuable prize in British poetry - the winning poet will receive a cheque for £25,000 and the shortlisted poets will be presented with cheques for £1,500. It is the only major poetry prize which is judged purely by established poets. The 2020 judging panel are looking for the best new poetry collection written in English and published in 2020 in the UK or Ireland.
Chair Lavinia Greenlaw said:
'My fellow judges, Mona Arshi, Andrew McMillan and I have been reading books written in a different world, the one before Covid-19. The urgency and vitality of the ten books on this shortlist commanded our attention nonetheless. We were unsettled, captivated and compelled. Poetry is the most resilient, potent, capacious and universal art we have.'

T.S. Eliot Prize Preview 2021: Explore the T.S. Eliot Prize shortlist with The Sunday Times poetry critic Jeremy Noel-Tod. Sunday 24 January, 2pm (via Zoom). Book here.
The T. S. Eliot Prize Shortlist Readings and the T. S. Eliot Prize Online Award Ceremony will take place on Sunday 24 January.

The 2020 T. S. Eliot Prize Readings will be pre-recorded this year, and will go out on Sunday 24th January at 7pm. All ten poets will read and the event will be hosted by Ian McMillan. In an exciting first, the evening will conclude with Lavinia Greenlaw, the Chair of the 2020 Judges, talking about this year's wonderful shortlist. She will end with the announcement of the winner, who will receive a cheque for £25,000, the most valuable prize in British poetry. All ten shortlisted poets will receive a cheque for £1,500.

Tickets from the Southbank Centre's online ticket office. Click here to book. Tickets £7.50.

Details of all ten shortlisted titles are on the T. S. Eliot Prize website here.
The weekly T. S. Eliot Prize newsletter will provide background on the shortlisted poets, including links to specially-commissioned new videos, readers' notes and reviews. You can subscribe to this here.
For further information about the T. S. Eliot Prize please contact Chris Holifield: chris.holifield@tseliotprize.com tel 020 7607 5559 or Gina Rozner ginarozner@icloud.com tel 07887 811806.
~~~~
Wayne Holloway-Smith filmed by the T. S. Eliot Prize
Wayne talks about his work and collection Love Minus Love, published by Bloodaxe Books and shortlisted for the 2020 T. S. Eliot Prize.
Wayne Holloway-Smith: 'the posh mums are boxing in the square'

Wayne Holloway-Smith's 'the posh mums are boxing in the square' won first prize in the Poetry Society's 2018 National Poetry Competition, judged by Kei Miller, Kim Moore and Mark Waldron. It is included in his second book-length collection, Love Minus Love.
~~~~~
Wayne Holloway-Smith: Love Minus Love launch reading


Wayne Holloway-Smith launched his new collection Love Minus Love in a Bloodaxe online launch reading shared with Pascale Petit and Phoebe Stuckes on 8 September 2020. This video is an excerpt from that event which went out on YouTube Live.
Some reviews of Love Minus Love


'…it's so intimate and direct: the story of growing up with a single mother, abuse, poverty and bereavement, told with wit and kindness and love....it's hard, these distracted days, to find something so focused and intent, such an entirely immersive read.' - Kate Clanchy, New Statesman, recommending Love Minus Love in her diary piece.
'Love Minus Love is perhaps best understood as a collective, albeit fragmented, verbalisation of this tormented poet's psyche, with many of its poems reading as snippets overheard from a story already-in-the telling… A heartfelt putting of pen to paper, it is best defined by a single, summative word: bravery. – Daniel Baksi, The Arts Desk
'The Wiltshire-born poet's primary concerns – masculinity, abuse, disease – are threaded with wit and a disinterest in sentimentality. He is as playful with form as he is honest with language: in one poem, "the pain of childhood" is literally crossed out on the page, its letters welded together, no spaces between the words. But look closely and you'll find the grief, hidden in plain sight.' - New Statesman, NS Recommends
'Perhaps Holloway-Smith's biggest accomplishment here is in successfully convincing the reader that his introspective subject matter—incorporating identity, masculinity and family turmoil—can be best expressed in this explosive, singular poetic style.' – Ben Ray, Oxford Review of Books
'Love Minus Love is one long sequence, the primary formal effect of which is a kind of layered time in which multiple things are happening at once, a looping track of intrusive thoughts full of recurring meanwhiles and elsewheres and temporal imprecision… Within this narrative unravelling, individual lyric moments are distilled, revealing themselves just as linear biography collapses into itself: here the terrain of memory and experience is mapped out precisely by the speaker's desire to erase it.' - Helen Charman, SPAMzine
For links to reviews and interviews, click here.
[15 October 2020]