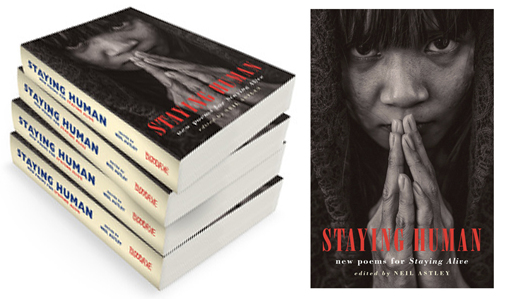 Neil Astley's Staying Human anthology: interviews, reviews & poem features
'Buy this book. Buy it for your friends. It's a present to last a lifetime.' - Sinéad Morrissey, Poetry Book Society Bulletin on Staying Human, PBS Special Commendation for Winter 2020
The fourth volume in Neil Astley's Staying Alive series of world poetry anthologies was published on National Poetry Day, 1 October 2020. It was launched online at Berwick Literary Festival on 16 October, and a series of recordings shared by Birmingham Literature Festival each day during October. It is a Poetry Book Society Special Commendation for Winter 2020.
Staying Human
is companion volume to the earlier books in the series,
Staying Alive
(2002),
Being Alive
(2004) and
Being Human
(2011), but it can also stand alone. The series has had many high-profile admirers over the years, including Meryl Streep, Mia Farrow, Helena Bonham Carter, Jane Campion, Beth Orton, Philip Pullman, Kamila Shamsie and Bernardine Evaristo, among others.
~~~~
An in-depth interview with Editor Neil Astley was featured on Write Out Loud to mark publication. Neil was speaking to Greg Freeman about the process of putting anthologies together – Staying Human was four years in the making – and about his aim to bring more new readers to poetry and to widen the range of poetry brought to readers.
Read the interview here.
~~~~
Guardian columnist Rhiannon Lucy Cosslett picked poetry as one of the things to bring hope this spring in her health & wellbeing opinion piece of 2 March 2021.

'Poetry has helped to thaw me out, a little (Staying Human, the latest anthology of modern poetry in Neil Astley's Staying Alive series, and its companion volumes, should be prescribed on the NHS).' – Rhiannon Lucy Cosslett, The Guardian
Read the full feature here.

In her 'My Life in Books' feature in Ireland's Sunday Independent of 6 June, poet and fiction writer Mary O'Donnell chose Neil Astley's 'luminous' Staying Human anthology as the book she likes to give as a present.
Read the feature here.


INTERVIEW WITH NEIL ASTLEY ON IRISH RADIO

The Poetry Programme, RTÉ Radio 1, Sunday 21 February 2021, 7.30pm
Neil Astley was in conversation with Olivia O'Leary on RTÉ Radio 1's The Poetry Programme on 21 February. He was talking about his new world poetry anthology Staying Human, the fourth in his Staying Alive series.

Recordings of six poems from the anthology – all read by the authors – were played. They were: Thomas McCarthy's 'Slow Food', Tishani Doshi's 'Girls Are Coming Out of the Woods', David Constantine's 'Dominion', Ailbhe Darcy's 'After My Son was Born', Wayne Holloway-Smith's 'the posh mums are boxing in the square' and Imtiaz Dharker's 'Chaudhri Sher Mobarik looks at the loch'.

'In the Poetry Programme on Sunday 21st February, at 7:30 pm on RTÉ Radio 1, Olivia O'Leary is joined by Neil Astley, founder of Bloodaxe Books. Neil has edited Staying Human, the fourth volume in his series of world poetry, which contains poems by 500 poets, including a strong representation of Irish poets.'
Listen here.
Playback, RTÉ Radio 1, Saturday 27 February 2021, 9.10am
Two clips from Neil Astley's interview on The Poetry Programme were chosen by Sinéad Mooney for RTÉ Radio 1's Playback on 27 February 2021 - the first when he was talking about how Bloodaxe went about reaching a broad readership with his Staying Alive anthologies, and the second when he was introducing Imtiaz Dharker. Her reading of her poem 'Chaudhri Sher Mobarik looks at the loch' - originally from her sixth collection Luck is the Hook - was played in full.
Listen here (from 27:58).
BOOKS OF THE YEAR FEATURES

Daily Mail (also in Scottish Daily Mail and Irish Daily Mail), Friday 4 December 2020

Bel Mooney recommended Neil Astley's Staying Human anthology at the top of her 2020 poetry highlights/books for giving for Christmas column in the Daily Mail.

'The word 'anthologia' is Greek for a collection of flowers or beautiful things - thus we have the delight of poetry anthologies, perfect for Christmas presents. Neil Astley's serious and inspiring Staying Human follows the deserved success of Staying Alive, Being Alive and Being Human - all invigorating, essential collections.' - Bel Mooney, Daily Mail, Christmas Books 2020
Read the full feature here.
'Staying Human is the fourth such anthology compiled by Neil Astley, editor of Bloodaxe Books, and I can't recommend it enough. It's a brilliant gathering of hundreds of vital, memorable poems, thoughtfully ordered. Give this to your friend/relative who thinks they "don't do poetry."' – Rosie Miles, Morning Star (Best Poetry of 2020)
Read the feature here.
'I've also found comfort in poetry, returning often to the wonderful trilogy of Bloodaxe anthologies, Staying Alive, Being Alive and Being Human, which contain multitudes and consolation for every mood. There's a new volume just out, Staying Human, that includes poems written in the pandemic, and I'm crossing my fingers I might find it under the tree come Christmas morning.' - Nancy Groves, HuffPost UK (The Brilliant Books That Got Us Through 2020)
'For all anthology lovers this is an international anthology of 500 life-affirming poems fired by belief in the human and the spiritual at a time when much in the world feels unreal, inhuman and hollow. Lots of familiar voices, including many Irish voices, but full of surprises too. Strongly recommended.' - Peter Sirr and Enda Wyley, Books for Breakfast podcast hosts, Our City Our Books (Top 10 Poetry Books of 2020) on Staying Human
Read the feature here.
PODCAST REVIEW

Small VOICE podcast, November 2020

Neil Astley's 'beautifully curated' Staying Human anthology was reviewed in the November edition of the Small VOICE podcast. The team chose three of their favourite poems to read – 'Small Kindnesses' by Danusha Lameris, 'Hands (to all our NHS staff)' by Gerda Stevenson and 'The Tube' by the late Matthew Sweeney – and they also discussed this anthology in general, and how best to approach reading anthologies.

'This anthology is, I think, incredibly important. It's called Staying Human and maybe that is really on the nail right now. I think that Being Human was one of the previous ones in the series, but I guess what we need to hear just now is about staying human. Although it is thematic, all of the poems really arise out of that desire to remain human, to stay open and humane and vulnerable in the face of some quite difficult things.' - Anne

'It is so beautifully curated by Neil Astley that actually one poem does flow into the next; they come in little groups, and they add to each other and they seem to be in conversation, they seem to be playing off each other.' – Holly

Holly went on to say how much she loves Bloodaxe as a publisher. She bought her copy of Staying Alive when she was around 17. This was the book that introduced her to poetry, and includes the poem that she had engraved on the inside her wedding ring – 'it's poems to live your life by'. She now works as a palliative care doctor, and she chose to read a poem by the late Matthew Sweeney – this is also included in his final collection Shadow of the Owl, also published in October 2020.

Listen here. From 7:50.

REVIEW COVERAGE

A feature review ran in The Herald Magazine on Saturday 7 November 2020. Read online here.
'Poetry may not change or cure anything – it is not a vaccine – but it can find its way into the bloodstream and make life more tolerable, less painful, more meaningful, less angst-ridden, more contented. That, at least, is the belief of Neil Astley who, perhaps more than anyone in this contaminated and confused planet, has introduced poetry to people who hitherto had dismissed it as irrelevant….As you flit through the pages of Staying Human, you realise the boundless potential for… discoveries. At every turn there is an arresting line, an original metaphor, a generous intimacy… With its emphasis on poets first published this century, Staying Human – a snip at £12.99 – is testimony that in these sick and troubling times, poetry is in resilient health. Spread the word.' – Rosemary Goring, The Herald Magazine
Staying Human was chosen by Oxford Poetry Library as their Book of the Month for November 2020.

'Anthologizing like this is skilful and rare. 'Staying Human' is the fourth in its series, and they're all staggering in their contents and compilation. But now more than ever: we don't just need to stay alive, we need to stay human.' – Oxford Poetry Library, Book of the Month, November 2020
Read the full feature here.


'Staying Human is the fourth of Neil Astley's block-busting and best-selling Staying Alive anthologies of "real poems for unreal times." Bloodaxe has done more than any publisher over the last 40 years to internationalise, democratise and diversify the British poetry scene. Their list is wide and their anthologies are packed with unexpected and new voices. This one includes over 500 poems from all over the world…. It's a collection dedicated to exploring shared identities, understanding collective problems and addressing common enemies.' - Andy Croft, Morning Star
This feature review ran in the Morning Star of 28 October 2020. Read the full review here.
A feature review of Staying Human ran in the Newcastle Journal ahead of the Berwick Literary Festival online launch on 16 October 2020.

'If ever there was a need for something to boost our spirits, surely it is now. In the nick of time, then, comes Staying Human, the new (and fatter) Bloodaxe Books anthology.' – David Whetstone, The Journal
'For me, the attraction of Staying Human – just like the other anthologies in the Staying Alive series - is that it contains poems that are open in their meaning, that sometimes wear their heart on their sleeve, that don't aim to be obscure… Staying Human would make a wonderful Christmas present for someone you love.' – Greg Freeman, Write Out Loud
Read the full review
here
, where there is a link to Greg Freeman's in-depth interview with editor Neil Astley on the background to this fourth anthology in the
Staying Alive
series.
POEM FEATURES

Bookanista
featured three poems from
Staying Human
to mark publication day. Read the feature
here
.
NB Magazine
, the quarterly literary magazine for book lovers and book clubs, featured Jane Clarke's poem 'Vows' in their October issue. This is one of the 500 poems in Neil Astley's anthology
Staying Human
, and was originally published in Jane Clarke's debut Bloodaxe collection
The River
.
'First published nearly two decades ago,
Staying Alive
redefined the poetry landscape, offering an international anthology of some 500 poems that captured all of life's highs and lows. Since then,
Being Alive
(2004) and
Being Human
(2011) have completed this epic poetic trilogy, published by Bloodaxe Books and edited by Neil Astley, which introduced readers to hundreds of poets and their work. Now, a fourth anthology will be added to the collection in October – Staying Human – a timely collection, speaking of some of the most important issues and concerns of the present day. And, in homage to NB's focus on love this issue, Jane Clarke's 'Vows', as featured in
Staying Human
, seemed the perfect choice.' – Jade Craddock,
NB Magazine
~~~~
RECORDINGS OF 31 POEMS FROM STAYING HUMAN

Birmingham Literature Festival, 1-31 October 2020
Staying human: a poem for every day of October
To celebrate the launch of the
Staying Human
poetry anthology, Writing West Midlands teamed up with six other regional development agencies and Birmingham Literature Festival to create a playlist of poems from the anthology recorded by readers from across England. Thirty-one poems from
Staying Human
were selected - one for each day of October and the recordings are being shared on Twitter each day during October.
The final playlist celebrates the wide array of wonderful poetry and poets included in the anthology, a daily reminder of the power of connection and humanity in these uncertain times.
~~~~~
FILM FEATURING READINGS BY 11 OF THE STAYING HUMAN POETS


Eleven poets included in Staying Human read short excerpts from their poems in the book: Tishani Doshi (extract from 'Girls Are Coming Out of the Woods'), Wayne Holloway-Smith (from 'The posh mums are boxing in the square'), Ruth Stone, 1915-2011 (from 'The Excuse'), Jane Clarke (from 'Who owns the field?'), Marie Howe (from 'One day'), Jericho Brown (from 'As a Human Being'), Elizabeth Alexander (from 'Smile'), Patricia Smith (from 'That Chile Emmett in That Casket'), Abigail Parry (from 'The Quilt'), Louis de Paor (from 'Marmalade'), and Thomas Lux, 1946-2017 (from 'Refrigerator, 1957'), finishing with Jericho Brown speaking at Ledbury Poetry Festival about being first published in the UK in the previous anthology, Being Human.
[28 October 2020]