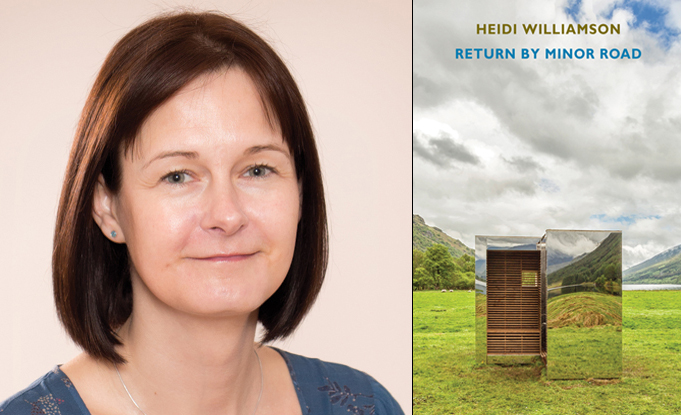 Heidi Williamson's Return by Minor Road interviews, reviews & poem features
'… I'd like to mention one book which moved me to tears, Return by Minor Road, by Heidi Williamson: a stunning and heart-breaking look at the Dunblane massacre, the way grief can infuse a place, and what the aftermath (in the literal sense of the beginnings of a new growth) of such an event feels like in such a close-knit community.' – Andrew McMillan, Outspoken (Books of the Year 2020)
In her twenties, Heidi was part of a Scottish community that suffered an inconceivable tragedy, the Dunblane Primary School shooting. Those years living in the town form the focus of her third poetry collection Return by Minor Road, published by Bloodaxe in June 2020. A poem from this collection,'With a rootless lily held in front of him', won the 2019 Plough International Poetry Prize.
POETRY BOOKS OF THE YEAR 2020 & 2021
Christopher James chose Return by Minor Road as his poetry book of the year for The Poetry Society's feature in 2021. You can read his in-depth interview with Heidi in MONK below.
'This is a book of remembrance; of trauma and grief. It's a powerful and personal reckoning with the events that took place at a primary school in Dunblane in 1996. But it's also a book of hope, healing and consolation, vividly drawn landscapes, and mirrors and echoes in nature.' - Christopher James, The Poetry Society (Poetry books of 2021)
'… I'd like to mention one book which moved me to tears, Return by Minor Road, by Heidi Williamson: a stunning and heart-breaking look at the Dunblane massacre, the way grief can infuse a place, and what the aftermath (in the literal sense of the beginnings of a new growth) of such an event feels like in such a close-knit community.' – Andrew McMillan, Outspoken (Books of the Year 2020)
Read the full feature here.
INTERVIEWS WITH HEIDI WILLIAMSON

An in-depth interview with Heidi Williamson is featured in the arts magazine MONK. She spoke to writer Christopher James about grief and the shifting meaning of time and place. Read here.
Heidi Williamson was intervewed by poet John Greening for the Royal Literary Fund podcast. It was in January 2021, but recorded two years before that. She spoke in detail about her second collection The Print Museum, and more generally about the importance of pattern in writing poems, her need to surprise herself and her new collection drawing on a painful section of public and personal history (Return by Minor Road - from 17:00) - listen here.
POEM FEATURES

Carol Rumens featured 'The rain in the night' from Return by Minor Road as her Poem of the Week in The Guardian of 8 March 2021 to mark the anniversary of the Dunblane tragedy. Read the feature here.
'The poems in Return By Minor Road are restrained, but, over the whole volume, their rain-like effect is cumulatively powerful.' - Carol Rumens, Poem of the Week, The Guardian
REVIEWS OF RETURN BY MINOR ROAD
'This is a book of remembrance, of trauma and grief, but also one of hope, healing and consolation… Return by Minor Road feels like a major achievement. Brilliantly constructed, each poem feels complete in itself, while contributing to a greater whole… A work of vivid phrase-making and lyrical empathy, it is by turns, a celebration of our spirit, a forensic examination of the soul, and a warning of the darkness that lives at the edges of our lives.' – Christopher James. Read the full blog here.
An excellent review by Neil Leadbeater ran in both Write Out Loud and The Poet Magazine. Read the full review here.
'The final poem, ' Place', poses the question: how much of a place do you ever really leave and how much do you end up taking with you? For many of us, myself included, we will never forget Dunblane. This is a fitting tribute to those whose lives were tragically cut short at such a tender age.' - Neil Leadbeater
Martyn Crucefix reviewed Return by Minor Road on his blog here.
'Love of the natural world and love of family – especially youth – resonates through this quietly convincing collection which manages to take on its daunting subject matter and emerge, not victorious of course, but having argued on behalf of resilience, on the side of hope.' - Martyn Crucefix
'Beautifully crafted and understated, yet deeply moving, Return by Minor Road — Heidi Williamson's third poetry collection — reflects on trauma, survival and hope, as it makes connections between natural landscape, wildlife and tragedy.' - Jennifer Wong, Ambit
Read the full review here.
'Heidi Williamson's third collection, Return by Minor Road, is less a revisiting of the Dunblane Primary School shooting, than a sensitive and subtle reflection on the culverts and rivers within the human body that carry the past. Through a lexicon that is coloured by Scottish inflections… and a sense of place etched through the vocabulary of return… Williamson weaves her delicate sonata of loss, upheaval and natural resilience.' - Abigail Ardelle Zammit, London Grip
Read the full review here.
[04 February 2021]