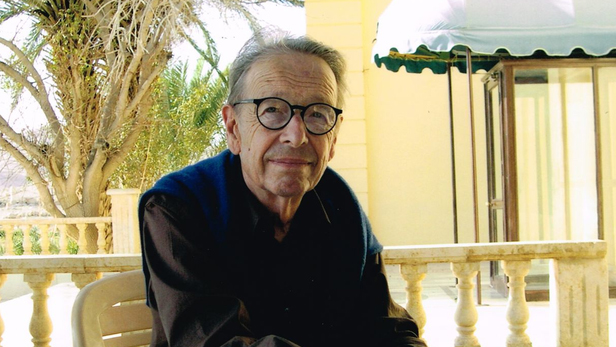 Philippe Jaccottet (1925-2021)
We are very saddened by the news of the death of the Swiss French poet Philippe Jaccottet, at the age of 95.
Born in Moudon, Switzerland in 1925, Jaccottet was one of the most prominent figures of the immediate post-war generation of French poets. He lived for the past 50 years in Grignan, a medieval village in the Drôme region of south-east France, where he died on Wednesday. Jaccottet's poetry is meditative, immediate and sensuous, much of it rooted in the Drôme, which gives it a rich sense of place.
As well as poetry, he published prose writings, notebooks and critical essays. He was particularly well-known as a translator from German (Musil, Rilke, Mann, Hölderlin), also translating Homer, Plato, Ungaretti, Montale, Góngora and Mandelstam.
Regarded by many as one of this century's greatest poets writing in French – along with Yves Bonnefoy – he won many distinguished prizes for his work both in France and elsewhere, including the Schiller and the Cino del Duca in 2018. He was one of only three poets to be published in the classic Pléiade collection during his lifetime, in 2014, following Saint-John Perse and René Char, and only the 15th living writer to be accorded that honour since André Gide in 1939.
His work was best-known to English readers through Derek Mahon's translations collected in Selected Poems (Penguin Books, 1988) and Words in the Air (The Gallery Press, 1998), and through Under Clouded Skies with Beauregard, a bilingual edition of two complete volumes translated by Mark Treharne and David Constantine (Bloodaxe Books , 1994), a Poetry Book Society Recommended Translation.
The Bloodaxe volume brings together his reflections on landscape in the prose pieces of Beauregard (1980) and in the poems of Pensées sous les nuages (1983), two thematically linked collections remarkable for their lyrical restraint and quiet power. It was Ian McMillan's choice in The North magazine's feature Top 30 Outstanding Books from the Last 30 Years: 'Jaccottet writes of specific landscapes, particularly of the Drôme area of South [East] France but, like Norman Nicholson writing from Millom in Cumbria, gives it a universal resonance, seeing the world in the turn of the seasons on local stone, the changing light of a particular corner of sky.'
Jaccottet's poetry is largely grounded in landscape and the visual world, pursuing an anxious and persistent questioning of natural signs, meticulously conveyed in a syntax of great inventiveness. His work is animated by a fascination with the visible world from which he translates visual objects into verbal images and ultimately into figures of language. His poems are highly attentive, pushing the eye beyond what it sees, enacting a rich hesitation between meaning conferred and meaning withheld.
In the US, New Directions published Seedtime in 1971, selections from his notebooks from 1954 to 1967, with prose translated by André Lefevere and poetry by Michael Hamburger. India-based Seagull Books published a new translation of Seedtime by Tess Lewis in 2013, followed by The Second Seedtime: Notebooks 1980-94 in 2017, also translated by Tess Lewis. Mixing prose and poetry, his notebooks became a genre distinctively his own, including observations, reflections, readings and recorded dreams. It was a form which he perfected over time, published in several volumes under the title La Semaison. In 2013 a further instalment of his 'notes sauvegardées' appeared in Taches de soleil, ou d'ombre, from Le Bruit du temps, the publishing house of his son Antoine Jaccottet. John Taylor's translation, Patches of Sunlight, or of Shadow: safeguarded notes, 1952-2015, was published by Seagull in January 2021.
Jaccottet moved to Paris in 1946, where he wrote his first collection, Requiem, inspired by photographs of young resistance fighters killed by the Germans in the Vercors. The most notable collections from the early and middle years of his career included L'Effraie (1953), L'Ignorant (1957), Airs (1967), inspired by his reading of haikus, À la lumiere d'hiver (1977), and Pensées sous les nuages (1983). His highly regarded translation of Homer's Odyssey was published in 1955.
Wrongly characterised as the 'hermit' or 'recluse' of Grignan by some, he was in fact widely travelled, spending time in Mallorca, Ibiza and New York during the 1950s, and making many trips to places such as northern Italy, Sicily, Greece, Russia and Lebanon. His stay in Syria in 2004 inspired Un calme feu (Fata Morgana, 2007). John Taylor's translation, A Calm Fire and other travel writings, was published by Seagull in 2019. He was also passionate about music, most especially Monteverdi, Purcell, Bach, Mozart and Schubert's piano works.
He was still writing into his 90s, with three new books out in March, La Clarté Notre-Dame (prose) and Le Dernier des madrigaux (poetry) from Gallimard, and Bonjour, Monsieur Courbet, his writings on art since 1956, from Le Bruit du temps. Tess Lewis's translation of Obscurity, his only work of fiction, was published by Seagull Books in January 2021.
Interviewed by Thierry Clermont in Grignan in autumn 2008, he told him: 'C'est désormais le temps de la montée des souvenirs, le temps du poids des rêves, que j'aime toujours à retranscrire. Désormais, je me sens proche des ombres.' ('Now is the time that memories rise up, the time of the weight of dreams, which I always like to transcribe. Now I feel close to the shadows.')

Philippe Jaccottet: born Moudon, Switzerland, 30 June 1925; died, Grignan, France, 24 February 2021
From 'On Voit'/'Things seen'
by Philippe Jaccottet
translated by David Constantine
Derrière la fenêtre dont on a blanchi le cadre
(contre les mouches, contre les fantômes),
une tête chenue de vieil homme se penche
sur une lettre, ou les nouvelles du pays.
Le lierre sombre croît contre le mur.
Gardez-le, lierre et chaux, du vent de l'aube,
des nuits trop longues et de l'autre, éternelle.
*
Behind the window whose wood has been whitened
(against the flies, against the ghosts)
an old man is bowing his white head
over a letter or the local news.
Dark ivy grows against the wall.
Save him, ivy and whitewash, from the dawn wind,
from nights that last too long and from eternal night.
*****
Quelqu'un tisse de l'eau (avec des motifs d'arbres
en filigrane). Mais j'ai beau regarder,
je ne vois pas la tisserande,
ni ses mains même, qu'on voudrait toucher.
Quand toute la chambre, le métier, la toile
se sont évaporés,
on devrait discerner des pas dans la terre humide…
*
Someone is weaving water (motifs of trees
as a watermark). But however I look
I never see the weaver
nor even her hands that we should like to touch.
When the workplace, the loom, the cloth itself
have all evaporated
we ought to discover footprints in the damp earth…
from Under Clouded Skies & Beauregard (Pensees sous les nuages / Beauregard), translated by Mark Treharne & David Constantine, dual language French-English edition (Bloodaxe Books, 1994). 160 pages, £12, 9781852242596
[This tribute includes some detail from an article by Thierry Clemont, 'Philippe Jaccottet, poète et écrivain, est mort à l'âge de 95 ans', published in Le Figaro, 25 February 2021. Photograph from Le Bruit du temps]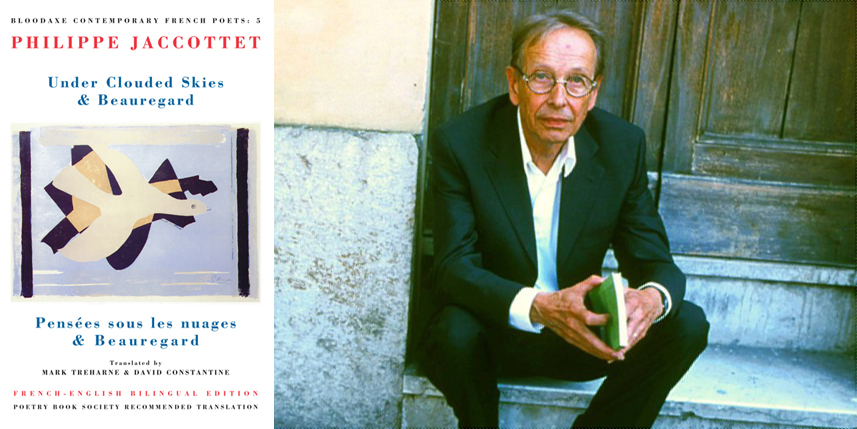 [25 February 2021]