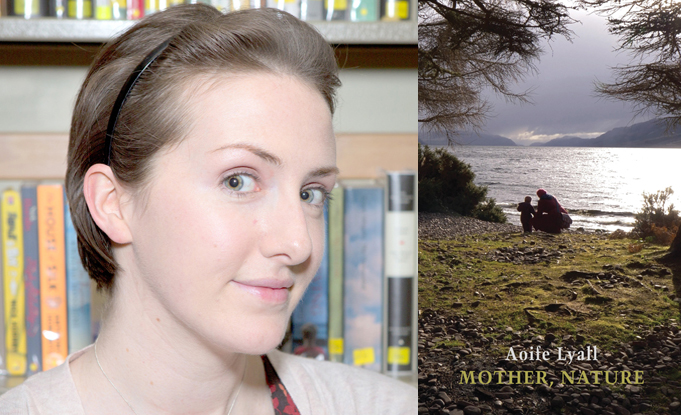 Aoife Lyall reviews, interviews & poem features
'Aoife Lyall's Mother, Nature is a beautiful and moving collection – a fine debut.' – Michael Longley
Inverness-based Irish poet Aoife Lyall's debut collection Mother, Nature was published by Bloodaxe on 25 February 2021. It was shortlisted for the Scottish First Book Award in Scotland's National Book Awards 2021.
The poems of Mother, Nature follow the poet's own experience of motherhood, from the trauma of pregnancy loss, to the overwhelming joy of a healthy birth. Aoife launched the collection on 23 February at a joint live-streamed event hosted by Bloodaxe Books - see video below.
Aoife Lyall was shortlisted for the Hennessy New Irish Writing Awards in 2018 and 2016. She was awarded an Emerging Scottish Writer residency by Cove Park in 2020, and took her week-long residency in July 2021.
~~~~
Scottish First Book Award Readings

A video featuring films from the Scottish First Book Award shortlisted authors is below, along with comments from the judges. Aoife reads her poem 'Silt' from 9:10, followed by a comment from judge Vincent Lal, then Aoife's response to having been shortlisted for this award.
'Mother, Nature by Aoife Lyall was an incredibly powerful book. It was extremely moving to read it. I came to this not really knowing quite what to expect, but I found myself blown away by the visceral nature of the writing. It's an extremely moving and at times deeply upsetting book in the way it treats its subject matter, which deals with loss, remembrance, regret and grief. These are all extremely powerful themes and I think that Aoife presents them in a way that is both powerful, but also accessible.' - Vincent Lal, Co-Judge, Scottish First Book Award
INTERVIEWS WITH AOIFE LYALL
What's On North, online Thursday 25 November 2021


An interview with Inverness-based Irish poet Aoife Lyall ran in
What's On North
ahead of the announcements of Scotland's National Book Awards on 27 November 2021. Aoife's debut collection
Mother, Nature
was shortlisted for Scottish First Book of the Year Award.
Books for Breakfast podcast, Thursday 8 July 2021
An interview with Aoife Lyall featured on the
Books for Breakfast
podcast hosted by Irish poets Peter Sirr and Enda Wyley on 8 July. Aoife was talking to Enda about her debut collection
Mother, Nature
. She was also invited to speak about a book of her choosing for the Toaster Challenge, and recommended Sara Baume's
A Line Made By Walking
(Tramp Press).
Aoife read and introduced her poems 'Sounds of that day (after Norman McCaig)' and 'While the others are away (after Seamus Heaney)'. Several other poems were mentioned and discussed, including 'The grave diggers', 'Month's Mind', 'Ubi Sunt', 'Silt', 'Baby blanket' and 'Seabed'.

'Aoife Lyall's debut Mother, Nature was published this year by Bloodaxe Books, and we're really delighted to have Aoife here at the breakfast table to talk about this intimate book of poems, which celebrates the overwhelming joy of birth and parenthood, but also the devastation of miscarriage, a heart-rending subject which in this book is tackled with great honesty, imagination and tenderness.' – Enda Wyley, Books for Breakfast podcast
Aoife Lyall was interviewed about writing, motherhood and inspiration for the
Mum Write
blog
here
.
REVIEW COVERAGE
Aoife Lyall's debut
Mother, Nature
was reviewed in detail on Chris Edgoose's
Wood Bee Poet
blog on 18 December 2021 alongside another debut collection –
Inhale/Exile
by Abeer Ameer (Seren) - he calls them 'two startlingly successful debuts'. Read in full
here
.
'Aoife Lyall's collection Mother, Nature arrives with a magisterial maturity that belies its status as a first book-length offering… A remarkable debut from a strong talent.' - Éamon Mag Uidhir, Dublin Review of Books
Essay review in the Dublin Review of Books of 1 October 2021. Read in full here.
Mother, Nature was reviewed by Elizabeth Ridout in the June 2021 issue of Agenda - a special edition featuring Irish poets living in the UK.

'The capacity of language to convey the intensity of the most human moments is explored with an unusual combination of directness and gentleness in Aoife Lyall's startling debut, Mother, Nature. An intimate look at the pain of miscarriage and loss, bolstered by the blessedness of healthy pregnancy, this debut is assured and has the strength to be vulnerable... This is a strong first collection, rich as a newborn with promise.' - Elizabeth Ridout, Agenda
Mother, Nature was featured as 'Editor's Pick' in the Summer 2021 issue of The School Librarian. In print, or online by subscription.
'Individual poems of great beauty abound, but this collection works best when read as a continuous line from grief to joy, from birth to childminders and the return to work.' - Frank Startup, The School Librarian on Mother, Nature (Editor's Pick)


Mother, Nature is very warmly reviewed in issue 41 of Northwords Now.

'Aoife Lyall is a poet whose first collection demonstrates such clarity of vision and assurance of language that one wonders how readers coped without Mother, Nature before it came along. It ought, really, to be available on the NHS, accessible at any stage of pregnancy parenthood, or grief… Lyall is a generous, talented poet, and this first collection makes clear her skill and promise.' – Alice Tarbuck, Northwords Now
Read this in-depth review in full
here
.
Mother, Nature was reviewed in the Irish Times of 10 April 2021.
'Aoife Lyall's debut, Mother, Nature, explores pregnancy, loss, motherhood, hospitals and grief in moving lyric poems that amount to an extended sequence – the thematic resonance of the collection is detailed, and shows a thoroughness in its consideration of small moments of private grief... One of Lyall's most effective techniques is the exploration of paradox, the volta-like turning of the lyric and its imagery, which makes the best poems here particularly devastating in their contained forms.' - Seán Hewitt, The Irish Times
The review is available in full by subscription here.
Mother, Nature was reviewed by Claire Hennessy in the Irish Examiner's Weekend magazine as part of a feature on debuts by Irish women writers ahead of International Women's Day.
'Aoife Lyall's Mother, Nature reimagines work by Heaney and Dickinson with her new-mother eyes, in a collection that is both heart-warming and heart-breaking. After a miscarriage, she addresses her lost child: "the house you never lived in / is overwhelmed by all the people who didn't know to come."' - Claire Hennessy, Irish Examiner
Read the full feature here.
'Hollie McNish's jacket description of Aoife Lyall's collection Mother, Nature is so accurate. The poems of this collection knocked me to the ground, only to have me scrambling back up so I could keep reading. The poems, two of which were shortlisted for the Hennessey New Irish Writing Awards, centre around Ireland-born Lyall's own experiences of maternity, loss, and early motherhood. True, many writers have waded through such subjects, so what makes Lyall's title special? There is her ability to bring such a dazzling array of raw emotion to the page without a hint of over-sentimentality. But there is also her profound ear for lyric and language.' - Nicole Gemine, DURA (Dundee University Review of the Arts)
Read the full review
here
.
POEM FEATURES

Bookanista
featured two of the poems from
Mother, Nature
ahead of the launch reading on 23 February 2021. Read the poems
here
.
Aoife Lyall's beautiful poem 'Silt' was featured in
Books Ireland
's 'poetry happening' column on 21 April, along with a video of Aoife reading the poem recorded especially for this feature. Read the poem and watch the film
here
.
Hollie McNish read 'Lighthouse' from
Mother, Nature
on her Mother's Day edition of
One I Wrote, One I Love
video on Instagram. Watch
here
. She started by reading and talking a poem from Clare Pollard's
Incarnation
at 13:20, and then read Aoife's poem at 17:40. She called
Mother, Nature
'a really very special poetry collection.'
~~~~
Tuesday 23 February 2021, joint launch event with Fleur Adcock, Tiffany Atkinson and Susan Wicks

Livestreamed event launching four new collections by Bloodaxe poets, all of whom were publishing new collections in February 2021. Aoife Lyall read third in each set (she is introduced by Editor Neil Astley at 19:40). The readings were followed by a very engaging discussion and Q&A with the online audience.
~~~~
'The Wanderers': a film poem by Ted Fisher after a poem by Aoife Lyall
The cover photo for Mother, Nature is a still from The Wanderers (2018), a film poem directed and produced by Ted Fisher in collaboration with Magma and the University of Edinburgh.
Aoife Lyall writes: 'The most significant thing I learned was that the poem isn't so much about welcoming my daughter into my life, as allowing myself to finally call Inverness home. I lived here for almost six years before she was born, and spent much of that comparing my life here to the life I had in Dublin. Walking the poem with Ted I came to realise it encapsulated what I had been missing – the accumulation of memories, moments, and experiences that layer themselves into the familiar.' 'The Wanderers' is included in Mother, Nature.
~~~~
Aoife Lyall's poems 'Acrania' and 'Hermit Crab' were shortlisted for the Hennessy New Irish Writing Awards in 2018 - both are now included in her debut collection. A recording of Aoife reading 'Hermit Crab' is on the title page for Mother, Nature (click on 'related audio'); the poems were featured in The Irish Times of 28 January 2017 - read them here.
[06 March 2021]