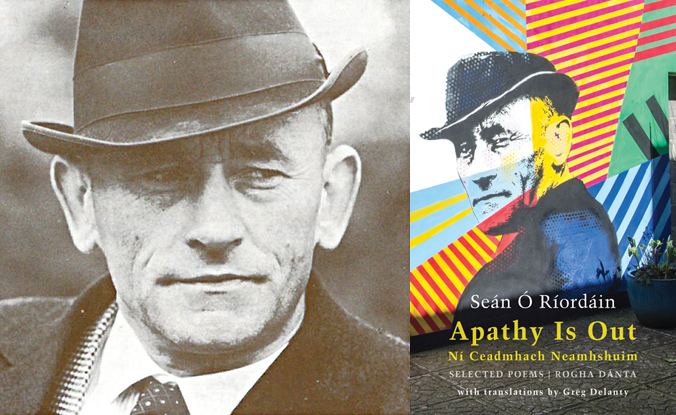 Seán Ó Ríordáin's Apathy Is Out featured on The Poetry Programme

Seán Ó Ríordáin (1916-77) was the most important and most influential Irish-language poet of modern times. He revitalised poetry in Irish, combining the world of Irish literature with that of modern English and European literature.

Many of Ó Ríordáin's poems came out of his struggle with the isolation, guilt and loneliness of life in mid-century Catholic Ireland experienced in Cork, the native locale also of the poet Greg Delanty, translator of Apathy Is Out. Ó Ríordáin's poems have been translated by many poets, but until now no single writer has translated the majority of the poems. This Selected Poems gives a much more unified sense of Ó Ríordáin's work, catching the poetry's verve, playfulness and range.
Apathy Is Out / Ní Ceadmhach Neamhshuim was published in an Irish-English edition by Cló Iar-Chonnachta and Bloodaxe Books on 25 March 2021.
Translator Greg Delanty has been named winner of the inaugural David Ferry and Ellen LaForge Poetry Prize. He will be presented with the award, which recognises a body of work, at a virtual ceremony on Wednesday 14 April 2021, and will be reading from Apathy Is Out as well as his own poetry at that event.
INTERVIEW WITH TRANSLATOR GREG DELANTY ON THE POETRY PROGRAMME


The Poetry Programme, RTÉ Radio 1, Sunday 21 March 2021, 7.30 pm

Translator Greg Delanty was interviewed on RTÉ Radio 1's The Poetry Programme about his new translation of the poetry of the late Seán Ó Ríordáin, as well as reading some of his own poetry. Greg Delanty has lived in the US for the past 30 years, but is originally from Cork. Olivia O'Leary called Ó Ríordáin an early example of an environmentally aware poet.

Greg read 'Apathy Is Out', 'Cold Snap' and 'O Language Half Mine' from Apathy Is Out. Archive recordings were played of Seán Ó Ríordáin reading the last two poems in their original Irish 'Reo' and 'A Theanga Seo Leath-Liom'.
'Greg also speaks about his translations of the poems of Seán Ó Ríordáin, Apathy Is Out, published in March 2021 by Bloodaxe Books, and we hear recordings of Ó Ríordáin from the RTÉ radio archives.'

Listen here. Apathy Is Out is discussed from 17:07.


The programme was previewed on RTÉ Culture on 18 March 2021. Includes a clip of an archive recording of Seán Ó Ríordáin reading. Read here.


[26 March 2021]