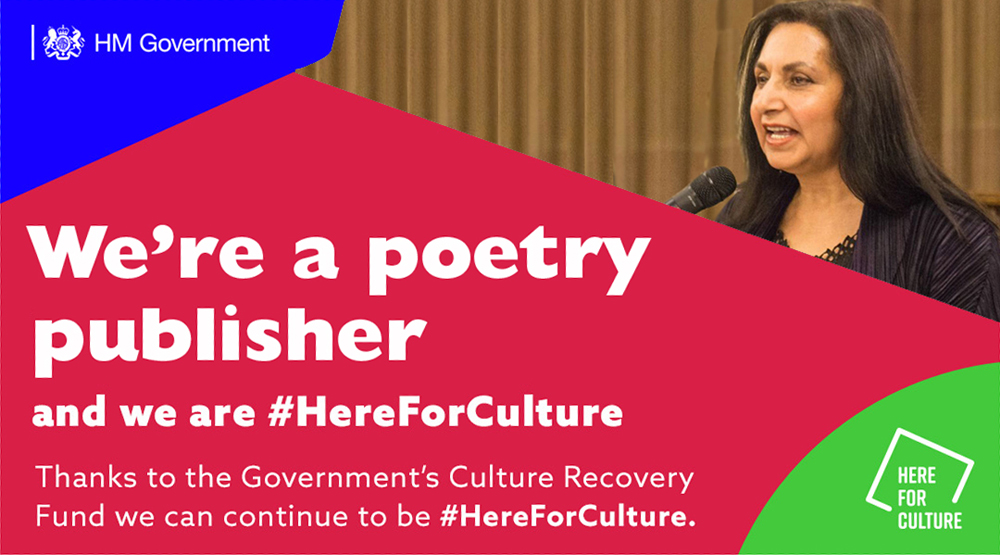 #HereForCulture
We were thrilled to hear we have received funding in the second round of the government's #CultureRecoveryFund so that we can continue to make poetry available for everyone.
Culture creates jobs, supports livelihoods, and brings joy to everyone. The UK leads the world in the creative industries and we can all feel pride in that.
Now, in these challenging times, it's our turn to show our support for culture. #HereForCulture is a movement that unites the public, government and cultural organisations in support of our fantastic cinemas, theatres, music venues, museums, galleries and heritage.
With more and more culture being curated online, there is no better time to support and enjoy all the new and exciting ways culture is available to us.
By being #HereForCulture, we aren't just supporting the people in the industry, we're also supporting communities across the country.
Whether on the global stage or quietly in our own lives, culture inspires, uplifts, comforts and entertains us. Now, in these challenging times, it's our turn to provide a lifeline and show our support. The government is #HereForCulture with an unprecedented amount of funding coming through on top of the furlough scheme, bounce-back loans and emergency grants. The public has been #HereForCulture as organisations have innovated online and outdoors.
Do join us to show your support – whether it's announcing or welcoming funding or promoting online or COVID-secure ways to experience and enjoy culture. Like reading a poetry book – from Bloodaxe! – or sharing poems or poetry videos online. Or download the Bloodaxe Poetry App here and read, listen and watch poems read by the poets, and share them on social media or in emails. Poetry is here for everyone.

[02 April 2021]