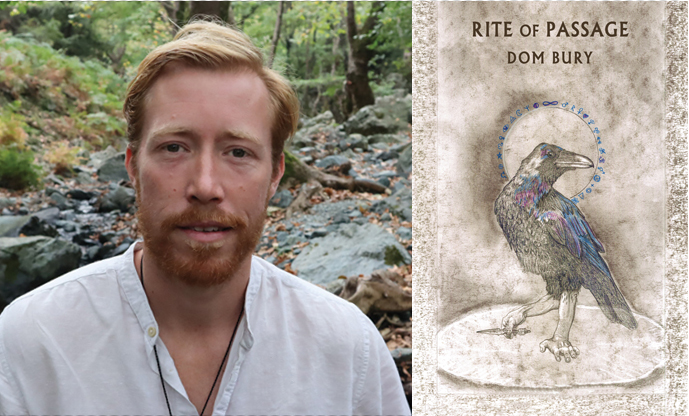 Dom Bury's Rite of Passage
'An astonishing debut. The environment has never felt so urgent; the world, through Bury's writing, has never felt so close at hand. Mythical and raw – a terrific book.' – Niall Campbell
Dom Bury's long-awaited debut poetry collection Rite of Passage, a book-length sequence of visionary poems addressing environmental and climate crisis, was published by Bloodaxe on 15 April 2021. He launched the collection on 20 April at a joint live-streamed event and discussion with Jenna Clake and Tishani Doshi. The event included a pre-recorded discussion between Dom Bury and Tishani Doshi focussing on the environmental issues at the heart of both their collections.
Rite of Passage was longlisted for the Laurel Prize 2021, Poet Laureate Simon Armitage's award for nature and ecopoetry.
Dom Bury introduced his collection in a piece for The Dark Mountain Project, which includes three poems from Rite of Passage.
'And so this is how I danced as I wrote, attempting to find equal parts ferocity and equal parts tenderness, equal parts beauty and equal parts truth and hard love.'
Read the feature here.


Dom Bury read and discussed his 10-part poem 'Metamorphosis' from Rite of Passage on the A Mouthful of Air podcast of 14 September 2021. He was in conversation with Mark McGuinness. Listen here.

REVIEWS FOR RITE OF PASSAGE

'Dom Bury's Rite of Passage is an intense, visionary work, suffused by images of apocalypse. It presents the environmental crisis as not merely stupidly self-destructive but sinful, a perverse violation of the sacredness of earth...Many... poems tell stories. Often electrifyingly strange, evoking both horror films and primitive folk tale, they grip the imagination, stretching it, sometimes bewildering it, but always suggesting the perversity and self-destructiveness of our abuse of the planet.' - Edmund Prestwich, Acumen
Now available on Edmund Prestwich's blog here.
'Dom Bury's first book… has an otherworldly feel about it, an almost mystically tender earthrootedness… A remarkable debut, to say the least.' – Michael Glover, The Tablet (Poetry for Summer 2021)
Register to see this article for free online here.

'These poems unflinchingly maintain their focus upon themes of human-made environmental disaster, yet are never moralising... This poetry is fierce and tender. Its creator masterfully merges these two qualities.' - Vanessa Lampert, The Alchemy Spoon
Rite of Passage is an astonishing debut – urgent, visceral, with an authentic, lyrical music.' - Theresa Sowerby, Orbis
~~~~~
Live-streamed launch reading, 20 April 2021

This international launch reading by Dom Bury, Jenna Clake and Tishani Doshi celebrating the publication of their new poetry collections was live streamed on 20 April 2021.
Owing to the time difference, Tishani Doshi's two readings and her discussion with Dom Bury were prerecorded at her home in India. Dom Bury joined live from Devon, and Jenna Clake from Newcastle upon Tyne, with editor Neil Astley hosting from his home in Northumberland. Their readings were followed by a separate live discussion between Dom and Jenna.
Jenna reads first in each set, followed by Dom, then Tishani.
~~~~
Rite of Passage includes Dom Bury's 2017 National Poetry Competition-winning poem 'The Opened Field'. This was made into a short film by Helmie Stil, commissioned by The Poetry Society.
The Opened Field | Poem by Dom Bury | Film by Helmie Stil from Motionpoems on Vimeo.
[15 April 2021]