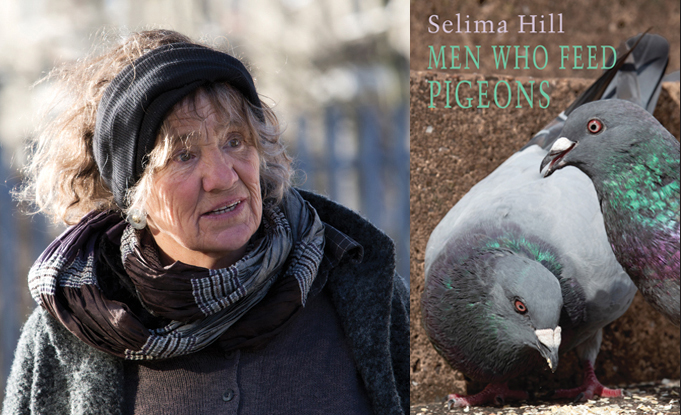 Selima Hill podcast interview & reviews
'The collection is by turns surreal and direct, but always arresting. Her trademark humour is present throughout, but its wit can often surprise the reader, conveying truths in hilarious and sometimes shocking ways. The judges were impressed by Selima's mastery of the portrait in miniature - one of the judges calling her 'the UK's Emily Dickinson'.' - Forward Prize Judges, on Men Who Feed Pigeons
Selima Hill's 20th collection Men Who Feed Pigeons brings together seven contrasting but complementary poem sequences by 'this brilliant lyricist of human darkness' (Fiona Sampson) relating to men and different kinds of women's relationships with men. It was published in September 2021, and was shortlisted for the Forward Prize for Best Collection, the 2021 T S Eliot Prize and the Rathbones Folio Prize 2022.
In January 2023, Selima Hill was named winner of The King's Gold Medal for Poetry, 2022. The award will be presented to her at a later date. More details on our news page here.
The Poetry Medal Committee, chaired by Poet Laureate Simon Armitage, recommended Selima Hill as the 2022 recipient on the basis of her body of work, and what continues to be a flourishing and strengthening creativity, with special recognition for her 2008 retrospective Gloria: Selected Poems. This brings together work from her first ten collections, including her Whitbread Poetry Award-winning Bunny. She has since published nine further collections, with her 21st book of poetry, Women in Comfortable Shoes, forthcoming from Bloodaxe in June 2023.
"Selima Hill is an inimitable talent. The mind is fragile and unreliable in her poetry, but is also tenacious and surprising, capable of the most extraordinary responses, always fighting back with language as its survival kit. Life in general might be said to be her subject, the complications, contradictions and consequences of simply existing. Nevertheless, Hill's writing is eminently readable and approachable, even fun at times, the voice of a person and a poet who will not be quieted and will not conform to expectations, especially poetic ones." - Simon Armitage, Poet Laureate, on behalf of The King's Gold Medal for Poetry Committee
FEATURE REVIEW COVERAGE

London Review of Books, Thursday 6 October 2022

A full-page piece on the poetry of Selima Hill was featured in the LRB of 6 October 2022. Emily Berry focuses on Men Who Feed Pigeons, but she sets this in the context of Selima's poetry more widely.

'In Hill's early collections, such as Saying Hello at the Station (1984) and The Accumulation of Small Acts of Kindness (1989), the poems are considerably longer, with more of a narrative drive. It's not that the recent work has no narrative – the poems always come in sequences – but they have the feel of comic strips rather than novels, and the unit of currency is the image…. the sequences accrue their characters and moods; the poems are part of something larger, like ornaments crowded together on a mantelpiece.' – Emily Berry, London Review of Books
In print and online by subscription. Register to see a few articles for free.
https://www.lrb.co.uk/the-paper/v44/n19/emily-berry/silent-as-a-fire-alarm

Emily Berry interviewed Selima Hill for a brilliant edition of The Poetry Review Podcast in 2021. Listen below, or scroll down to see a video featuring clips from the podcast.
https://poetrysociety.org.uk/news/new-poetry-review-podcast-with-selima-hill/


POETRY BOOKS OF THE YEAR

Selima Hill's 20th collection Men Who Feed Pigeons was highly recommended by Ruth Padel in Ars Notoria's Poetry Books of the Year online feature of 11 December 2021.
'Poetry in English is more varied now than ever. I love that Selima Hill's Men Who Feed Pigeons is shortlisted for the T. S. Eliot Prize. Her surreal, surprising lyrics always shed dark illumination on relationships...' - Ruth Padel, Ars Notoria (Poetry Books of the Year 2021)
Read the full feature here. Tishani Doshi's A God at the Door, which was also shortlisted for the Forward Prize for Best Collection, is also featured.

'Here we are again, at the poets' Christmas party. Pour yourself a mugful of mulled wine and try not to get stuck in the hallway with the sort of Men Who Feed Pigeons, inimitably skewered in Selima Hill's bite-sized portraits. "Familiar, inert, he's like a table," she writes of one. "Watching him eat brandy snaps, I'm learning/ not to keep expecting to be heard."' – Tristram Fane Saunders, The Telegraph (Christmas Books, 2021)

T S ELIOT PRIZE COVERAGE

'Selima Hill is a one-off, and her restless magpie mind unpicks the fragile seams of everyday experience, revealing the darkness beneath. We can choose to laugh, or we can choose to cry, but there's no easy escape from the disconcerting experiences Hill promises her reader.' - John Field, for the T S Eliot Prize, on Men Who Feed Pigeons
Read John Field's review in full on the T S Eliot Prize website here. T S Eliot Prize Readers' Notes for Selima Hill are here.
All ten titles shortlisted for the 2021 T S Eliot Prize were reviewed by Tristram Fane Saunders in The Telegraph of 8 January 2022 ahead of the T S Eliot Prize Readings and Award Ceremony of 9 and 10 January. Read here.
'I loved Men Who Feed Pigeons, Hill's huge book of tiny poems. One sequence, "Billy", captures the kind of sacred friendship found only between a man and woman who have nothing in common and don't much like each other but have been friends forever and so must soldier on regardless. It's very, very funny...' - Tristram Fane Saunders, The Telegraph
Both The Kids and Men Who Feed Pigeons were recommended and discussed by Andy Miller on episode 154 of the Backlisted podcast of 10 January 2022. Andy read poems from the third sequence 'Billy'. He read 'What It Feels Like to Talk to Him' twice, followed by six poems from the middle of the sequence: 'My Life as a Pair of Crocs', The Extra-large Crab Sandwich', 'The Sea', 'On the Beach', 'Kindness' and 'Trolley'. He then read the final two poems in the sequence, 'The Hospital at Night' and 'Kilimanjaro, Kilimanjaro, Kilimanjaro'. Finally he read 'The Childhood Sweetheart' from the first section. He commented that the brevity of the poems 'makes them endlessly re-readable.'

'They do land on your brain and stay there, and the more you read them, the more they seem to talk to one another… such an interesting, elliptical kind of collection.' – Andy Miller, Backlisted podcast, on Men Who Feed Pigeons
The Kids is discussed from 7.07 and Men Who Feed Pigeons from 27:54. They are both mentioned again later as part of a discussion about Victoria Kennefick's debut (from 45:47), which is also on the T S Eliot Prize shortlist. Listen here.
REVIEW COVERAGE FOR MEN WHO FEED PIGEONS

The Friday Poem, online 22 October 2021

Selima Hill's twentieth book of poetry Men Who Feed Pigeons was well reviewed in The Friday Poem. The reviewer invites readers to play a guess which lines are by Sappho/Issa/Hill quiz..

'... polemically counter what seems a largely uncontested claim in the commentary on Hill, to the effect that her characteristic style makes her some kind of quirky outsider. I'd say quite the opposite: that in both her themes and how she treats them Hill's quality is classical. – Steven Lovatt, The Friday Poem
Read in full here.
Literary Review, August 2021 issue

'Like the authors of the classical epigrams that are these poems' ultimate model, Hill uses a spare, brief span that can give gravity to light matters as well as supporting the weightiest. Hill's poems, however small, feel complete.' – William Wootten, Literary Review

Read in full here.
DURA (Dundee University Review of the Arts), online 1 September 2021

'Despite their brevity, and their role in the larger narrative, these poems are far from fragmentary, being tightly self-contained, whilst also articulating with one another within the collection's wider scope… Overall, this is a remarkable collection, demanding considerable revisiting, and it is set to pierce very deeply.' – Beth McDonough, DURA
Read in full here.
PODCAST INTERVIEW WITH SELIMA HILL

The Poetry Review Podcast, online 9 April 2021

For the April 2021 Poetry Review Podcast Selima Hill read poems from her forthcoming collection Men Who Feed Pigeons and was in conversation with Emily Berry, editor of The Poetry Review. A rare interview with Selima Hill, who no longer likes to give either interviews or readings. This was a joyful meeting of minds.

'In a searching, wide-ranging and often very funny exchange, Selima Hill talks to Review editor Emily Berry about being both a prolific writer and a private person, about secrecy and rebellion, embodiedness and encodedness. Her writing process is, she says, less about cutting ("which sounds so violent") and rather like "lifting your hair – loosen, loosen, then tighten, tighten, tighten – spread it as far as you can, then tighten". They discuss relationships with family, men, audiences, Eastern European literature and animals, including Hill's pet giant land snail. She also describes how her diagnosis of Asperger's Syndrome, her experiences in psychiatric hospital, and periods of muteness have affected her writing. Hill gives vivid readings of all of her poems published in the winter 2020 issue of The Poetry Review, including 'Standing on his doorstep', 'Jelly' and 'Berries', which will appear in Men Who Feed Pigeons, published by Bloodaxe this September.'

This news piece on The Poetry Society's website links to the podcast - read and listen here.
Extracts from this podcast were used, with permission, in a film for Bloodaxe's live-streamed joint launch event on 16 September 2021. See below.
Selima Hill: Men Who Feed Pigeons


Selima Hill talks to Emily Berry about Men Who Feed Pigeons and reads a selection of poems from the book first published in The Poetry Review: 'Standing on His Doorstep', 'The Beautiful Man Whose Name I Can't Pronounce', 'A Happy-looking Man', 'Jelly', 'Bucket', 'What Kind of Woman Am I', 'Chickens', 'You Either Love a Person or You Don't', 'My Horse-hoof Soup', 'Berries' and 'The Tank'. The interview was recorded by Emily Berry for The Poetry Review Podcast in 2021. This film was edited by Neil Astley and Peter Hebden and included in Bloodaxe's online book launch event shared with Hannah Lowe and Stephanie Norgate on 16 September 2021.
~~~~~~
Selima Hill's previous collection I May Be Stupid But I'm Not That Stupid has six contrasting but complementary poem sequences relating to family, fear, foreboding and felicity.
REVIEW COVERAGE FOR I MAY BE STUPID BUT I'M NOT THAT STUPID

'And finally from the UK, three outstanding collections from three mature poets writing at their very best: Selima Hill's wild, funny heart-breaking I May Be Stupid But I'm Not That Stupid (Bloodaxe); Tim Cumming's devastatingly acute Knuckle (Pitt Street Poetry, and the precisely terrifying Girlhood from Julia Copus (Faber).' - Martina Evans, The Irish Times (Best new poetry of 2019)

'Selima Hill's I May Be Stupid But I'm Not That Stupid shows that she…is a pioneer of vividly disobedient verse. Her substantial new book brings together six sequences of characteristically short four and six-line poems. Funny and dark, Hill is always a danger to herself and others with her poems of psychic injury and revenge, and here she is at her gadfly best.' – Fiona Sampson, The Guardian
Read the full review in the The Guardian's round-up of best recent poetry here.
'I May Be Stupid But I'm not That Stupid is a breathless, breath-taking collection of six more-or-less-consistently themed sequences. Few of the poems are longer than two or three couplets; each punches consistently above their weight. This is fierce and funny poetry.' – Hannah Stone, The Lake
Read the full review here.
'Selima Hill is a unique voice in contemporary British poetry, as the title of her latest collection — I May Be Stupid But I'm Not That Stupid — implies, there is more to her than meets the eye. Her poetry is eclectic and electric; it cartwheels through juxtapositions and leaps of logic, and, as Proust opined, thanks to her poetry the world we see, through her art, is multiplied. Seemingly mundane subjects, such as farmyards and country life, are painted with new layers of vivid colour, forever fracturing a new world from the old…. I May Be Stupid But I'm Not That Stupid is an entertaining collection from a complex, warmly welcome poet. Highly recommend.' – Charlie Baylis, The London Magazine
Read the full review here.


[05 May 2021]