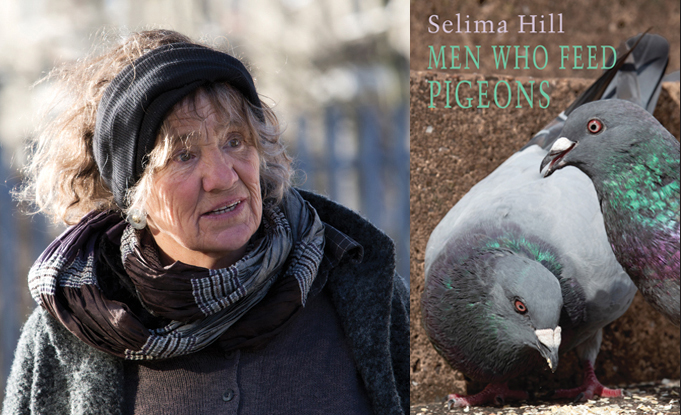 Selima Hill podcast interview & reviews
'The collection is by turns surreal and direct, but always arresting. Her trademark humour is present throughout, but its wit can often surprise the reader, conveying truths in hilarious and sometimes shocking ways. The judges were impressed by Selima's mastery of the portrait in miniature - one of the judges calling her 'the UK's Emily Dickinson'.' - Forward Prize Judges, on Selima Hill's Men Who Feed Pigeons
Selima Hill's 20th collection Men Who Feed Pigeons brings together seven contrasting but complementary poem sequences by 'this brilliant lyricist of human darkness' (Fiona Sampson) relating to men and different kinds of women's relationships with men. It was published on 16 September 2021 by Bloodaxe Books, and was shortlisted for the Forward Prize for Best Collection. It is on the shortlist for the T S Eliot Prize 2021. Her previous collection I May Be Stupid But I'm Not That Stupid has six contrasting but complementary poem sequences relating to family, fear, foreboding and felicity.
REVIEW COVERAGE FOR MEN WHO FEED PIGEONS

The Friday Poem, online 22 October 2021

Selima Hill's twentieth book of poetry Men Who Feed Pigeons was well reviewed in The Friday Poem. The reviewer invites readers to play a guess which lines are by Sappho/Issa/Hill quiz..

'... polemically counter what seems a largely uncontested claim in the commentary on Hill, to the effect that her characteristic style makes her some kind of quirky outsider. I'd say quite the opposite: that in both her themes and how she treats them Hill's quality is classical. – Steven Lovatt, The Friday Poem
Read in full here.
Literary Review, August 2021 issue

'Like the authors of the classical epigrams that are these poems' ultimate model, Hill uses a spare, brief span that can give gravity to light matters as well as supporting the weightiest. Hill's poems, however small, feel complete.' – William Wootten, Literary Review

Read in full here.
DURA (Dundee University Review of the Arts), online 1 September 2021

'Despite their brevity, and their role in the larger narrative, these poems are far from fragmentary, being tightly self-contained, whilst also articulating with one another within the collection's wider scope… Overall, this is a remarkable collection, demanding considerable revisiting, and it is set to pierce very deeply.' – Beth McDonough, DURA
Read in full here.
PODCAST INTERVIEW WITH SELIMA HILL

The Poetry Review Podcast, online 9 April 2021

For the April 2021 Poetry Review Podcast Selima Hill read poems from her forthcoming collection Men Who Feed Pigeons and was in conversation with Emily Berry, editor of The Poetry Review. A rare interview with Selima Hill, who no longer likes to give either interviews or readings. This was a joyful meeting of minds.

'In a searching, wide-ranging and often very funny exchange, Selima Hill talks to Review editor Emily Berry about being both a prolific writer and a private person, about secrecy and rebellion, embodiedness and encodedness. Her writing process is, she says, less about cutting ("which sounds so violent") and rather like "lifting your hair – loosen, loosen, then tighten, tighten, tighten – spread it as far as you can, then tighten". They discuss relationships with family, men, audiences, Eastern European literature and animals, including Hill's pet giant land snail. She also describes how her diagnosis of Asperger's Syndrome, her experiences in psychiatric hospital, and periods of muteness have affected her writing. Hill gives vivid readings of all of her poems published in the winter 2020 issue of The Poetry Review, including 'Standing on his doorstep', 'Jelly' and 'Berries', which will appear in Men Who Feed Pigeons, published by Bloodaxe this September.'

This news piece on The Poetry Society's website links to the podcast - read and listen here.
Extracts from this podcast were used, with permission, in Bloodaxe's live-streamed joint launch event on 16 September 2021 - details here.

~~~~~~
REVIEW COVERAGE FOR I MAY BE STUPID BUT I'M NOT THAT STUPID

'And finally from the UK, three outstanding collections from three mature poets writing at their very best: Selima Hill's wild, funny heart-breaking I May Be Stupid But I'm Not That Stupid (Bloodaxe); Tim Cumming's devastatingly acute Knuckle (Pitt Street Poetry, and the precisely terrifying Girlhood from Julia Copus (Faber).' - Martina Evans, The Irish Times (Best new poetry of 2019)

'Selima Hill's I May Be Stupid But I'm Not That Stupid shows that she…is a pioneer of vividly disobedient verse. Her substantial new book brings together six sequences of characteristically short four and six-line poems. Funny and dark, Hill is always a danger to herself and others with her poems of psychic injury and revenge, and here she is at her gadfly best.' – Fiona Sampson, The Guardian
Read the full review in the The Guardian's round-up of best recent poetry here.
'I May Be Stupid But I'm not That Stupid is a breathless, breath-taking collection of six more-or-less-consistently themed sequences. Few of the poems are longer than two or three couplets; each punches consistently above their weight. This is fierce and funny poetry.' – Hannah Stone, The Lake
Read the full review here.
'Selima Hill is a unique voice in contemporary British poetry, as the title of her latest collection — I May Be Stupid But I'm Not That Stupid — implies, there is more to her than meets the eye. Her poetry is eclectic and electric; it cartwheels through juxtapositions and leaps of logic, and, as Proust opined, thanks to her poetry the world we see, through her art, is multiplied. Seemingly mundane subjects, such as farmyards and country life, are painted with new layers of vivid colour, forever fracturing a new world from the old…. I May Be Stupid But I'm Not That Stupid is an entertaining collection from a complex, warmly welcome poet. Highly recommend.' – Charlie Baylis, The London Magazine
Read the full review here.


[05 May 2021]