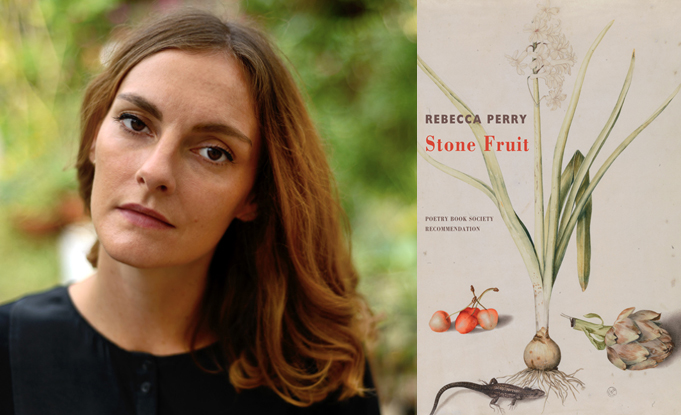 Rebecca Perry's Stone Fruit: reviews & interviews
'Divided into three sections that uncannily echo one another, Stone Fruit, the follow-up to her debut Beauty/Beauty (2015), interrogates the limits of the body and the poet'sdifficulty in articulating those limits.' - Maya C. Popa, Times Literary Supplement
Rebecca Perry's second collection Stone Fruit was published on 27 May 2021. Her debut collection, Beauty/Beauty won the 2017 Michael Murphy Memorial Poetry Prize. It was also a Poetry Book Society Recommendation, and was shortlisted for the T.S. Eliot Prize, the Fenton Aldeburgh First Collection Prize and the Seamus Heaney Centre for Poetry Prize for First Full Collection 2016.
A collection of three distinct parts, the poems in Rebecca Perry's Stone Fruit speak across their many common preoccupations: memory, grief, the fallibility of the physical form, our connection to and place in the world, natural and otherwise. The book closes with a reflective long poem – part elegy and part essay – on competitive trampolining.
Stone Fruit is a Poetry Book Society Recommendation for Summer 2021. Rebecca was in conversation with Anthony Anaxagorou for the Poetry Book Society's Instagram Bookclub event on Tuesday 1 June on Instagram Live. Watch here.

Rebecca Perry was interviewed for Canada's Poetry Extension podcast on 20 May. She was in conversation with Natalya Anderson and read 'The execution was conducted in the open air' from Stone Fruit.
Listen to the podcast here.
Poet Hollie McNish read two poems from Rebecca Perry's Stone Fruit in her informal Intagram Live Sunday night gig One I Wrote, One I Love on 6 June. She read 'Beaches (5)', and said the she chose to read that poem because 'I love the first four lines of the poem – love it – about grief.' She then read the next poem in the sequence. She said that she had been bought the book because she'd also loved Rebecca's debut Beauty/Beauty.

Watch here. Hollie introduces Rebecca Perry's poems at 12:22.


A review of Stone Fruit is featured in the TLS of 28 May 2021. As the review features in the In Brief section, almost all of it can be seen online. It ends as follows:
'In typical Perry fashion, she connects trampolining with space travel and ultrasound scans: "If an astronaut had one word for the feeling / of observing the whole of the earth from space, / as did a human viewing their insides on a screen, / I think that words would be: no." Her second collection is filled with such idiosyncratic leaps and turns.' - Maya C. Popa, Times Literary Supplement
Read the rest of the review here.
~~~~
Bloodaxe joint online launch event with Rebecca Perry, Chrissy Williams and Deborah Landau

This outstanding international reading and discussion was live-streamed on 19 May 2021. It was a late UK launch for American poet Deborah Landau's fourth collection Soft Targets, published June 2020, and an early launch for Rebecca Perry and Chrissy Williams' second collections Stone Fruit and Low, which were published on 27 May 2021. Deborah joined from her home in Brooklyn, with Rebecca and Chrissy joining from London. Hosted by Bloodaxe editor Neil Astley from his home in Northumberland.
Rebecca Perry read first in each set, followed by Chrissy and then Deborah. In the discussion that followed, they explored the themes of resistance and vulnerability (as Rebecca put it) that connect their three collections. This captivating and wide-ranging conversation begins at 51:30.
[29 May 2021]