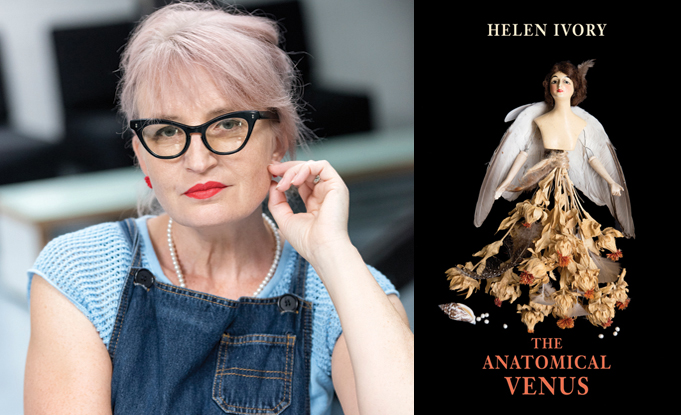 Helen Ivory interviews & reviews
Helen Ivory's fifth collection The Anatomical Venus was published by Bloodaxe Books in May 2019. It was shortlisted for the poetry category of the East Anglian Book Awards 2019 and won the East Anglian Writers Book by the Cover Award, judged by members of the East Anglian Writers. The cover features artwork by Helen Ivory, who is also an artist. More in the Eastern Daily Press here. Artwork by Helen Ivory features on the covers of all of her five Bloodaxe collections. The poems and the cover images come from the same imaginative place.
The Anatomical Venus examines how women have been portrayed as 'other'; as witches; as hysterics with wandering wombs and as beautiful corpses cast in wax, or on mortuary slabs in TV box sets.
PODCAST INTERVIEW WITH HELEN IVORY

Planet Poetry: real/surreal with Helen Ivory, podcast online 18 June 2021

In-depth interview with poet and artist Helen Ivory for episode 16 of the Planet Poetry podcast. The interview was followed by a discussion about The Anatomical Venus with hosts Robin Houghton and Peter Kenny.

Helen spoke to Robin about the detailed research that informed the poems of her fifth collection The Anatomical Venus. She read and introduced her poems 'Thou Shalt Not Suffer a Sorceress to Live', 'Wunderkammer with Ophelia and Hospital Bath', 'Female Casebook 6', 'Housewife Psychosis' and 'The Little Venus'. She also spoke about the poem 'Dissecting Venus'. Helen also talked about her work as an artist.

'Join us as we peer into the dreamlike cabinet of curiosities that is Helen Ivory's The Anatomical Venus where women are labelled witches and hysterics, pathologised by medical science and surreally transformed into demure models with visible innards.'

The item on Helen Ivory was followed by a discussion about the late Swedish poet and Nobel Prize in Literature winner Tomas Tranströmer, whose work is also published by Bloodaxe, but in Robin Fulton's translation. Bloodaxe also published the correspondence between Tranströmer and Robert Bly, whose translation was being discussed.

First item with Helen Ivory. The discussion on Tomas Transtromer begins at 37:52.
Listen here.

ONLINE INTERVIEWS WITH HELEN IVORY

The Friday Poem, online 6 June 2021

Helen Ivory wrote a piece about belonging, identity and finding a voice for the new online magazine The Friday Poem. She talked about her two latest collections Waiting for Bluebeard and The Anatomical Venus.
Read here.

Helen was interviewed by William Bedford for
The High Window
. The full conversation can be read at
thehighwindowpress.com
.
ONLINE REVIEW COVERAGE

Helen Ivory's fifth collection
The Anatomical Venus
was given a wonderful review in the online literary magazine Northern Soul in March 2020. Read in full
here
.
'
The Anatomical Venus
is an often disturbing journey of how women have been treated by men through the ages. It is historical reportage. It is controlled and focused anger without sentiment. It is subjugation and oppression laid bare in subtle and often mesmerising ways. It is Angela Carter's eye meets Elaine Showalter's brain. It is dark, upsetting and erotic. And it's laced with magic from the first page until the last. It's the suffering of women, and women fighting back in delicious and unusual ways. It says as much, if not more, about men throughout history as it does about women. Read this book. Then read it again. And again. With each reading,
The Anatomical Venus
will reveal something new, like all great books do.' – Mark Connors, Northern Soul
Brilliant in-depth review of
The Anatomical Venus
in the online literary short story magazine
Storgy
. Read in full
here
.
'Historical it may well be but this collection's contemporary relevance is searing… This collection is a stunningly curated linguistic exhibition on the historical abuse of women. Enticing and yet flinching, this disquieting house of dolls makes abuse seen and urges us to reevaluate why women are where they are now, and it does so with an eerie and unforgettable beauty.' – Rachel Smart,
Storgy Magazine
Helen Ivory's fifth collection
The Anatomical Venus
was given an excellent review in the December 2019 issue of the online poetry magazine
The Lake
. Read in full
here
.
'This is a collection to browse, to devour, to return to. Unless you have a strong stomach for nightmares, it is not bedtime reading. Maybe it is best read in daylight, beside an open window so the ghosts and horrors can escape. Every library, wunderkammer and bookshelf needs a copy of this book.' - Hannah Stone,
The Lake
Helen Ivory's art and poetry were featured in the winter 2019 issue of the American magazine
Still Point Arts Quarterly
. This ten-page feature was illustrated with examples of Helen's artwork, as well as the cover of her collection
Waiting for Bluebeard
. The feature mainly concentrated on her work as a visual artist, but began with the comment: 'She is that rara avis, an artist of equal stature in the worlds of both poetry and the visual arts,…'
'The extraordinary world of Helen Ivory, whether entered by eating a cake marked POETRY or by drinking from a bottle labeled VISUAL ART, is truly Alice-like in its sense of wonder, its sense of logical construction, its sense of logical deconstruction, its sense of sheer logical madness reflected in the looking glass of the illogically sane. It also possesses a sense of — not just originality — but artistic freedom, the impression that Helen Ivory is one of those fortunate few who have the self-confidence and the skill to absolutely and fearlessly create the art they wish to create..' – Michael Paul Hogan,
Still Point Arts Quarterly
[22 June 2021]