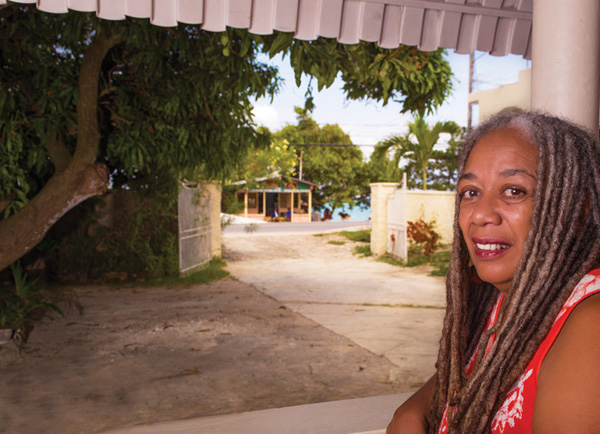 Jean 'Binta' Breeze (1956-2021)
We were deeply saddened by the news of Jean 'Binta' Breeze's death in Jamaica, aged 65, on 4 August 2021. A tribute event will be held in London to mark the first anniversary of her passing. A Tribute to Jean Binta Breeze will be held on Thursday 4 August 2022 at 7.00-8.30pm, Brixton Library, Brixton Oval, London SW2 1JQ. All tickets have now sold out, but see here for possible returns. Family and close friends from the worlds of literature, music and theatre will celebrate her life and work.

A popular Jamaican poet and storyteller, Jean's performances were so powerful that she was called 'a one-woman festival', a testament also to the way in which she fully embodied the memorable characters she brought to life in her poems, male as well as female. She began to write poetry in the 1970s, becoming the first woman to write and perform as a dub poet – then a predominantly male genre – performing and recording first in Kingston and then in London. After studying at the Jamaican School of Drama with Michael Smith and Oku Onuora, she worked as a director and scriptwriter for theatre, television and film, and as a dancer and choreographer. She wrote the script for the film Hallelujah Anyhow, screened at the British Film Festival in 1990.
Her poems are Caribbean songs of innocence and experience, of love and conflict. They use personal stories and historical narratives to explore social injustice and the psychological dimensions of black women's experience. Striking evocations of childhood in the hills of Jamaica give way to explorations of the perils and delights of growth and change – through sex, emigration, motherhood and age.
Born in rural Jamaica near Montego Bay, Jean grew up in Patty Hill, a small village in the hills of Hanover Parish, raised for much of that time by her peasant farmer grandparents. Her father was a public health inspector and her mother a midwife. After high school, she married one of her former teachers, a Welshman, Brian Breese, in 1974, and they had a son, Gareth, who became a cricketer, playing for Jamaica and for Durham in Britain (as well as twice for the West Indies). When the marriage ended, she spent a year at the Jamaican School of Drama in Kingston, before moving to Clarendon Hills where her elder daughter Imega was born. There she embraced Rastafarianism and became an early member of the Sistren Theatre Collective, an organisation of working-class women dedicated to fighting the exploitation of Jamaican women.
Encouraged by Linton Kwesi Johnson, she first visited London in 1985, taking part in the International Book Fair of Radical and Third World Books. She went on to perform her work throughout the world, including tours of the Caribbean, Britain, North America, Europe, South East Asia and Africa, and latterly divided her time between Jamaica and England, continuing to write, perform and teach as much as she could until her illness led to early retirement to Jamaica.
She spent her final years near Sandy Bay, Hanover Parish, occupying the verandah of a wooden house facing the sea portrayed in The Verandah Poems, the collection she published in 2016 with colour photographs by her nephew Tehron Royes of the world she re-inhabited there.
Jean published eight books of poetry and stories. Answers (Jamaica, 1982), Riddym Ravings (Race Today, UK, 1988) and Spring Cleaning (Virago, 1992) were followed by On the Edge of an Island (1997), The Arrival of Brighteye (2000), The Fifth Figure (2006), Third World Girl: Selected Poems (2011, with DVD) and The Verandah Poems (2016) from Bloodaxe. And she released several records, cassettes and CDs, including Tracks and Eena Me Corner with the Dennis Bovell Dub Band and Riding On De Riddym: selected spoken works (57 Productions).
Introduced by Colin McCabe, Third World Girl was published with a DVD featuring two Jean 'Binta' Breeze performances filmed by Pamela Robertson-Pearce in 2010 at Leicester's Y Theatre, plus an onstage interview with Jane Dowson. The DVD which comes with Third World Girl includes 33 poems read in the course of the two performances in Leicester, the city which became her second UK home after London, and where she became the driving force of many community projects across the East Midlands. She was made an Honorary Creative Fellow at the University of Leicester.
Third World Girl doesn't cover The Fifth Figure, her book-length sequence mixing poetry and prose which chronicles the lives of five generations of Caribbean and Black British women of mixed ancestry. Part novel, part poem, part family memoir, its structure is based on the Jamaican quadrille, a hybrid version of the dance brought from Europe by the island's former colonial masters.
Her collection The Verandah Poems is a book of coming home and coming to terms, of contemplation rather than contention – of mellow, musing, edgy poems drawn from the life and lives around her in Jamaica. It has a foreword by Kei Miller, who calls her 'the quintessential mad woman' in an online tribute, 'and she bore her madness with more grace, more warmth, more wisdom and more intelligence than most any of us bear our individual burdens. Long before we knew how to talk about mental health with any kind of sensitivity, Jean embraced the truth about her schizophrenia and wrote about it, producing the poem she will always be remembered for – "Riddym Ravings (The Mad Woman's Poem)".
Introducing her on BBC Radio 4's Poetry Please, Malika Booker said: 'I absolutely love Jean…the way she brings poems alive, the way she performs… She tackles the difficult, the forbidden, the taboo, the domestic ordinariness… and she is also able to really capture in a humorous and light way the heavy histories of our community, from slavery to post-colonial histories.'
And writing in The Independent, Tania Glyde: 'Breeze sings of sisterhood and the private spirituality that keeps the head above water even when prejudice, and laundry, threaten to drag it down. Her work, and that of a great many other black women writers, affirms life in a way that the rest of the world might do well to emulate.'
She received a NESTA Award in 2003 (for which she was based in Cambridge), and an MBE in 2012 for services to literature. Her show 'Three The Hard Way' with Shruti Chauhan and Lydia Towsey toured the UK from 2013 to 2015.
Jean leaves three children, her son Gareth Breese and daughters Imega Breese McNab and Caribe Breese.
Jean 'Binta' Breeze, born Jean Lumsden in Patty Hill, Hanover Parish, Jamaica, 11 March 1956; died Jamaica, 4 August 2021.
Photograph by Tehron Royes of Jean 'Binta' Breeze from The Verandah Poems.
The new Waterstones Children's Laureate, performance poet, playwright and children's author Joseph Coelho, has been mentioning the late Jean 'Binta' Breeze in a number of interviews about his appointment to the role in July 2022. Jean came to visit his school when he was in the sixth form - 'A visit from the late, great Jean 'Binta' Breeze changed everything.'

"She sat on the stage and read a brilliant poem about the softest touch. It just blew me and my classmates away. That was the first time that it occurred to me that poetry could be a job, not just something I wrote, but a career. It was also the first time that I'd seen someone who looked a bit like me in the publishing world." – Joseph Coelho, Books for Keeps


The Poetry Exchange, Episode 72: 'Truth' by Jean 'Binta' Breeze – a friend to Sue Brown, online 27 July 2022

Half hour podcast conversation about the late Jean 'Binta' Breeze's poem 'Truth'. The poem was chosen by poet Sue Brown, who discussed it with Fiona Bennett and Roy McFarlane.

'In this episode, poet Sue Brown talks with us about the poem that has been a friend to her - 'Truth' by Jean 'Binta' Breeze. Sue joined The Poetry Exchange at the Birmingham & Midland Institute and is in conversation with Fiona Bennett and Roy McFarlane. 'Truth' is taken from Jean Binta Breeze's 'Third World Girl - Selected Poems', published by Bloodaxe Books'

The poem is discussed from 2:47. Listen via Spotify here.


Links to tributes:
The Economist, 11 September 2021: https://www.economist.com/obituary/2021/09/11/obituary-jean-binta-breeze-spoke-for-all-jamaican-women
New York Times, Katharine Q. Seelye, 25 August 2021: https://www.nytimes.com/2021/08/25/arts/jean-breeze-dead.html
The Telegraph, in print 20 August 2021, online 19 August: https://www.telegraph.co.uk/obituaries/2021/08/19/jean-binta-breeze-poet-used-jamaican-dub-genre-deliver-political/
Lyn Innes, The Guardian, in print 20 August, online 11 August 2021: https://www.theguardian.com/books/2021/aug/11/jean-binta-breeze-obituary
Hannah Lowe, Writers Mosaic, online 18 August 2021: https://writersmosaic.org.uk/close-up/jean-binta-breeze-1956-2021/
One Last Dub, Celebrating the life of Jean 'Binta' Breeze, Monday 16 August 2021. Moving tributes, poems and reflections from Jean Breeze's children Imega, Gareth and Caribe, along with close friends and long-term collaborators. Streamed live from Jamaica on 16 August 2021. https://www.youtube.com/watch?v=O63loSwGO-o
Last Word, BBC Radio 4, 13 August 2021. Tribute from Linton Kwesi Johnson, who brought Jean to the UK in 1985 to perform at the International Book Fair of Radical and Third World Books. Jean's close friend (and distant cousin) actor Dona Croll also contributed. A recording of Jean reading her poem 'simple tings' from Third World Girl was played. First item. https://www.bbc.co.uk/programmes/m000ynbt
The Verb, BBC Radio 3, tribute posted online 11 August 2021. Extract from Jean 'Binta' Breeze's interview on The Verb in 2016. She was talking to Ian McMillan and read her poems 'Departure of a daughter' and 'Stranger' from The Verandah Poems. https://www.bbc.co.uk/programmes/p09s1jn6
Asha Patel, Leicester Mercury, 7 August. A shorter version was published online on 5 August: https://www.leicestermercury.co.uk/news/leicester-news/electrifying-poet-artist-performer-jean-5748384
Front Row, BBC Radio 4, 5 August 2021 (from 26:30) - tribute plus a clip of Jean being interviewed and reading a poem: https://www.bbc.co.uk/programmes/m000yfl3
Emma Lewis, Global Voices: https://globalvoices.org/2021/08/06/the-first-woman-dub-poet-jean-binta-breeze-dies-at-her-rural-jamaican-home/
Harry Taylor, The Guardian, 5 August 2021: https://www.theguardian.com/uk-news/2021/aug/05/jamaican-dub-poet-jean-binta-breeze-dies-aged-65
Jean 'Binta' Breeze live at the Y
Third World Girl includes a free DVD featuring two live performances by Jean 'Binta' Breeze and an interview filmed by Pamela Robertson-Pearce at the Y Theatre, Leicester, in 2010. In this extract from the March 2010 event, Jean reads three poems: 'simple things', 'ordinary mawning' and 'Aid Travels with a Bomb'. With thanks to Lydia Towsey of the Lyric Lounge for organising the readings at the Y.
[05 August 2021]