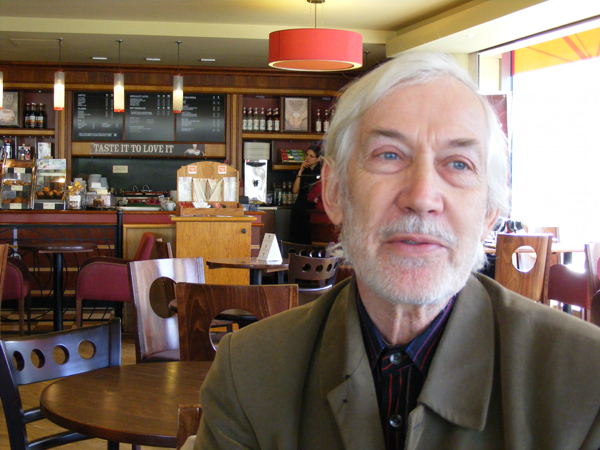 Jaan Kaplinski (1941-2021)
Estonia's leading writer and cultural figure Jaan Kaplinski has died, aged 80, of motor neurone disease.
Jaan Kaplinski was born in Tartu in 1941 shortly after the Soviet annexation of Estonia. His mother was Estonian, and his Polish Jewish father, Jerzy Kaplinski, a professor of philology at Tartu University, died from starvation in a Soviet labour camp when Jaan was still a child. "My childhood," he said, "passed in Tartu, a war-devastated university town. It was a time of repression, fear and poverty."
Jaan Kaplinski studied Romance Language and Linguistics at Tartu University and worked as a researcher in linguistics, as a sociologist, ecologist and translator. He lectured on the History of Western Civilisation at Tartu University and was a student of Mahayana Buddhism and philosophies of the Far East. He wrote and published several books of poetry and essays in Estonian, Finnish and English, starting to write also in Russian in recent years. His first original collection of poems written in Russian, "Белые бабочки ночи" (White Butterflies of Night), was published in 2014, receiving a "Russian Award" in Moscow celebrating the best works written in Russian by foreign authors.
His work has been translated many languages, including English, Finnish, French, Norwegian, Swedish, Dutch, Icelandic, Hungarian, Japanese, Latvian, Lithuanian, Russian, Hebrew, Bulgarian and Czech. He had much in common with Gary Snyder, who wrote of Kaplinski and his work that "he is re-thinking Europe, revisioning history, in these poems of our times. Elegant, musing, relentless, inward, fresh. Poems of gentle politics and love that sometimes scare you." He discusses the philosphical background to his poetry in the video posted below.
After publishing English translations of three collections with Harvill in Britain, one of these from Breitenbush and one from Copper Canyon in the US, Kaplinski published Evening Brings Everything Back with Bloodaxe Books in 2004, a book combining work from three earlier titles published in Estonia, Evening brings everything back (1984), Ice and Heather (1989) and Summers and Springs (1995). His semi-autobiographical, mystical novel, The Same River, translated by Susan Wilson, was published by Peter Owen in 2009. His other English translators and co-translators have included Hildi Hawkins, Sam Hamill, Fiona Sampson and Riina Tamm.
His Selected Poems (Bloodaxe Books, 2011) includes work previously unpublished in English as well as poems drawn from all four of his previous UK collections: The Same Sea in Us All (1985/1990), The Wandering Border (1987/1992), Through the Forest (1991/1996) and Evening Brings Everything Back (2004). He was awarded the European Prize for Literature (Prix Européen de Littérature) in 2016, and in the same year was nominated for the Nobel Prize in Literature.
He translated literature from French, English, Spanish, Chinese (including the Tao Te Ching) and Swedish (a book of poems by Tomas Tranströmer), and travelled widely. Awarded many prizes and honours, he was a member of several learned societies including the Universal Academy of Cultures. Jaan Kaplinski was a member of the new post-Revolution Estonian parliament (Riigikogu) in 1992-95 and his essays on cultural transition and the challenges of globalisation are published across the Baltic region. Further details and texts are on his website http://jaan.kaplinski.com/
In 1980 Kaplinski was one of the authors and initiators of the so-called Letter of 40 intellectuals (Neljakümne kiri) action, a letter signed by well-known Estonian intellectuals protesting against the behaviour of the authorities in Soviet-annexed Estonia sent to the main newspapers of the time. He was later involved in an Irish-Estonian initiative predating Estonian independence, appearing on the Ulster TV talk show Kelly's People. He gave lectures, readings and talks in Vancouver and Calgary, Ljubljana and Trieste, Taipei and Stockholm, Bologna and Cologne, London and Edinburgh, and at festivals in Ireland, including Cúirt in Galway and at Poetry Now in Dún Laoghaire where he launched his Selected Poems in 2011. He was also writer-in-residence at the University of Aberystwyth in Wales.
A virtual conference marking Kaplinski's 80th birthday was held in January 2021 organised by the city of Tartu, the Writer's Union and the Estonian Literary Museum covering the wide range of his work, including his contributions to ecological thinking, global issues, linguistics, literature and the study of Eastern philosophies. Arne Merilai, the main organiser of Luuletused on elanud maakeral juba eotseenist saadik, said that the conference offered new insights into Jaan Kaplinski as "a great Estonian poet, essayist and thinker. His writings have been translated into many different languages and his world view has affected us and the world. Kaplinski was present to receiving a prestigious award, but was unable to speak by then.
Other writers have streets named after them. Kaplinski went one better with celestial recognition in main-belt asteroid 29528 Kaplinski.
Silver Tambur, co-founder and Editor-in-Chief of Estonian World published this appreciation of Kaplinski at the time of his 80th birthday celebrations earlier this year: https://estonianworld.com/culture/estonian-author-and-nobel-prize-nominee-jaan-kaplinski-turns-80/
He leaves a widow, writer and Tartu Toy Museum director Tiia Toomet, and five children: three sons with Toomet (Ott-Siim Toomet, Lauris Kaplinski, Lemmit Kaplinski); a daughter, Ott-Siim Toomet, with his first wife, Küllike Kaplinski; and a son, composer Märt-Matis Lill, from his long-term relationship with philologist and translator Anne Lill.
Jaan Kaplinski: born Tartu, Estonia, 22 January 1941, died 8 August 2021.
Obituary in Estonian World here.
Photo above by Neil Astley shows Jaan Kaplinski at Poetry Now in Dún Laoghaire for the launch of his Selected Poems in March 2011.
Jaan Kaplinski reads from his Selected Poems
Jaan Kaplinski reads a selection of his poems in Estonian and English and discusses his life and work. Neil Astley filmed Kaplinski at Katie Donovan's house in Dalkey when he was at Poetry Now in Dún Laoghaire in March 2011 to launch his Bloodaxe Selected Poems. Three poems are read in Estonian and English, and three in English only: 'The washing never gets done' ('Pesu ei saa kunagi pestud'),'The East-West border is always wandering' ('Ida ja Lääne piir rändab ikka'), 'Death does not come from outside'('Surm ei tule väljast'), 'Once I got a postcard from the Fiji Islands', 'Silence of night' and 'To eat a pie, and to have it'. In the interview extracts which follow his reading on the film, he talks about the philosophical background of his poetry, his father's involvement with Frankism and Sufism, and his own explorations of Buddhism and the philosophy of language. This film is from the DVD-anthology In Person: World Poets, filmed & edited by Pamela Robertson-Pearce & Neil Astley (Bloodaxe Books, 2017).
[09 August 2021]