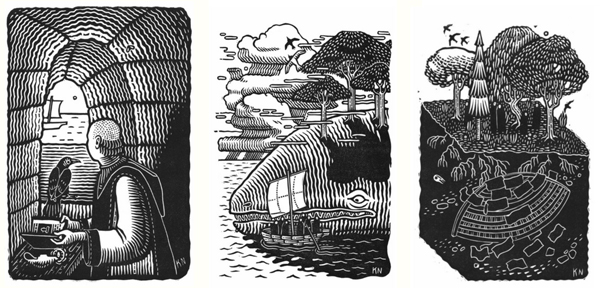 A B Jackson's The Voyage of St Brendan: reviews & poem features
'A.B. Jackson's The Voyage of St Brendan is a feat of seriocomic storytelling.' – Vahni Capildeo
In The Voyage of St Brendan, A.B. Jackson tells the tale of the legendary seafaring Irish abbot. After burning a book of fantastical stories, Brendan is compelled to sail the ocean with a crew of six monks in a leather-skinned currach; his task, to prove the existence of wonders in the world and create a new book of marvels.
Although the roots of this legend lie in early Irish tales and the Latin Voyage of Brendan the Abbot of the ninth century, Jackson has taken the 14th-century Middle Dutch version of Brendan's voyage as the template for this engaging, witty and spirited interpretation, notable for its humour, inventiveness and appeal to a wide readership. The book is illustrated with a series of black and white linocuts by the American artist Kathleen Neeley.
A.B. Jackson was born in Glasgow in 1965. His first book, Fire Stations (Anvil), won the Forward Prize for Best First Collection in 2003. His second collection, The Wilderness Party (Bloodaxe Books, 2015), was a Poetry Book Society Recommendation. The Voyage of St Brendan is his third collection. He currently lives in Leeds.
The Voyage of St Brendan was published by Bloodaxe on 24 June 2021, and will be distributed in the USA from 7 September via Consortium Books.
~~~
A poem and illustration from The Voyage of St Brendan is featured in Books Ireland Magazine here.
~~~
An excellent review of A B Jackson's The Voyage of St Brendan is featured in the August 2021 issue of the US-based webzine RHINO Poetry. Read in full here.
'… Jackson's poetry has answered the call to adventure, survived the travails of making the ancient current, and returned with a beautifully illustrated collection… read this book, give it to the ones you love, re-imagine the mythic.' – D M O'Connor, RHINO Poetry

The Voyage of St Brendan was very well reviewed in the Painted, spoken blog on 26 June 2021. Joint review with Irish poet Victoria Kennefick's debut collection – 'Both are written by gifted young poets who carry their learning deftly.'

'Chock-full of wonders, it gives a Scots-eye view of the legendary fifth-century Irish saint and voyager… There is throughout this masterly re-telling a lively focus on the grotesque, the far-fetched and the liminal which Scottish writers seem to feel at home in… It is often funny too, with a slapstick skill in rhythm and rhyme that is captivating.' – James McGonigal, Painted, spoken
Read the full review here.

~~~~
Livestreamed joint launch event, 22 June 2021

This wonderful joint launch reading by Penelope Shuttle, A.B. Jackson and John Challis celebrating the publication of their new poetry collections was live streamed on 22 June 2021.
The event was hosted by editor Neil Astley from his home in Northumberland. Penelope joined from her home in Falmouth, John from Whitley Bay, and Scottish poet A B Jackson from his home in Leeds. Their collections were all published on 24 June 2021 by Bloodaxe Books - all three are 'making something new out of things that have been lost', as Penelope put it.
John Challis read first in each set, followed by Penelope, then A B Jackson. The readings were followed by discussion and Q&A with the online audience. All three books explore the past in one form or another - it was an evening of 'archaeology by verse', according to one audience member. We travelled under the sea to the submerged land of Lyonesse with Penelope Shuttle, over the ocean with A B Jackson's The Voyage of St Brendan, and underground in London with John Challis in his debut The Resurrectionists.
[18 August 2021]