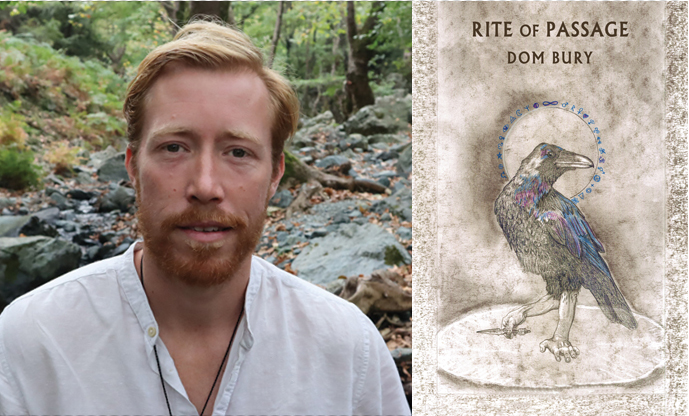 Dom Bury longlisted for Laurel Prize 2021
'An astonishing debut. The environment has never felt so urgent; the world, through Bury's writing, has never felt so close at hand. Mythical and raw – a terrific book.' – Niall Campbell
Dom Bury's debut poetry collection Rite of Passage, a book-length sequence of visionary poems addressing environmental and climate crisis, is on the 20-strong longlist for the Laurel Prize 2021.
This is the second year of the nature and ecopoetry award, which is funded by the £5,000 honorarium Poet Laureate Simon Armitage receives annually from the Queen. Run by the Poetry School, the prize is awarded annually to the best published collection of environmental or nature poetry. The inaugural Laurel Prize was won by Pascale Petit for her 7th collection Mama Amazonica.
Simon Armitage described the longlist as 'a world-wide and world-class selection of books reflecting poetry's global response to the planet's precarious environmental situation'.
The judges for this second year of the prize are: Maura Dooley,​ ​James Thornton​ and ​Imtiaz Dharker​.
Chair Maura Dooley commented:
'Poets familiar to me and poets I was meeting for the first time shook me, made me smile, challenged me, educated me, moved me to tears. What a privilege to read work of such skill.'

The prize awards first, second and third prizes of £5,000, £2,000 and £1,000 respectively. There is also a £500 award for Best First Collection. Additionally, each of the winners will receive a commission to create a poem based in their favourite landscape.
The Yorkshire Sculpture Park is hosting the prize ceremony and a day of poetry readings and workshops on 8th October. The shortlist will be announced later in September.
More details on the Laurel Prize website here and on Simon Armitage's website here.
~~~~
Dom Bury introduced his collection in a piece for The Dark Mountain Project, which is accompanied by three poems from Rite of Passage.
'And so this is how I danced as I wrote, attempting to find equal parts ferocity and equal parts tenderness, equal parts beauty and equal parts truth and hard love.'
Read the feature here.
Rite of Passage includes Dom Bury's 2017 National Poetry Competition-winning poem 'The Opened Field'. This was made into a short film by Helmie Stil, commissioned by The Poetry Society.
The Opened Field | Poem by Dom Bury | Film by Helmie Stil from Motionpoems on Vimeo.
[14 September 2021]