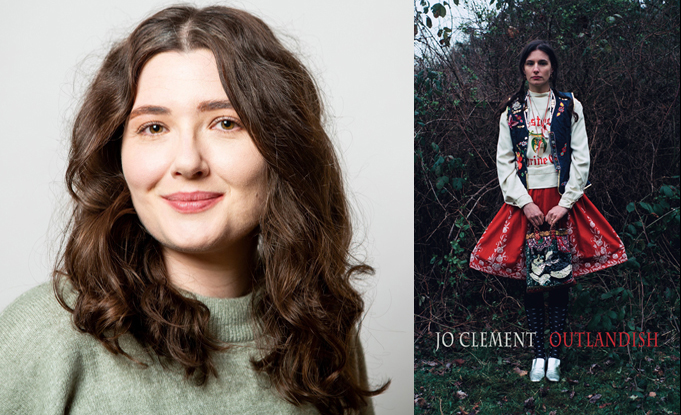 Jo Clement on Radio 4's Start the Week & in North East Living
'… an exciting new voice in poetry… The rhythms and allusions are enchanting, the imagery fresh, clear and strong.' - Anna Picard, Times Literary Supplement (Summer Books 2022)
Jo Clement's first full collection Outlandish confronts Romantic impressions of British Gypsy ethnicity and lyrically lays them to rest. From Wordsworth to Top Gear, her poems invite us to consider notions of otherness, trespass and craft. Compelled by a brutal Gypsy, Roma and Traveller diasporic legacy, Outlandish tenderly praises the poem-as-protest and illuminates a hidden and threatened culture.
Jo Clement was born in Darlington in 1986. She received a Northern Writers' Award in 2012. She is Editor of Butcher's Dog poetry magazine, and founded the imprint Wagtail with support from the European Roma Institute for Arts and Culture (ERIAC). In 2021 Butcher's Dog published Wagtail: The Roma Women's Poetry Anthology, edited by Jo Clement. She is a Creative Writing Lecturer at Northumbria University, and lives in North Shields.
Outlandish was published by Bloodaxe in May 2022. A video of her joint live-streamed launch event is below.
Audio of Ledbury Poetry Festival's Wagtail Women event from July 2022 is here. Jo was unable to attend, but her poems were read by Sarah Wimbush, Raine Geoghegan and Neil Astley.
POEM FEATURE IN THE FINANCIAL TIMES

FT Weekend, Life & Arts, The Poem, Saturday 13 August 2022

'Larch' from Jo Clement's debut collection Outlandish was featured as 'The Poem' in FT Weekend's Life & Arts supplement on Saturday 13 August. The poem one of two in the collection which respond to Wordsworth's poem 'Gipsies'.

In print and online here (register to see a few articles for free, or access the feature via our facebook post).


INTERVIEW WITH JO CLEMENT

North East Living, August 2022

A three-page feature on poet Jo Clement is included in the August issue of North East Living magazine. In the interview Jo speaks about her upbringing as a settled Traveller living on a Darlington council estate, about the influence of her grandfather and father, and more generally about society's notions of 'trespass'. The piece is accompanied by two poems with local references: 'Wonderful Fish' and 'Teesdale Erratics' – both from Jo Clement's debut collection Outlandish.
In print. Online version available if you sign up at Living Magazines here.

INTERVIEW ON BBC RADIO 4's START THE WEEK

Start the Week: Social Inequality - up close, BBC Radio 4, Monday 13 June 2022, 9am (repeated 9.30pm)

Jo Clement was a guest on BBC Radio 4's flagship discussion programme Start the Week on Monday 13 June, broadcast live from London. She was discussing social inequality and the cashless society with host Adam Rutherford and fellow guests Darren McGarvey and Brett Scott.

Jo introduced and read her 'incredibly evocative' poem 'Vardo' from her debut collection Outlandish, and spoke powerfully about Gypsy, Roma and Traveller history and culture. Her poems 'Knots' - about Wordsworth's poem 'Gipsies' - and 'Self-portrait as 100 Travellers' were discussed.

'The poet Jo Clement gives voice to the stories and people of her family's Romany past. In her collection Outlandish she has no time for Romantic impressions of British Gypsy ethnicity as she moves from ancient stopping-places to decaying council estates. Her poems are imaginative protests that cast light on a hidden and threatened culture.'

Jo features at 11:47 and again at 17:08.
Listen here.
TLS SUMMER BOOKS FEATURE

'… an exciting new voice in poetry… Clement's poems ricochet between the council estate in Darlington where she grew up, forced to settle, and the wild beauty of Northumberland, touching on the eighteenth-century wood engravings of Thomas Bewick. The rhythms and allusions are enchanting, the imagery fresh, clear and strong.' - Anna Picard, Times Literary Supplement (Summer Books 2022)
In full by subscription here.
REVIEW COVERAGE

An in-depth review featured in Issue 7 of The Alchemy Spoon (in print only), September 2022.
'These poems address her heritage, and the Gypsy, Roma and Traveller culture, in a rich, lyrical and beguiling way... This is a collection that repays rereading, partly for the musicality, partly for the vivid, economical imagery, and importantly, for the window that it opens on a culture that many of we 'gorgers' think we know about but, in reality, understand very little.' - Diana Cant, The Alchemy Spoon, on Outlandish

Outlandish was reviewed in brief by Will Mackie in the Summer 2022 issue of New & Recent Poetry from the North here.
'Jo Clement's eagerly anticipated first collection, Outlandish is tender, energetic and deeply personal. These careful and intelligent poems are full of musicality and sing with the language and culture of Roma communities. This book is a joy to read and lose yourself in.' - Will Mackie, New Writing North (New & recent poetry from the North)
'These deeply personal poems are rich with the lexicon of Gypsy, Roma and Traveller life. They bear the weight of suspicion and violence directed towards those who live within the rhythms and currents of the natural world... Many of the poems hold notes of such tenderness, they stop your breath.' - Shash Trevett, Poetry Book Society Bulletin, Summer 2022
A review of Outlandish by the textile artist Imogen Bright Moon was featured on her website here to mark publication.
SHORT STORY BY JO CLEMENT ON BBC RADIO 4

Enchanted Isle: Kow, BBC Radio 4, Sunday 11 April 2021, 7.45pm, rebroadcast Saturday 12 February 2022, 9.45pm

A short story by Jo Clement was rebroadcast on BBC Radio 4 on 12 February 2022. Originally broadcast in April 2021. Kow is the re-telling of a Northumbrian folk tale. Jo Clement's debut poetry collection Outlandish is published by Bloodaxe in May 2022.

'An argument between a couple living on the edge of poverty leads to the discovery of a duffel bag full of cash. Or does it? This original short story for Radio 4 revives the Northumberland myth of the Hedley Kow and asks if money really can solve everything. What's the difference between need and desire? Appearances can be deceiving.'
Listen here.
JOINT LAUNCH EVENT ON 31 MAY 2022

Tuesday 31 May 2022, live-streamed launch reading by Jo Clement, Sarah Wimbush and Clare Shaw
Bloodaxe's joint launch reading by Jo Clement, Sarah Wimbush and Clare Shaw celebrating the publication of their new poetry collections was live-streamed on 31 May 2022, and is now on YouTube. They were reading from and discussing their new collections with the host, Bloodaxe editor Neil Astley, and with each other. All three poets have won Northern Writers' Awards for poems included in these collections.
Jo Clement read first in each set, followed by Sarah Wimbush. They were reading from their first full collections Outlandish and Shelling Peas with My Grandmother in the Gorgiolands. Clare Shaw was reading from their fourth collection, Towards a General Theory of Love. Passionate, mesmerising readings from all three poets, followed by a wonderful discussion during which they drew out the connections between their three books.
Crown: a poem film by Jo Clement

'Crown' is from Outlandish, a collaborative work of poetry and drawing by the writers Jo Clement and Damian Le Bas and the artist W. John Hewitt, commissioned by Durham Book Festival and New Writing North in 2019. The poem is now included in her debut book-length collection with the same title, from Outlandish. Taking St Cuthbert's Way – a modern walking trail based on an ancient pilgrims' path – as its starting point, it is a vision of North East England and South East Scotland through shifting gazes. Here are pilgrims, Romanies, grandparents, herons, Transits, castles, mudflats, B-roads, clay pipes, periwinkles, silk and fire.
PAST RADIO
JO CLEMENT GUEST POET ON POETRY PLEASE

Poetry Please, BBC Radio 4, Thursday 10 February 2022, 4pm, repeated Saturday 12 February, 11.30pm

The guest poet choosing the poems from listener requests on Poetry Please on 10 February 2022 was Jo Clement. She read and introduced her poems 'Inheritance' and 'Market' from her debut collection Outlandish, published by Bloodaxe in May 2022. Jo was in conversation with host Roger McGough, and spoke very movingly about Gypsy, Roma and Traveller culture and history.

One of her choices from listener requests was Brendan Kennelly's 'Begin'. A recording of the late Brendan Kennelly reading the poem was played – taken from the CD accompanying The Essential Brendan Kennelly.

'Growing up with a grandfather who wore gold sovereign rings and took her to the Appleby Horse Fair Jo Clement absorbed the Romany traditions he showed her. Her poetry addresses life for a marginalised people from the Traveller girls used for a fashion shoot to the gatherings and customs of Gypsy people. Jo is Editor of Butcher's Dog Poetry Magazine and her first collection of poems Outlandish is published this year by Bloodaxe.'

Jo reads and introduced her poems at 1:13 and at 19:00. Brendan Kennelly's poem featured at 2:40. No longer available to listen to, but details here.

This edition of Poetry Please was radio pick of the day in The i Paper and in the Daily Mail.
[21 February 2022]