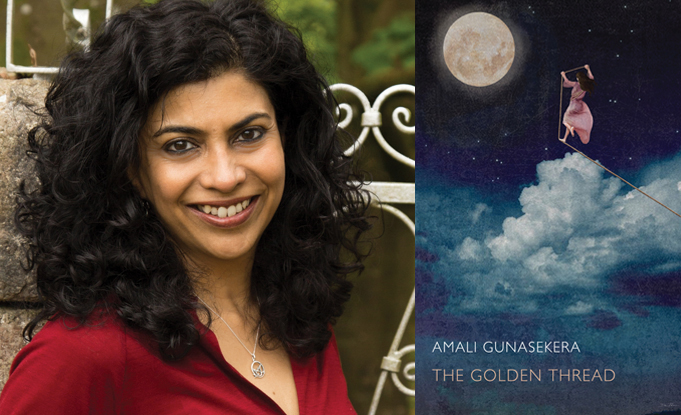 Amali Gunasekera's The Golden Thread reviewed in The Guardian
'The Golden Thread positions Gunasekera, who grew up in Sri Lanka and is now based in Cumbria, as one of our deftest writers of environmental flux and change...' - Rebecca Tamás, The Guardian (Best recent poetry)
Blending the sacred and the everyday, Amali Gunasekera's second collection
The Golden Thread
is a search for grace through the deep process of transmuting emotional trauma into peace. Her book's central sequence, Nine [Miscarried] Methods, considers the challenge of asserting a woman's equal status within a patriarchal objectified culture.
The Golden Thread
was published by Bloodaxe on 24 March 2022, and launched online the same day - see video below.
Amali Gunasekera
was born and grew up in Sri Lanka. She works in the field of Archetypal Psychology. After living in Mozambique, Kenya and India, she is now based in Cumbria. Her first collection
, Lotus Gatherers
, was published by Bloodaxe in 2016 (under her former name of Amali Rodrigo).
REVIEW COVERAGE


'The Golden Thread positions Gunasekera, who grew up in Sri Lanka and is now based in Cumbria, as one of our deftest writers of environmental flux and change... Her poetry is constantly innovating with the language of environmental description at the same time that she explores her personal experience...This collection makes "the green mind" visible to us: the breathing, thinking agency of the more-than-human world.' - Rebecca Tamás, The Guardian (best recent poetry roundup)
Read in full on
The Guardian
website
here
.
'Amali Gunasekera was born and grew up in Sri Lanka and now lives in Cumbria. Her new collection, The Golden Thread, is full of beautiful, intimate and lyrical poems.' - Will Mackie, New Writing North (New and Recent Poetry from the North: Spring 2022)
'Amali Gunasekera's second collection is a beautiful examination of the separateness and union of "I" and "You", rooted in an English pastoral tradition reminiscent of Wordsworth and the Lake Poets. Myth, the natural world, the ephemeral beauty of music or the filter of light on a wintry morning, unite to articulate love for the "Beloved". These are masterful poems of intimacy and joy leading to places of stillness and wisdom.' – Shash Trevett, PBS Bulletin
'These are quiet, soulful poems, that build on each other and calm a frenzied world, acknowledging the golden thread that binds everything together.' - The Alchemy Spoon
Joint live-streamed launch event on 24 March 2022

This launch reading by Moniza Alvi, Amali Gunasekera and Jessica Traynor, celebrating the publication of their new poetry collections, is now available to view on YouTube
Moniza Alvi read first in each set, followed by Amali Gunasekera, then Jessica Traynor. They all joined Neil Astley at the end of the readings for a wide-ranging and fascinating discussion about themes raised in their collections.
[07 May 2022]