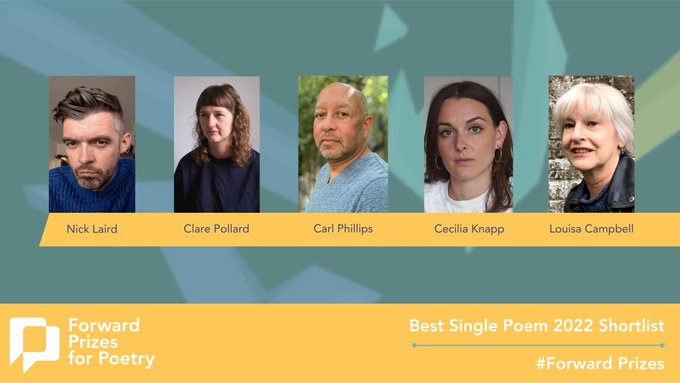 Clare Pollard shortlisted for the Forward Prize for Best Single Poem 2022
Clare Pollard is on the shortlist for the Forward Prize for Best Single Poem for her poem 'Pollen', as featured in Bad Lilies. She has published five poetry collections and two translations with Bloodaxe, as well as co-editing the anthology Voice Recognition: 21 poets for the 21st century (Bloodaxe Books, 2009) with James Byrne.
The winners of this year's Forward Prizes for Poetry will be announced on 28 November at a live event in the Contact Theatre in Manchester, marking the start of a new partnership with the venue.
Clare talks about the poem and her poetry with the Forward Foundation. Read the Q&A here, where you can also read the poem.
Read 'Pollen' as it originally appeared in Bad Lilies here.
Clare Pollard has published five collections of poetry with Bloodaxe, most recently Incarnation (Bloodaxe, 2017) and a pamphlet, The Lives of the Female Poets (Bad Betty Press, 2019). Her play The Weather (Faber, 2004) premiered at the Royal Court Theatre. Translations include a new version of Ovid's Heroines (Bloodaxe, 2013) which she toured as a one-woman show, and Asha Lul Mohamud Yusuf's The Sea-Migrations (Somali title: Tahriib), published by Bloodaxe and the Poetry Translation Centre in 2017. She was Editor of Modern Poetry in Translation from 2017 to 2022 and was appointed Artistic Director of the Winchester Poetry Festival in 2022.
Her latest books are the non-fiction title Fierce Bad Rabbits: The Tales Behind Children's Picture Books (Fig Tree, 2019) and her debut novel Delphi (Fig Tree, July 2022).
~~~~
Clare Pollard was one of Owen Sheers' selected writers for the National Centre for Writing's International Literature Showcase in May 2020, as featured in The Guardian here.
'I'm so honoured to be part of this conversation about how writing might shape our future. I've worked across many genres, but all my work looks at the stories we tell ourselves, from children's picture books to classical myths to the literary 'canon', and asks how those stories shape society.' – Clare Pollard

More on the International Literature Showcase is on the National Centre for Writing's website here.
~~~~~
Clare Pollard's fifth collection Incarnation was published by Bloodaxe in 2017. This collection draws on her own experience of motherhood, but also explores ideas of innocence and responsibility, and what it means to bring new human beings into this world.
Clare Pollard is The Poetry Extension's Poet of the Month for August 2019. Read the interview here.
Click here to read Heidi Williamson's review of Incarnation on the Poetry School's blog.
Clare Pollard's poem 'At Peckham Rye' from Incarnation was featured as a Saturday Poem in The Guardian. Click here to read.
~~~~~
Frank Skinner featured Clare Pollard's 2011 collection Changeling on his poetry podcast in June 2022.
'Vampires and mermaids - Frank falls under the spell of Clare Pollard's fabulous poetry. The collection referenced is Changeling by Clare Pollard and the individual poems referenced are 'Zennor' and 'Whitby'.'
The episode is 43 minutes long. Listen here.
[16 June 2022]