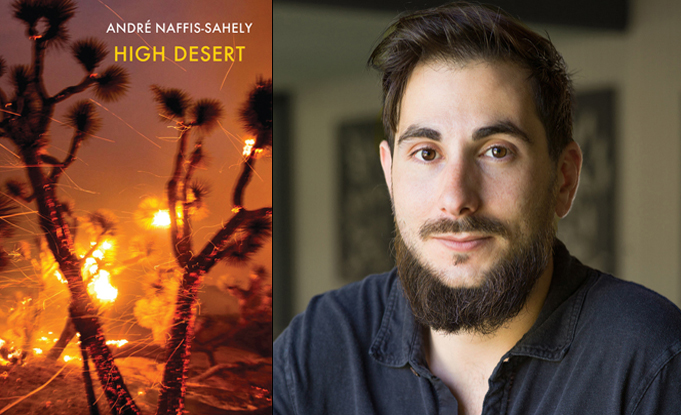 André Naffis-Sahely reviews & interviews plus books of the year
'This is fierce writing too: litanies of the lost, dispatches from desperate outposts and borders... in an inert and supine world, these are impeccably upright poems.' - David Wheatley, The Guardian

André Naffis-Sahely is a poet, editor and translator whose second collection High Desert was published by Bloodaxe in June 2022. He gave pre-publication readings from the collection at StAnza and Newcastle Poetry Festivals in March and May 2022. A video of his joint live-streamed launch event of 21 June is below.
High Desert is a psychedelic journal of end-times and an ode to the American Southwest. Exploring such key events as the First Red Scare, the Tulsa Race Massacre and the West Coast's wildfire epidemic, Naffis-Sahely's reflections on class, race, and nationalism chart the region's hidden histories from the Spanish Colonial Era to the recent pandemic.
André Naffis-Sahely divides his time between California and London. He is Editor of Poetry London. His second collection High Desert is distributed in the US via Consortium Book Sales & Distribution.
POETRY BOOKS OF THE YEAR FEATURE IN THE TELEGRAPH

The Daily Telegraph, The 20 best poetry books of 2022, online 23 November 2022

Tristram Fane Saunders chose André Naffis-Sahely's second collection High Desert as one of his top 20 poetry books of 2022 in The Telegraph.

'The globe-trotting André Naffis-Sahely's High Desert (Bloodaxe, £10.99) is worth tracking down for its compelling central sequence of found poems resurrecting figures from American history.' – Tristram Fane Saunders, The Telegraph (the 20 best poetry books of 2022 to buy for Christmas)

https://www.telegraph.co.uk/books/what-to-read/20-best-new-poetry-books-2022
Fred D'Aguiar recommends André Naffis-Sahely's High Desert as his poetry book of the year for The Poetry Society's 2022 feature. Read the feature here.
'I've long admired the topical intelligence of André Naffis-Sahely not only as poetry editor but especially in his recent High Desert for its counter to dominant narratives, its elastic sensibility (that encircles the globe) and firm sense of a politics that shapes poetry's aesthetics.' - Fred D'Aguiar (Poetry Society Books of the Year 2022)
PODCAST RECOMMENDATION

The Seren Poetry Podcast, Series 1, Episode 6, 10 November 2022

Poet and critic Ben Wilkinson recommended André Naffis-Sahely's second collection High Desert on The Seren Poetry Podcast of 10 November.

'André Naffis-Sahely's second collection from Bloodaxe is really fantastic, a collection called High Desert. It's really deeply engaged with history, class, race, nationalism, particularly focused on the American Southwest, where he's spent some time living. He's quite an itinerant poet, who's travelled around, and I think that can often add a different dimension to a poet's writing.' – Ben Wilkinson, speaking onThe Seren Poetry Podcast

Listen via buzzsprout here. Ben's poetry recommendations begin at 01:09:22.

UK REVIEW COVERAGE

André Naffis-Sahely's second collection High Desert was very well reviewed in the Times Literary Supplement of 29 September 2022.

'The precision of the writing in André Naffis-Sahely's new collection of poems gives a laser focus to a vision it's tempting to call global… History writing, travel writing, journalism – High Desert braids together strands of all these genres without ceding its status as poetic utterance… Naffis-Sahely joins an international cohort of poets – Marilyn Hacker, Adrianne Kalfopoulou, Lawrence Joseph and Ilya Kaminsky among them – who are courageously facing ruin without succumbing to silence or despair. Their work isn't easy to read. But it is well worth reading.' – Rachel Hadas, Times Literary Supplement

Available in full by subscription. Most of the review can be read online – just the final sentence quoted above is missing. Read here.


An excellent review of André Naffis-Sahely's High Desert went online at Wild Court on 20 September 2022.
'It's been a long time since I enjoyed a collection of poetry as much as André Naffis-Sahely's new offering, High Desert. That said, 'enjoy' isn't quite the mot juste, for while there is at times dark humour here, these are unapologetically serious poems about serious subjects. Perhaps it's better to say I was affected and struck by their moral backbone and searing honesty, than merely entertained… these are poems of remarkable moral heft and power, that demand to be given their place in our imaginations.' - Richie McCaffery, Wild Court
Read in full here.
David Wheatley's review of High Desert in The Guardian best recent poetry round-up of 2 July 2022 is here.
'As landscapes go, deserts are more interchangeable than most, and Naffis-Sahely's visions of dereliction are eerily arid and universal at once. Identities are layered one on top of another as the poet moves from continent to continent... This is fierce writing too: litanies of the lost, dispatches from desperate outposts and borders... in an inert and supine world, these are impeccably upright poems.' - David Wheatley, The Guardian (best recent poetry round-up)
'André Naffis-Sahely's compelling and deeply researched second collection begins in California but blossoms into a globally engaged meditation on history, migration, inclusion, and justice. Drawing on found text from diaries to academic manuscripts and traversing across North America, Europe, and Asia, High Desert is at once humble and unafraid.' - Maggie Wong, Poetry Book Society Bulletin, Summer 2022
UK ONLINE INTERVIEW

An in-depth interview with André Naffis-Sahely was featured on DURA (Dundee University Review of the Arts) ahead of his reading at StAnza International Poetry Festival in March 2022.
Poetry as Acts of Resistance: An Interview with André Naffis-Sahely: read the interview here.
POEM FEATURE

A poem from the collection was featured in the May/June 2022 issue of The London Magazine and on their website here.
US INTERVIEWS WITH ANDRE NAFFIS-SAHELY

Poetry Off the Shelf podcast, Poetry Foundation, online 23 August 2022

US podcast interview with André Naffis-Sahely, who divides his time between California and London. André spoke to Helena de Groot for the Poetry Foundation's Poetry Off the Shelf podcast in August 2022. André read three poems from High Desert and talked about some of the influences on this collection, including the history of California, life in the segregated UAE and the shadow cast by fascism over his family. André read 'The Other Side of Nowhere', 'High Desert' and 'John Samuelson', one of his series of 'found' poems.

'André Naffis-Sahely on desert sand, rootlessness, and the long shadow of fascism.'

'Before We Return to Dust'. Listen to this fascinating and wide-ranging conversation here.
Orange County Register, The Book Pages, online 16 September 2022

An interview with André Naffis-Sahely has gone online at OC Register. André was speaking to Erik Pederson about his second collection High Desert.
Read the interview here.


André Naffis-Sahely talked to Nathalie Handal for Words Without Borders about the hidden histories and iconic writers of Los Angeles. Read the interview here.
US REVIEW COVERAGE

André Naffis-Sahely's High Desert was given an excellent review in the January-February 2023 issue of World Literature Today..

'… the poems of High Desert explore… the illusion of place—or, more accurately, they confront us with the gap between the underlying physical reality of place and the temporary social, political, and psychological realms we construct on it… A brief review cannot do justice to High Desert—either its seriousness and depth or its understated artistry. But perhaps a brief review can signal that this collection is not simply admirably accomplished but important. And perhaps a brief review can signal that this is a collection not simply to be read but a collection to study.' - Tim Hunt, World Literature Today
In print and online. Read in full here.

'The second collection from Naffis-Sahely (The Promised Land: Poems from Itinerant Life) celebrates the desert landscapes of the Southwest while highlighting devastating and complex historical moments, among them the Chinese Exclusion Act of 1882 and the Tulsa Race Massacre of 1921. Divided into five sections, the poems establish their concerns and motifs across shifting cities, while blending personal and political history... Naffis-Sahely offers a fresh approach to weaving reportage and confession in this absorbing travelogue.' - Publishers Weekly, on High Desert
Read in full here.
JOINT LIVESTREAMED LAUNCH EVENT

Andre Naffis-Sahely read alongside Anne Rouse and Thomas Lynch at this joint Bloodaxe online launch event. This took place on Tuesday 21 June 2022 and is now available to watch on YouTube.
[02 July 2022]