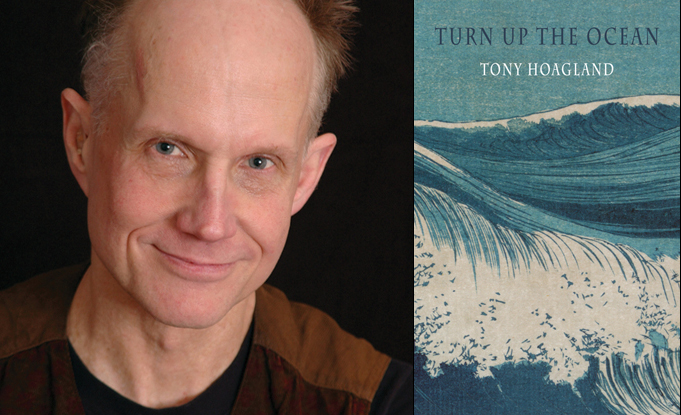 Tony Hoagland reviewed in The Sunday Times
'Acerbic, witty, chatty, contemporary, demotic, accessible; Hoagland… wrote with humour, with irony, and with enormous humanity — his poetry is uncompromising, unsentimental and also deeply compassionate.' – Hilary Menos, The Friday Poem,
America's Tony Hoagland was known for provocative poems which interrogate human nature and contemporary culture with an intimate and wild urgency, located somewhere between outrage, stand-up comedy, and grief. The poems in his final collection
Turn Up the Ocean
examine with an unflinching eye and mordant humour the reality of living and dying in a time and culture that conspire to erase our inner lives.
Tony Hoagland
(1953-2018) lived in Santa Fe, New Mexico, and was married to the writer Kathleen Lee. His first UK book of poems,
What Narcissism Means to Me: Selected Poems
(Bloodaxe Books, 2005), drew upon the first three collections he published in the US, and was followed by
Unincorporated Persons in the Late Honda Dynasty
(2010) and
Application for Release from the Dream
(2016). The final two collections he published in his lifetime were a small collection,
Recent Changes in the Vernacular
(Tres Chicas Press, 2017), and
Priest Turned Therapist Treats Fear of God
(Graywolf Press, 2018). The Bloodaxe UK edition of
Priest Turned Therapist Treats Fear of God
(2019) also includes some poems from
Recent Changes in the Vernacular
. His posthumously-published final collection,
Turn Up the Ocean
(2022), was assembled by Kathleen Lee from the poems he was writing in the year before his death from cancer.
The Friday Poem, online Friday 21 October 2022
A wonderful in-depth review of Tony Hoagland's posthumously-published final collection
Turn Up the Ocean
was featured in the online reviews and features magazine
The Friday Poem
on 21 October 2022. Hilary Menos considered his final collection in the context of his poetry as a whole and his thoughts on poetry.
'Voice, tone, attitude. It's not all he's got — he brings a real willingness to explore discomfort, a firm commitment to truth, and a fascination with contemporary culture, not to mention a big bag of technique — but it's a big part of a Tony Hoagland poem. Everything comes filtered through his ironic, knowing persona.'
– Hilary Menos,
The Friday Poem
Read the full review on
The Friday Poem
's website
here
.
In August 2022, castaway poet Suzannah Evans chose 'Gorgon' from
Turn Up the Ocean
as one of her three poems to take to a desert island. She chose it for this feature in
The Friday Poem
for its 'empathy, bravery and hope'. The poem was reproduced in full.
'The poem's message is an urgent one, and to me it feels galvanising, emboldening. It's very difficult to go on looking at the world at the moment, as the planet melts and those in charge fail, yet again, to apply the measures they could. But if we can remain empathetic as things get darker, then perhaps that is enough. Perhaps there is a shred of hope in that.' – Suzannah Evans, on Tony Hoagland's poem 'Gorgon'
Read the full feature on
TFP
's website
here
.
REVIEW IN THE SUNDAY TIMES


'Among so much that is bland, conformist or impregnably academic, there is something bracing about his disobliging wit. His last poems, which have been gathered in Turn Up the Ocean, are typically wry: "When my doctor asks what my symptoms are, I tell her/self-pity and the desire to apologise."… readers should be inspired to seek out more from this unique American voice.' – Graeme Richardson, The Sunday Times (Notable new poetry books of 2022)
Available in full by subscription
here
.
ONLINE LAUNCH EVENT

Thomas Lynch
,
André Naffis-Sahely
,
Anne Rouse
celebrated the publication of their new poetry collections and remembered
Tony Hoagland
at this online launch reading on 21st June 2022. They read their poetry and discussed their new collections with the host, Bloodaxe editor Neil Astley.
They paid tribute to Tony Hoagland, whose final collection Turn Up the Ocean was also published by Bloodaxe in June 2022.
[03 August 2022]