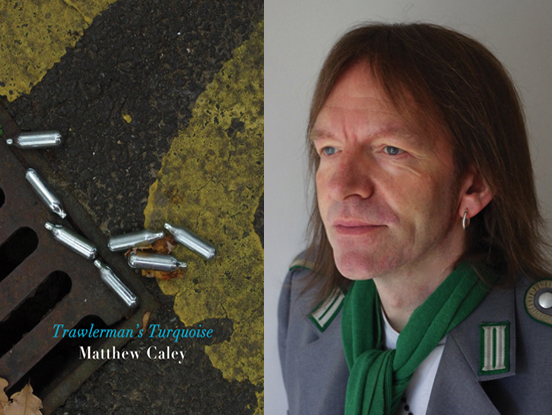 Matthew Caley podcast interview

'Matthew Caley's sixth collection is a double caffeine shot of delicious language and adventurous forms, peopled with poets, passers-by and small ghosts from other worlds.' - Hannah Stone, The Lake
Matthew Caley's sixth collection Trawlerman's Turquoise was published by Bloodaxe in September 2019. His seventh, To Abandon Wizardry, was published by Bloodaxe in November 2023.
The title Trawlerman's Turquoise derives from the long, central, hyper-associative poem, 'from The Foldings' – trawlerman's turquoise being a phrase to describe a psychic glimpse of the ocean for perennial inner-city dwellers, who have only ever heard rumour of one.
Excellent reviews of Trawlerman's Turquoise are in The Lake here and Tentacular Magazine here.
PODCAST INTERVIEW WITH MATTHEW CALEY

A Mouthful of Air podcast, Episode 37: Matthew Caley, 17 October 2022
Matthew Caley was interviewed on Mark McGuiness's podcast A Mouthful of Air about the poem 'My Beautiful Comrade from the North' from Trawlerman's Turquoise. This 43-minute podcast began and ended with Matthew reading 'My Beautiful Comrade from the North'. The poem and a transcript of the interview are included on the podcast page.

Unusually for Matthew, this poem is partially based on a real-life experience. He discussed the extraordinary background to this 'summoning poem', as well as the form of the poem, with host Mark McGuiness.
Listen via the Mouthful of Air website here.
~~~~~
REVIEW COVERAGE

'This is Matthew Caley's sixth collection, out from Bloodaxe. Following his last book, Rake, this collection builds on Caley's trademark wit, mastery of form, erudition and representation of the everyday. Trawlerman's Turquoise packs a punch. This is a thought-provoking collection, with confluent threads that tease and pulsate, staying with me long after I had read it...This is a book worth buying and cherishing.' - Nicki Heinen, Tentacular Magazine
'Chief among contemporary British poets, Caley takes seriously the vision of synaesthetic abundance laid out in Stephane Mallarmé's seminal essay 'Crisis of Verse', which defines the task of pure poetry as 'transposing a fact of nature into its vibratory near-disappearance according to the play of language'. - Dai George, Poetry Wales [on Trawlerman's Turquoise]
'Matthew Caley's sixth collection is a double caffeine shot of delicious language and adventurous forms, peopled with poets, passers-by and small ghosts from other worlds. A bold and beautiful assortment of the arcane and the accessible, it is a self-consciously literary work, with veiled allusions, quotations and references to a wide range of sources, expressed in taut but rich language.' – Hannah Stone, The Lake
'The humour and playfulness... shows off Caley's carefree ability to draw lines across time and space. It also feels profoundly European - a poetry in which borders do not exist, and we are all reflected in this multicultural, pan-historical vision.' - Chrissy Williams, Poetry London [on Trawlerman's Turquoise]
'Matthew Caley's sixth collection Trawlerman's Turquoise is a steer through linguistic rapids – the effect is dizzying, and psychedelic. One is left with the sense that some new order has been made manifest. Here are love poems and eco-poems, references to the modern, the ancient, the internet, the occult, the urban, the everyday; in Caley's intoxicated world the urban becomes urbane, lexicon turns lyrical.' - Cheryl Moskowitz, Magma
~~~~~
Matthew Caley delivered the StAnza Lecture 2020 - Mother, Mother, Ocean - Modernist Women Poets and The Sea on 5 March 2020. To tie with this, an 'image, text, sound installation' - a collaboration between Matthew and Marine Biology specialists from St Andrews University - featuring lines from Trawlerman's Turquoise - was shown throughout the festival. Details of the video poem TRAWL are here. The video is posted below. TRAWL was an Official Selection for screening at the 2020 ZEBRA Poetry Film Festival in Berlin.
Matthew Caley was one of the StAnza poets interviewed in 2020 by The List. Read the feature here.
[20 October 2022]