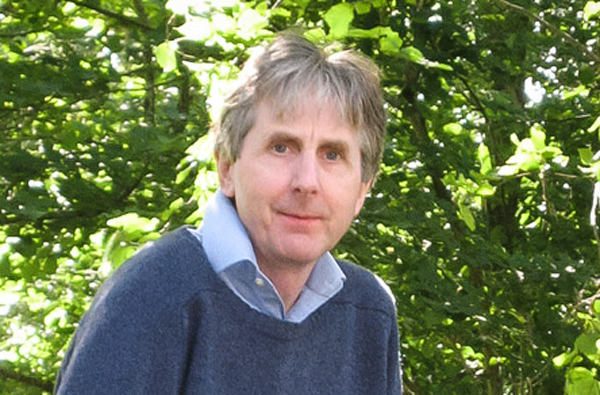 David Scott (1947-2022)
We are all very saddened by news of the death of poet and priest David Scott, aged 75.
David was renowned as a poet, priest and religious writer. He was being cared for at the Gilling Reane Care Home in Kendal in Cumbria where he had been living since 2019 after falling ill with Alzheimer's disease. Before he died – just before dawn on Friday 21 October – his wife Miggy and children Adam and Lucy played a chant for the Nunc Dimittis familiar to all of them: 'Lord, now lettest thou thy servant depart in peace, according to thy Word' then 'grant us a quiet night and a perfect end'. This morning they said their goodbyes 'to the gentlest and best of men' with priest Angela Whittaker from St Mark's Church, Natland, where he is to be buried.
Norman Nicholson wrote that 'David Scott belongs firmly to the long tradition of parson-poets that goes back at least as far as George Herbert… For all their reticence, there is a compassion in these poems and a sense of propriety.' Springing from ordinary events, or a picture, or an aspect of the priestly life, David Scott's beautifully restrained poems work up the detail into a moment of significance. They are rooted in an English culture which is found not only in locality, but also in understatement, and the sideways look. But his poetry has wider reverberations, exploring spirituality and ways of praying as well as momentary glimpses of meaning caught in everyday life.
In 1978 David Scott won the Sunday Times/BBC national poetry competition with his poem 'Kirkwall Auction Mart'. A Quiet Gathering, his first book of poems, was published by Bloodaxe Books in 1984, and won him the Geoffrey Faber Memorial Prize in 1986. His second collection, Playing for England (Bloodaxe Books, 1989) was a Poetry Book Society Recommendation. Both books were illustrated by Graham Arnold of the Brotherhood of Ruralists. The poems from the two collections were republished with new work in David Scott's Selected Poems (Bloodaxe Books, 1998), and followed by Piecing Together in 2005. His retrospective, Beyond the Drift: New & Selected Poems (Bloodaxe Books, 2014), drew on his four previous Bloodaxe titles, with the addition of a whole collection of new poems.
David Scott was born in 1947 in Cambridge. He was educated at Solihull School, and studied Theology at Durham and then at Cuddesdon College near Oxford. He spent two years as a curate in Harlow, and then became School Chaplain at Haberdashers' Aske's School, Elstree, where he taught religious education. He was vicar of Torpenhow and Allhallows in Cumbria for eleven years, and from 1991 until his retirement he was Rector of St Lawrence with St Swithun in Winchester, Warden of the Diocesan School of Spirituality and an Honorary Canon of Winchester Cathedral. He was a founder member of the Thomas Merton Society of Great Britain and Northern Ireland. He was also a contributor to BBC Radio 4's Thought for the Day, an invited guest of Mark Tully on Something Understood, and a contributor of diaries and reviews to the Church Times, taking over poetry reviewing from Norman Nicholson. In 2008 the Archbishop of Canterbury, Rowan Williams, conferred a Lambeth Degree Doctorate of Letters (DLitt) on Canon Scott 'in recognition of his contribution to deepening the spiritual life of the Church through his standing as a poet and his teaching ministry, particularly on the work of Thomas Merton but also on a range of other writers from Anglo-Saxon times onwards and his recent work, The Mind of Christ.' He moved back to his beloved Cumbria with his wife Miggy after taking early retirement in 2010 when his health was failing.
David Scott's collection of poems for children, How Does It Feel? was published by Blackie in 1989. He also wrote several plays for the National Youth Music Theatre with Jeremy James Taylor. These included Captain Stirrick, which was staged at the National Theatre's Cottesloe Theatre in 1981; and Bendigo Boswell, which was commissioned by the BBC and screened in 1983. Jack Spratt VC was performed in the 1986 London International Opera Festival, and Les Petits Rats was performed at the Edinburgh International Festival and Sadlers Wells in 1988. He published six religious books, Moments of Prayer (SPCK, 1997), Building Common Faith (Canterbury Press, 1997), An Anglo-Saxon Passion (SPCK, 1999), Sacred Tongues (SPCK, 2001), The Private Prayers of Lancelot Andrewes (SPCK, 2002) and The Mind of Christ (Continuum, 2007).
David Scott's funeral, followed by burial, will take place at St Mark's Church, Natland, Cumbria LA9 7QQ at 1pm on Thursday 24 November, with refreshments available afterwards at the Village Hall across the green from the church. All are welcome. The nearest train station is Oxenholme (5 minutes by taxi or a half an hour walk away). (Do not travel to Kendal station. There are return trains from Oxenholme to Winchester at 4.36pm and 5.10pm, both via London.)
David Scott: born Cambridge, 13 January 1947; died, Kendal, Cumbria, 21 October 2022.
~ ~ ~ ~ ~ ~ ~ ~ ~ ~ ~ ~ ~ ~ ~ ~ ~ ~ ~ ~ ~ ~ ~ ~ ~ ~ ~ ~ ~ ~ ~ ~ ~ ~ ~ ~ ~ ~ ~ ~ ~ ~ ~ ~ ~ ~ ~ ~ ~ ~
An obituary was published in Church Times of 23 December 2022 can be read online here.
An tribute by Malcolm Guite was published in Church Times of 23 December 2022 can be read online here.
An obituary was published in The Daily Telegraph on 18 November 2022. Available online in full by subscription here.
A tribute in the Hampshire Chronicle of 5 November 2022 can be read online here.

Further tributes will be added to this page. But his family would like David to have the last word with this poem from Beyond the Drift:
This Meadow, a Soul

Left to grow beautiful
the grassy heads do gentle talking,
and as a whole move to an unseen hand,
this way and that. The size of a soul
is like this, just let to be, to breathe,
to bathe in its own space. God has every
confidence in it, resisting continual visits
to check on how it's going. It's going all right.
Occasionally a secret breath unseen
blows joy across its face
and in return the soul picks up its skirts
and makes long swathes in meadow lengths of space.
Click here to hear David Scott's reading of the poem


[21 October 2022]