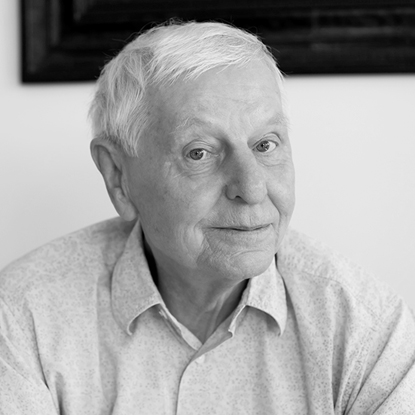 Hans Magnus Enzensberger (1929-2022)
The great German poet, writer and thinker, Hans Magnus Enzensberger, died on 11 November 2022. He was 93.
Hans Magnus Enzensberger (1929-2022) was Germany's foremost poet of the postwar period, as well as a provocative cultural essayist, a highly influential editor and one of Europe's leading political thinkers. His poetry's social and moral criticism of the post-war world owed much to Marxism, yet insisted on the freedoms often denied by Communist governments; like Orwell he maintained that satire and criticism should not be party-political.
Born in 1929 in Allgäu, Bavaria, Enzensberger grew up in Nazi Nuremberg. He studied German literature, philosophy and languages at the Universities of Elangen, Freiburg im Breisgau and Hamburg, and in Paris at the Sorbonne, completing his doctorate in 1955 with a thesis on the poetics of Clemens Brentano. At Freiburg the philosopher Martin Heidegger was an influential figure, but Enzensberger found him 'disagreeably authoritarian'. Another influence was the French enlightenment thinker Denis Diderot, whose work he translated into German. He then worked as a radio editor in Stuttgart until 1957.
Like all his books, his first collection, defence of the wolves (1957), provoked wildly differing reactions, with one reviewer calling his poetic critique of postwar Germany an 'unintentional parody of poetry', while another saw it as 'the first great political poetry since Brecht' from Germany's first 'angry young man'. He was always a controversial figure in Germany, managing to upset even his admirers, but 'that's how it should be. It's a sign of vitality. I would be disappointed if there were a lukewarm, benevolent indifference.'
He was a founder member of Group 47, a loose grouping of disaffected German intellectuals including Heinrich Böll and Günter Grass, generally viewed as the most influential movement after the war, although Enzensberger now talks of the group as 'a historical myth': 'It just so happened that after the war there were a few guys who felt uneasy about the country, to put it mildly. It was like living with an enormous corpse in the cupboard.' Franz-Josef Strauss famously called them Schmeissfliegen (blowflies): writers whose attacks on its political institutions seemed to risk damaging Germany's clean postwar image.
In 1960 he published his pioneering anthology, Museum der modernen Poesie (Museum of modern poetry), introducing German readers to writers such as William Carlos Williams, Fernando Pessoa and Lars Gustafsson, but also expressing in his title his view that Modernism was defunct. In 1965 he founded the radical periodical Kursbuch (Railway Timetable), which published critical texts on the media and language and became a legendary forum for the student movement. In 1980 he founded the journal Transatlantic, and in 1985 began editing the prestigious book series Die Andere Bibliothek, now featuring nearly 250 titles, among them The watermark of poetry, or The art and enjoyment of reading poems (1985) by one Andreas Thalmayr. He used the same pseudonym for Poetry gets on my nerves! First aid for stressed readers (2004), a playfully ironic guide to the subject for younger readers in the spirit of his Poetry Machine installation (2000) – which caused something of a stir in Germany when he demonstrated how it could churn out lines of "poetry" at the touch of a button. 'Some of the poems are quite enjoyable,' he told a journalist. 'So I made a remark that was not well taken by some poets. I said anybody who can't do better than the machine should put away their pen.'
From 1961 he spent long periods abroad, living in Norway, Italy and the USA as well as West Berlin, before finally settling in Munich in 1979. He also travelled to Mexico, South America, the Soviet Union, China and the Near East. A year in Cuba, in 1969 – where Castro denounced him as a CIA agent – inspired his master work, The Sinking of the Titanic (1978). He translated poetry from English, French, Spanish, Italian, Swedish and Norwegian, and his own work was translated into many languages. He received numerous prizes and honours, including the Georg Büchner Prize (1963), Ernst Robert Curtius Prize (1997), Heinrich Heine Prize (1998) and Frank Schirrmacher Prize (2015) in Germany, as well as Italy's Premio Bollati and the Spanish Premio Príncipe de Asturias, and in 2009 a Lifetime Achievement Award from Canada's Griffin Trust for Excellence in Poetry.
Enzensberger's books include several on culture and politics which have been translated into English, among these Europe, Europe (1989), Mediocrity and Delusion (1992) and Civil War (1994), as well as two bestselling works for young people, The Number Devil (1998), an entertaining look at maths, and Where Were You, Robert? (2000), about history. In 2004 Dialoge zwischen Unsterblichen, Lebendigen und Toten (Dialogues between immortals, the living and the dead) was published in Germany, a book of prose pieces on the influence of historical figures on the present-day zeitgeist.
His introduction to English readers came with a Penguin Selected Poems in 1968. His much larger, dual language Bloodaxe Selected Poems of 1994 covered collections published over 30 years, up to Music of the Future (1991), including The Sinking of the Titanic. These were followed by two later collections, published in English translation by Bloodaxe, Kiosk (1995/1997) and Lighter than Air: moral poems (1999/2002). Die Elixiere der Wissenschaft (The Elixirs of Science, 2002), a gathering of his poetry and prose relating to science, was followed by a collection of 99 meditations, Die Geschichte der Wolken (2003), published in English by Seagull Books as A History of Clouds (2010). His dual language New Selected Poems was published by Bloodaxe in 2015.
Philip Oltermann's 2010 Guardian profile of Hans Magnus Enzensberger is available here.
In tribute to Hans Magnus Enzensberger, BBC Radio 3 have made available again his half-hour interview on Free Thinking in June 2015. In this wide-ranging conversation with presenter Anne McElvoy, Hans Magnus Enzensberger talked about his poetry, and spoke more widely about cultural and political matters, including Germany's role in world affairs.
Listen here.
The Telegraph obituary of 11 January 2023 is available online by subscription here.
An obituary ran in The Guardian of 30 December 2022 and is available online here.
An obituary ran in The Washington Post of 28 November 2022 - read or listen here.
Hans Magnus Enzensberger was interviewed by Marc-Christoph Wagner when he appeared at Louisiana Literature festival at the Louisiana Museum of Modern Art in August 2015.
Author photograph above: Jürgen Bauer / Suhrkamp Verlag
Hans Magnus Enzensberger: born Allgäu, Bavaria, 11 November 1929, died Munich, 24 November 2022.

[25 November 2022]