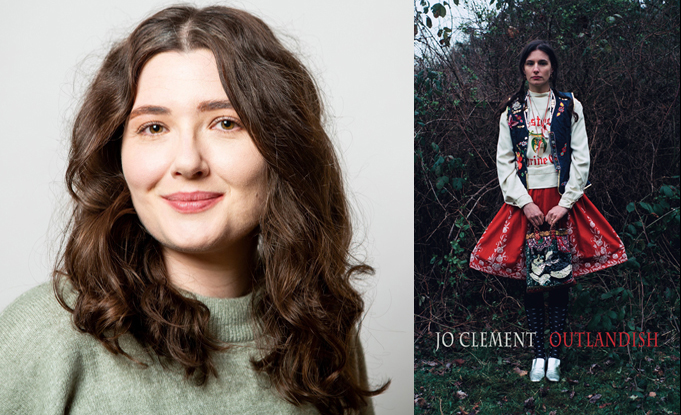 Jo Clement's Outlandish on John Pollard Foundation International Poetry Prize shortlist
Jo Clement's Outlandish, a powerful debut collection exploring Gypsy, Roma and Traveller identity and culture, has been shortlisted for the John Pollard Foundation International Poetry Prize 2023.
The six-strong shortlist was announced on 22 February by the Trinity Oscar Wilde Centre at Trinity College Dublin. This is the fifth year of the prize, awarded annually for an outstanding debut collection of poetry in the English language.

Worth €10,000, the prize is sponsored by the John Pollard Foundation, and administered by the Trinity Oscar Wilde Centre in the School of English at Trinity College Dublin. The patron of the John Pollard Foundation is Stephen Vernon, who named the Foundation in memory of his grandfather, John Pollard.

The shortlisted publications are:

James Conor Patterson bandit country (Picador, Pan Macmillan)
Mark Pajak Slide (Jonathan Cape)
Padraig Regan Some Integrity (Carcanet Press)
Warsan Shire Bless the Daughter Raised by a Voice in Her Head (Chatto and Windus)
Jo Clement Outlandish (Bloodaxe Books)
Victoria Adukwei Bulley Quiet (Faber and Faber)
Announcing the 2023 shortlist, chair of the judging panel, Professor Eoin McNamee, Director of the Trinity Oscar Wilde Centre, said:
"If the condition of poetry and its standing in the world is to be judged by the 62 entries to the John Pollard prize then we're in a good place. Every book had something to make the reader stop and stare, the range and diversity of the work astounded. It was a privilege for myself and fellow judges Phillip Coleman, Vona Groarke and Alice Lyons to read and debate this work."
Jo Clement commented:
"I am astounded to have been shortlisted for the esteemed John Pollard Foundation Prize," said Dr Clement. "Thanks must be given to the Oscar Wilde Centre. Professor Eoin McNamee, Phillip Coleman, Vona Groarke and Alice Lyons have selected debut collections that speak from such startling and unique positions. It brings me great joy to stand alongside these wonderful poets, whose writing I greatly admire."
The winner will be announced at a ceremony in Trinity College Dublin on 3 May 2023. Previous winners of the prize were Hannah Sullivan (2019); Isabel Galleymore (2020); Diane Louie (2021); and Gail McConnell (2022).
For queries about the prize, please contact Fiona Tyrrell, Media Relations, on +353 1 896 3551, or email tyrrellf@tcd.ie.
For review copies of Outlandish, or to be put in touch with Jo Clement, please email Christine Macgregor at publicity@bloodaxebooks.com.
~~~~
Jo Clement was born in Darlington in the North East of England, and lives in North Shields. Her first full collection Outlandish explores her Gypsy, Roma and Traveller ethnicity, inviting us to consider notions of otherness, trespass and craft. It was published in May 2022 by Bloodaxe Books.
~~~~
POETRY BOOKS OF THE YEAR

'Outlandish from Jo Clement was an evocative, beautiful, and challenging narrative of British Gypsy ethnicity.' - Sam Illingworth, Poetry News (Christmas Reading, 2022)
'As vivid as engravings, the poems in Jo Clement's debut collection Outlandish braid together a richness of language and a precision of imagery to illuminate Traveller identity and Roma culture. These are poems of clarity and lyricism that sing of people, places, and the beauty of what is passed down.' - Kris Johnson (Poetry Society Books of the Year 2022)

INTERVIEW WITH JO CLEMENT ON BBC RADIO 4's START THE WEEK

Start the Week: Social Inequality - up close, BBC Radio 4, Monday 13 June 2022, 9am (repeated 9.30pm)

Jo Clement was a guest on BBC Radio 4's Start the Week on 13 June 2022. She was discussing social inequality and the cashless society with host Adam Rutherford and fellow guests Darren McGarvey and Brett Scott. Jo introduced and read her 'incredibly evocative' poem 'Vardo' from her debut collection Outlandish, and spoke about Gypsy, Roma and Traveller history and culture. Her poems 'Knots' - about Wordsworth's poem 'Gipsies' - and 'Self-portrait as 100 Travellers' were discussed.

'The poet Jo Clement gives voice to the stories and people of her family's Romany past. In her collection Outlandish she has no time for Romantic impressions of British Gypsy ethnicity as she moves from ancient stopping-places to decaying council estates. Her poems are imaginative protests that cast light on a hidden and threatened culture.'

Jo features at 11:47 and again at 17:08. Listen here.
POEMS ON THE UNDERGROUND

Jo Clement's poem 'Paisley' from Outlandish was featured on Poems on the Underground posters in London Underground and Overground trains from November 2022. The poster can be seen on the Poems on the Underground website here and can be ordered from the Poetry Society here.
[22 February 2023]