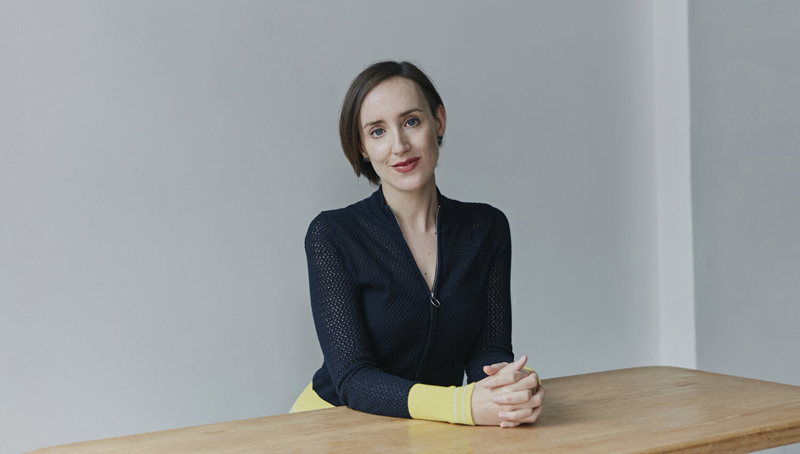 Jessica Traynor receives the Lawrence O'Shaughnessy Award for Poetry 2023
'Fierce and profound, Pit Lullabies is one of the vital books of the new Irish poetry.' - Ciarán O'Rourke, New Hibernia Review
Irish poet Jessica Traynor has won the Lawrence O'Shaughnessy Award for Poetry 2023. She was the 27th recipient of this prestigious American award for poetry, which honours both the literary achievement of the poet and their contribution to the community of writers in Ireland. Jessica was presented with the award and gave a public reading at the University of St Thomas in St Paul, Minnesota, on 8 and 10 May 2023.

Jessica Traynor's third collection Pit Lullabies was published by Bloodaxe Books in March 2022. It was a Poetry Book Society Recommendation and a Poetry Book of the Year in The Irish Times. Pit Lullabies followed two acclaimed collections from Dedalus Press: Liffey Swim (2014) and The Quick (2018).

Pit Lullabies celebrates the amazement and joy of parenthood, while also exploring difficult experiences of anxiety and post-natal depression. Violence against women, environmental concerns and the uncertainties of 21st-century living are also explored here in poems by turns visceral, lyrical, angry and funny. Running through the collection is a series of 'Pit Lullabies', a fractured sequence of attempted lullabies that moves from the darker days of new motherhood and into the light.

The Lawrence O'Shaughnessy Award for Poetry was established at the University of St Thomas in 1997 to honour outstanding Irish poets. Previous recipients of the award include fellow Bloodaxe poets Louis de Paor (2000); Frank Ormsby (2002); Kerry Hardie (2005), Leanne O'Sullivan (2011) and Katie Donovan (2017).
Jessica Traynor comments:
'It's such a special honour to receive the Lawrence O'Shaughnessy Award. To have my own work recognised this way, and to be in the company of such a prestigious group of past winners, is a dream come true.'

Jessica Traynor was born in Dublin in 1984 and is a poet, essayist and librettist. Her debut collection, Liffey Swim (Dedalus Press, 2014), shortlisted for the Strong/Shine Award, was followed by The Quick (Dedalus Press, 2018). In 2019, with actor Stephen Rea, she edited Correspondences: an anthology to call for an end to direct provision, which raised funds for MASI, the movement of asylum seekers in Ireland. A Place of Pointed Stones, a pamphlet commissioned by Offaly County Council, was published by The Salvage Press in 2021. Her third collection, Pit Lullabies, was published by Bloodaxe Books in March 2022 and was a Poetry Book Society Recommendation. She has received awards including the Hennessy New Writer of the Year, the Ireland Chair of Poetry Bursary, the Listowel Poetry Prize, and the Lawrence O'Shaughnessy Award for Poetry 2023. She reviews poetry for The Irish Times, RTÉ Radio 1's Arena, and for Poetry Ireland Review. She is an inaugural Creative Fellow of UCD, where she completed her MA in Creative Writing in 2008. She has held residencies including the Yeats Society, Sligo, and Carlow College. She was Dún Laoghaire-Rathdown Writer in Residence for 2021-22 and is University of Galway Writer in Residence for 2023. She is poetry editor at Banshee.

Pit Lullabies (2022) by Jessica Traynor, is published in the UK and Ireland by Bloodaxe Books. It is distributed in the USA by Consortium Book Sales & Distribution.
For more on the Lawrence O'Shaughnessy Award for Poetry, see:
https://news.stthomas.edu/irish-poet-jessica-traynor-receives-27th-oshaughnessy-award/

~~~~
FILM POEM FROM PIT LULLABIES
A stunning Adrian Brinkerhoff Poetry Foundation film of Jessica Traynor reading 'Onion Poem' from Pit Lullabies was premiered a the Irish Arts Centre in New York at the 13th Annual PoetryFest in December 2022. Jessica read at the festival alongside Ilya Kaminsky.
Jessica Traynor reads 'Onion Poem' from Pit Lullabies
Film directed by Matthew Thompson and produced in collaboration with Irish Arts Center, NYC.
~~~~
Jessica Traynor was interviewed for the Sunday Independent's 'My Life in Books' feature of 19 February 2023. In the final section she mentions her third collection Pit Lullabies as the book she would most like to be remembered for: 'It's an attempt to capture the uncanny side of motherhood and to explore the existential crises that we are facing into as a species through the lens of parenthood.' In print and online here.
An excellent in-depth review of Pit Lullabies went online at Dublin Review of Books on 1 September 2022. Read in full here: https://drb.ie/articles/for-your-discomfort/

'But while it may be dark stuff… the language is also wonderful: gothic, Anglo-Saxon, visceral, and well, exhilarating. It's also attentive to both the tender and the subterranean emotions that arise with the experience of motherhood. More than that, Pit Lullabies harks back to knowledge from ancient times, reminding us of our innate powers as women and as life-givers.' - Afric McGlinchey, Dublin Review of Books
For more interviews, reviews, books of the year and poem features, see: https://www.bloodaxebooks.com/news?articleid=1202
[09 March 2023]