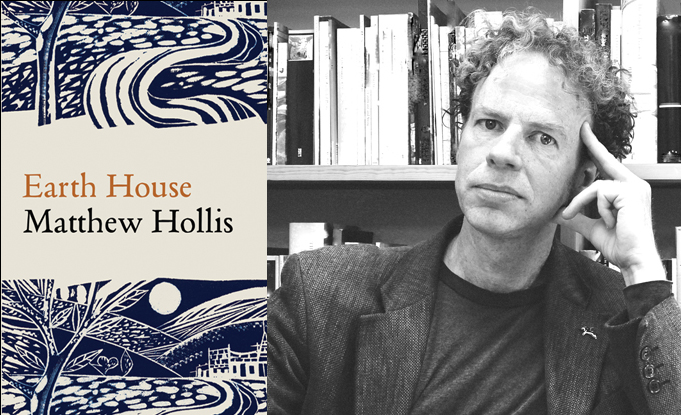 Matthew Hollis's Earth House poem features
'A quietly magnificent book. Wholly lived. A magnificat in that way. Devoted to the austere and painful truths that poem by poem it discovers and quietly, as ever, magnifies. These poems sound a music like the warming subsong of a blackbird from the bare heart of a winter thorn, a cold cheer, a kindling blues.' – Tim Dee, on Earth House

In his long-awaited second collection Earth House, published in hardback in April 2023, Matthew Hollis evokes the landscape, language and ecology of the isles of Britain and Ireland, beginning in the slate waters of northern England. What emerges is a moving meditation on time and the transformative phases of nature. These poems work the seam between the present and the past, between destruction and renewal, humanity and our environment.
Matthew Hollis' debut Ground Water (Bloodaxe Books, 2004) was shortlisted for the Guardian First Book Award, the Whitbread Poetry Award and the Forward Prize for Best First Collection, and was a Poetry Book Society Recommendation. He is co-editor, with W.N. Herbert, of Strong Words: Modern Poets on Modern Poetry (Bloodaxe Books, 2000) and 101 Poems Against War (Faber & Faber, 2003), and editor of Selected Poems of Edward Thomas (Faber & Faber, 2011). He is the author of The Waste Land: A Biography of a Poem (Faber & Faber, UK, Norton, US, 2022) and is Poetry Editor at Faber & Faber.
Matthew launched Earth House in person at Newcastle Poetry Festival in May 2023 and online with Bloodaxe on 25 April 2023. Scroll down to see a video of Bloodaxe's joint live-streamed launch and discussion event.
~~~~
POEM FEATURES FOR EARTH HOUSE

'The Long Snow' from Earth House was featured as Steve Whitaker's Poem of the Week in the Yorkshire Times of 23 May 2023. Read the poem and Steve Whitaker's commentary online here.
'The journey of body and mind in Matthew Hollis' fine octet is as compelled and driven as a pilgrimage.' – Steve Whitaker, Yorkshire Times, Poem of the Week
Matthew Hollis's poem 'Call' from Earth House was featured as Poem of the Week in The Telegraph of 22 April 2023. Read the poem via The Telegraph's Culture newsletter here.
'Some poets take their time. Matthew Hollis's second collection Earth House arrives this week 19 full years after his acclaimed debut Ground Water. In the meantime, Hollis has written a well received biography of Edward Thomas, whose poetry is a marked influence on his own. Like Thomas, Hollis writes with an unsentimental love of the natural world, in poems where landscapes he knows well are charged with a personal significance that's often only hinted at.' – Tristram Fane Saunders, The Daily Telegraph (Poem of the Week)
LIVE-STREAMED LAUNCH EVENT, 25 APRIL 2023

Bloodaxe Books online April 2023 launch reading
Launch reading with Harry Clifton, Maura Dooley and Matthew Hollis celebrating the publication of their new poetry collections. Matthew read last in each set.
The poets read live and discussed their new collections with each other and with the host, Bloodaxe editor Neil Astley. This Bloodaxe launch event was streamed on YouTube Live and is now available to watch via this YouTube page: https://youtube.com/live/7Zl2Sy9rzLk
[25 May 2023]