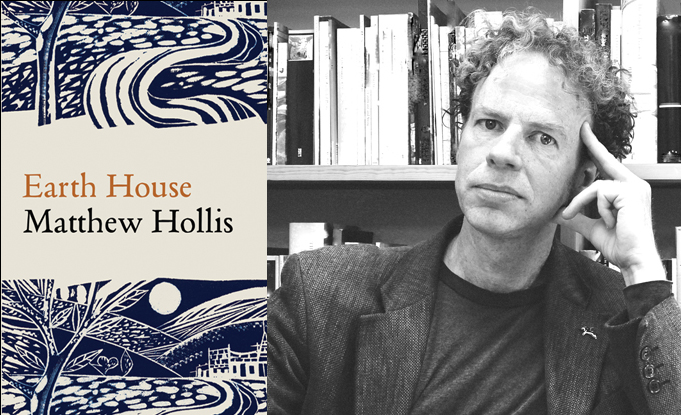 Matthew Hollis's Earth House poem features & reviews
'It's taken Matthew Hollis 19 years to produce a successor to his debut collection, Ground Water, but Earth House was worth the wait. Well-nigh elemental in their evocation of time and landscape, the poems can have the effect of making their human protagonists look frail, marginal visitants to an indifferent world.' – D. J. Taylor, The Tablet (Summer Reading)

In his long-awaited second collection Earth House, published in hardback in April 2023, Matthew Hollis evokes the landscape, language and ecology of the isles of Britain and Ireland, beginning in the slate waters of northern England. What emerges is a moving meditation on time and the transformative phases of nature. These poems work the seam between the present and the past, between destruction and renewal, humanity and our environment. Earth House was longlisted for the 2023 Laurel Prize for nature writing and ecopoetry.
Matthew Hollis' debut Ground Water (Bloodaxe Books, 2004) was shortlisted for the Guardian First Book Award, the Whitbread Poetry Award and the Forward Prize for Best First Collection, and was a Poetry Book Society Recommendation. He is co-editor, with W.N. Herbert, of Strong Words: Modern Poets on Modern Poetry (Bloodaxe Books, 2000) and 101 Poems Against War (Faber & Faber, 2003), and editor of Selected Poems of Edward Thomas (Faber & Faber, 2011). He is the author of The Waste Land: A Biography of a Poem (Faber & Faber, UK, Norton, US, 2022) and is Poetry Editor at Faber & Faber.
Matthew launched Earth House in person at Newcastle Poetry Festival in May 2023 and online with Bloodaxe on 25 April 2023. Scroll down to see a video of Bloodaxe's joint live-streamed launch and discussion event. Details of his forthcomng in-person readings at festivals around the UK can be found here: https://www.bloodaxebooks.com/events?articleid=1285
POEM OF THE WEEK FEATURE IN THE GUARDIAN

Matthew Hollis's poem 'The Diomedes' from Earth House was featured by Carol Rumens in her online Poem of the Week column in The Guardian of 9 October 2023. Read here.
'Hollis's collection is impressively structured, each of its four sections composed as an itinerary that always comes "home" to anchor in an original translation from The Exeter Book. The places and insights the poet experiences at the cardinal points are fluid, interconnected, never insular. Longlisted for the 2023 Laurel prize, Earth House represents the ecological imagination at its most multi-layered and persuasive.' - Carol Rumens, Poem of the Week, The Guardian
BOOK OF THE MONTH ON POETRY EXTRA

Poetry Extra, BBC Radio 4 Extra, Book of the Month, Sunday 10 September & Sunday 24 September 2023, 6am, 11am, 5pm & midnight

Daljit Nagra, host of Poetry Extra, featured Matthew Hollis's second collection Earth House as his Poetry Book of the Month for September 2023. Back in July, he featured Maura Dooley's collection Five Fifty-Five, also published by Bloodaxe in April 2023, as his very first Book of the Month. Scroll down to view a video of Bloodaxe's joint livestreamed launch reading.

On 10 September Daljit said a few words about why he had chosen Earth House as his Book of the Month, and then he read 'A Bluebird for Rose' from the collection. Then on 24 September, Daljit read an extract from 'Stones'.

The programmes featuring Earth House are no longer on BBC Sounds, but details are below.

10 September: rebroadcast of a programme presented by Imtiaz Dharker featuring an interview with Azita Ghahreman, an Iranian poet based in Sweden, who is published by Bloodaxe in a translation by Maura Dooley.
https://www.bbc.co.uk/programmes/m001qdjj

24 September:
https://www.bbc.co.uk/programmes/m001qt6w
ONLINE REVIEW COVERAGE
An essay review of Earth House is featured online in The London Magazine here.
'There were 19 years between Hollis's first collection and his second, born almost a generation apart... In a world of noise, collapse and change, he finds Eliot's 'still point of the turning world'. His quietly dignified, wise and elegant poems, on the earth and our fluid, unsettled place in it, are always a pleasure to spend time with.' - Nicola Healey, The London Magazine

Matthew Hollis' second collection Earth House was given a very warm review online in London Grip on 22 August 2023

'Myth and language keep the past ever-present for Hollis: his work is steeped in allusions to Anglo Saxon, Celtic and Norse myth, and richly textured with regional discourse, anchoring language both to history and place … a stunning collection.' - Paul McDonald, London Grip, on Earth House
Read in full via London Grip:
https://londongrip.co.uk/2023/08/london-grip-poetry-review-matthew-hollis/

An in-depth review of Earth House went online in The Friday Poem on 9 June 2023. Read the review in full here.

'This is poetry as music, as an oral and aural link to a past when the hedgerow and the fen were the world to some people … The poems and their characters face the world but relinquish any foolish resistance to it. We find their courage – and the world's presence – in quiet, shrewd metaphor, and deftly chosen, unexpected words.' – Carl Tomlinson, The Friday Poem, on Earth House
SUMMER READING FEATURE IN THE TABLET

The Tablet, Summer Reading, Friday 8 July 2023

Matthew Hollis' second collection Earth House and Aleš Šteger's 2022 retrospective Burning Tongues: New & Selected Poems were both chosen by Tablet contributors for The Tablet's Summer Reading feature of 8 July.

'It's taken Matthew Hollis 19 years to produce a successor to his debut collection, Ground Water, but Earth House was worth the wait. Well-nigh elemental in their evocation of time and landscape, the poems can have the effect of making their human protagonists look frail, marginal visitants to an indifferent world. At other times, particularly when Hollis returns to his native East Anglia, they are consummate exercises in psychogeography, where, however ancient the terrain, the people lead the dance.' – D. J. Taylor, The Tablet (Summer Reading)

In print and online. Register to read for free.
https://www.thetablet.co.uk/books/10/23310/summer-reading-
REVIEW COVERAGE


The Tablet, Friday 22 July 2023

An excellent review of Matthew Hollis' Earth House was included in The Tablet's full-page poetry feature of 22 July.
'Matthew Hollis's Earth House is concerned with the ways our environment both roots and unroots us. Tied to the language, histories and ecology of Ireland and Britain, it is an elemental and expansive collection that builds from death to the birth of new life … If there is transcendence here it is to be found in the attention to the world around us, its nuance and fragility and our intimate connection to it, the "cleft between the chassis and the sea".' – Nikolai Duffy, The Tablet
In print and online. Register to read in full online for free.
https://www.thetablet.co.uk/books/10/23351/how-the-light-gets-in

Earth House was well reviewed in brief in the PBS Summer Bulletin 2023.
'Matthew Hollis's second collection blends the human and the natural in novel ways... a sweeping meditation on time, history, and our place in the natural world.' - Maggie Wang, Poetry Book Society Summer Bulletin 2023
POEM FEATURES FOR EARTH HOUSE

'The Long Snow' from Earth House was featured as Steve Whitaker's Poem of the Week in the Yorkshire Times of 23 May 2023. Read the poem and Steve Whitaker's commentary online here.
'The journey of body and mind in Matthew Hollis' fine octet is as compelled and driven as a pilgrimage.' – Steve Whitaker, Yorkshire Times, Poem of the Week
Matthew Hollis's poem 'Call' from Earth House was featured as Poem of the Week in The Telegraph of 22 April 2023. Read the poem via The Telegraph's Culture newsletter here.
'Some poets take their time. Matthew Hollis's second collection Earth House arrives this week 19 full years after his acclaimed debut Ground Water. In the meantime, Hollis has written a well received biography of Edward Thomas, whose poetry is a marked influence on his own. Like Thomas, Hollis writes with an unsentimental love of the natural world, in poems where landscapes he knows well are charged with a personal significance that's often only hinted at.' – Tristram Fane Saunders, The Daily Telegraph (Poem of the Week)
LIVE-STREAMED LAUNCH EVENT, 25 APRIL 2023

Bloodaxe Books online April 2023 launch reading
Launch reading with Harry Clifton, Maura Dooley and Matthew Hollis celebrating the publication of their new poetry collections. Matthew read last in each set.
The poets read live and discussed their new collections with each other and with the host, Bloodaxe editor Neil Astley. This Bloodaxe launch event was streamed on YouTube Live and is now available to watch via this YouTube page: https://youtube.com/live/7Zl2Sy9rzLk
[25 May 2023]