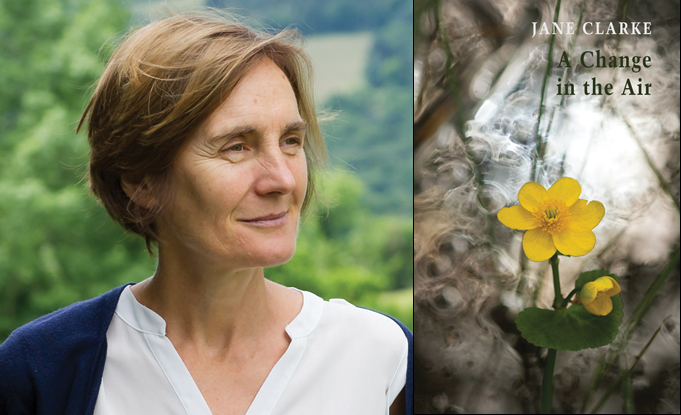 Jane Clarke shortlisted for the Forward Prize for Best Collection 2023
'… outstanding lyrical poems of place and heart … Clarke's poems are above all else accessible, and in being so, the poet honours her reader. She removes a language blind, bringing us to the beating heart of her work. A Change in the Air is a generous collection by a poet resolute but gentle in the matter of emotional truth.' - Eleanor Hooker, Books Ireland
Irish poet Jane Clarke's third full collection, A Change in the Air, published in May by Bloodaxe Books, is on the five-strong shortlist for the £10,000 Forward Prize for Best Collection. The shortlists for all four categories of the 2023 Forward Prizes were announced on 30 June, and were celebrated at an event at Bradford Literature Festival on 1 July 2023.
The Judges for the Forward Prize for Best Collection are: Bernardine Evaristo (Chair), Kate Fox, Karen McCarthy Woolf, Andrés Ordorica and Jessica Traynor.
Speaking on this year's shortlists, Chair for the Best Collection and Best First Collection categories, Bernardine Evaristo, said:
"It was such a pleasure to read so many wonderful poetry collections for this prize from established poets, and to discover new poets at the start of their publishing careers. I think it's safe to say that poetry in the twenty-first century is flourishing like never before with such a broad range of poets writing from different backgrounds. As a jury we found ourselves drawn to poets who were moving poetry forwards in theme or form or both, who offered us emotional depth, imaginative fertility, re-readability and intellectual complexity, and, most importantly, who were writing fresh perspectives. The ten poets who made the cut, did so in a field of over 230 poets and while it was sometimes heartbreaking to say goodbye to collections we loved, we are incredibly excited to be presenting such an exceptional body of work."
2023 Best Collection Panels Judge, Kate Fox, said:
"Judging these awards made me want to press poetry collections into people's hands in the street and say 'Look! Poetry is really exciting at the moment! All these amazing voices saying this breadth and depth of relevant things!' For me, this firework display of a shortlist demonstrates how poetry is the space where some of the best thinking and the deepest feeling is happening in the whole cultural landscape."
Andrés N. Ordórica, said:
"What an immense honour to immerse myself in this year's poetic landscape! The ten shortlisted collections are a testament to the sheer power poetry has to encapsulate both emotion and an understanding of the world around us, not only in the here and now, but for countless future generations. Having the opportunity to read 200+ collections was a moving, humbling and life-affirming experience and I feel richer for it."
Jessica Traynor, said:
"Judging the Forwards in 2023 was a truly unique experience, allowing each of us on the panel an extraordinary insight into the passions, anxieties and obsessions of poets writing
today. I was immensely impressed by the range of new voices and subject matters, but also at the ability of these writers to 'make it new' when working in more traditional modes. The books on the shortlist represent so many different aspects of what poetry is, and what poetry can be—it was a privilege to read them and I'll return to them again and again."
The winners of this year's Forward Prizes will be announced at a ceremony in Leeds Playhouse, as part of Leeds 23, on 16 October 2023 at 7pm. More information & bookings here.
Full details of all the shortlisted books and poems are on the Forward Prizes website here. A fourth category has been introduced this year for Best Single Poem – Performed.
~~~~~
Jane Clarke's third collection A Change in the Air is far-reaching and yet precisely rooted in time and place. In luminous language her poems explore how people, landscape and culture shape us. Voices of the past and present reverberate with courage and resilience in the face of poverty, prejudice, war and exile and the everyday losses of living. Across six sequences these intimate poems of unembellished imagery accrue power and resonance in what is essentially a book of love poems to our beautiful, fragile world. A Change in the Air is shortlisted for the Forward Prize for Best Collection 2023 and is longlisted for the Laurel Prize 2023.
A Change in the Air follows two previous collections from Jane Clarke. Her 2019 second collection When the Tree Falls was shortlisted for three national Irish poetry prizes, the Pigott Poetry Prize 2020, the Irish Times Poetry Now Award and the Farmgate Cafe National Poetry Award 2020, as well as being longlisted for the RSL Ondaatje Prize 2020. Her debut collection The River (2015) was the first poetry book to be shortlisted for the Ondaatje Prize.
Jane Clarke grew up on a farm in Co. Roscommon, and now lives near Glenmalure, Co. Wicklow.
~~~~~
The Forward Prize's 'Meet the Poet' interview with Jane Clarke went online on 25 August 2023, accompanied by the poem 'Spalls' from
A Change in the Air
, which is on the shortlist for the Forward Prize for Best Collection. Read via the Forward Prizes for Poetry website
here
.
The Poetry School invited Jane Clarke to contribute a 'How I Did It' piece about the inspiration behind a poem from her Forward Prize shortlisted collection
A Change in the Air
. Jane chose to write about the titular poem 'Pit Ponies of Glendasan' – one of a sequence of poems she wrote especially for the BBC Radio 4 feature
The Miners' Way
, which she presented in 2020. The feature went online on 21 August 2023, accompanied by the poem. Read via the Poetry School website
here
.
A feature on the four Irish poets shortlisted for this year's Forward Prizes for Poetry ran in Ireland's
The Gloss Magazine
on 25 August 2023. Read
here
.
A feature on Jane's Forward Prize shortlisting can be read in the
Wicklow People
here
.
Jane Clarke was interviewed on RTE Radio 1's
Arena
on 11 July. She was speaking to presenter Seán Rocks about her Forward Prize-shortlisted collection
A Change in the Air
and read two poems from the book. Available as a 14-minute clip on the
Arena
webpages
here
.
RTE Radio 1's
CountryWide
featured their recording of Jane reading her poem 'The Key' from
A Change in the Air
on Saturday 15 July in response to the book having been shortlisted for the Forward Prize for Best Collection. Introduced by presenter Ella McSweeney. Listen to the poem feature
here
.
An in-depth review of Jane Clarke's 'inimitable and beautiful new collection' has gone online in the
Yorkshire Times.
Read Steve Whitaker's review
here
.
~~~~~
POEM FEATURES

Jane Clarke's tender poems 'Her first' and 'Wife' from
A Change in the Air
were featured online at
Bookanista
to mark publication day on 25 May. Read
here
.
The poem 'All the horses she's ever loved' from
A Change in the Air
was featured as Poem of the Week in
The Irish Times
of 20 May ahead of publication on 25 May. Read the poem
here
.
A film of Jane Clarke reading her poem 'Dressing My Mother for Her Grandson's Wedding' from
A Change in the Air
was featured on
Books Ireland
to mark publication
here
(and below). The collection was also reviewed in depth by Eleanor Hooker in
Books Ireland
here
.
[30 June 2023]