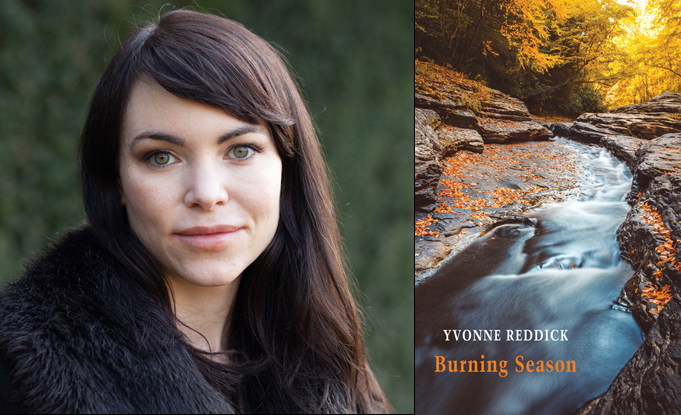 Yvonne Reddick's Burning Season wins The Laurel Prize Best UK First Collection
Yvonne Reddick's first full collection Burning Season, published by Bloodaxe Books in May 2023, has won the Best UK First Collection category of The Laurel Prize for nature and ecopoetry. The winners of the 2023 Laurel Prize were announced at a ceremony at the BBC Contains Strong Language Festival in Leeds on 22 September 2023.
On hearing she was included on the shortlist of winners for The Laurel Prize, Yvonne Reddick commented:
'Ecopoetry speaks of life on our burning planet. It celebrates the multitude of lives that still flourishes defiantly around us, even in these dire times. The arts are the creative voice of activism, and this prize champions poetry that turns a spotlight on the most urgent issue our planet faces. It's a tremendous honour to be shortlisted alongside this array of brilliant poets.'
The Laurel Prize partners with the Ginkgo Prize which rewards best single poems. The title poem from Yvonne Reddick's Burning Season won third prize in the Ginkgo Prize for Ecopoetry 2022.
The twenty-strong longlist for The Laurel Prize 2023 included four titles published by Bloodaxe Books. Jane Clarke's third collection, A Change in the Air, Matthew Hollis's second collection, Earth House, and Kris Johnson's first full collection Ghost River were longlisted along with Yvonne Reddick's debut Burning Season.
The Judges for the 2023 Laurel Prize are poets Pascale Petit (Chair) and Nick Laird, along with journalist and broadcaster Reeta Chakrabarti.
Pascale Petit, 2023 Chair of Judges, commented on the 2023 longlist:
"Reading the entries for this year's Laurel Prize was an intense and immersive experience – so many poets are writing about the ecological crisis now. Our longlist of twenty reveals a wide-
ranging chorus of voices, poems witnessing climate change globally – in the Caribbean, in Canada, at an oil well in Kuwait, from an activist's prison cell, in a pub called The Arctic, on an Irish farm, an English cricket field, and in a visionary future. These passionate collections offer us hope and renew our faith in the survival of our glorious planet."
The Laurel Prize is an annual award which recognises the best collections of environmental or nature poetry published that year. It is funded by UK Poet Laureate Simon Armitage's Laureate's honorarium, which he receives annually from the King, and is run by the Poetry School. It is now an international award for nature poetry written in English, recognising the global importance of environmentalism, and drawing together concerned voices from across the planet.
The winners of this year's Laurel Prize were announced at a ceremony on Friday 22 September 2023 in The Howard Assembly Rooms in Leeds, attended by the Judges along with UK Poet Laureate Simon Armitage, who founded the prize. Yvonne Reddick read from her winning collection at the ceremony. This event was part of a day of poetry readings and workshops at the 2023 BBC Contains Strong Language Festival in Leeds.
The overall winner Jorie Graham was interviewed live onThe Verb (BBC Radio 3's cabaret of the word, featuring the best poetry, new writing, and performance) on 22 September at 10pm. Poet Laureate Simon Armitage introduced the winner.
The Laurel Prize 2023 comprises: First Prize – £5,000, Second Prize – £2,000, Third Prize – £1,000, Prize for Best UK First Collection – £500, Prize for Best International First Collection – £500 (Sponsored by the Ginkgo Prize for Ecopoetry). In addition, each of the winners will receive a commission from the AONB to create a poem based on their favourite landscape.
Full details of all the 2023 winners and longlisted poets are on The Laurel Prize website here.
~~~~~
For all press and media queries, please contact Jaz Ward at the Poetry School - telephone: 07748 327311 email: Jaz@poetryschool.com.
For review copies of Burning Season, please email Christine Macgregor: publicity@bloodaxebooks.com.
~~~~~
Yvonne Reddick: Burning Season
Burning Season is a book about fire and survival, climate change and nature's defiance. Yvonne Reddick's understanding of climate change is uniquely personal: her father was a petroleum engineer, and many members of her family worked in the fossil fuel industry. The collection speaks of the paradox that her Dad's gift to her was her love of nature and mountain landscapes. Burning Season includes a series of vivid, moving and heartfelt poems that explore her grief following her father's death in a hiking accident. These are set against a wider backdrop of ecological loss and heartbreak. The book combines poems with nature diaries and lyric essays to trace an intriguing family history. It tells the story of a father who worked on North Sea oil platforms and Omani oilfields, and who transported the entire family to Kuwait four years after the first Gulf War. Reddick's mother worked in seismology, detecting deposits of oil deep below the ground. This family story forms the bedrock of Burning Season, which is Yvonne Reddick's first book-length collection. For reviews, poem features and a link to Yvonne's livestreamed launch reading, see her news page here.
Yvonne Reddick is a writer, editor, ecopoetry scholar and climber. She has published four pamphlets, including Translating Mountains (Seren, 2017), winner of the Mslexia Women's Pamphlet Competition, and Spikenard (Laureate's Choice, 2019). Born in Glasgow in 1986, she grew up in Aberdeen, Kuwait City and South East England. She lives in Manchester and holds a Readership in English Literature and Creative Writing at the University of Central Lancashire. Her writing reflects the landscapes she has experienced, their environments, and the impacts of the oil industry on many of them. The title poem from Burning Season won third prize in the Ginkgo Prize for Ecopoetry 2022. Burning Season won The Laurel Prize Best UK First Collection 2023 and is on the shortlist for Scottish Poetry Book of the Year 2023 in Scotland's National Book Awards.
Yvonne Reddick reads from Burning Season at Newcastle Poetry Festival 2023

In this reading at the 2023 Newcastle Poetry Festival, Yvonne Reddick reads five poems from Burning Season: 'The Flower that Breaks Rocks', 'The Gift', 'Burning Season', 'Ptarmigan', 'Rime' and 'Waterland'.
[01 September 2023]