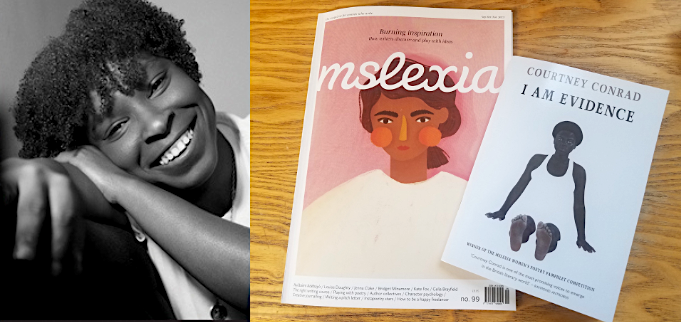 Courtney Conrad wins the 2022 Mslexia Women's Poetry Pamphlet Competition
'The voice is so powerful and individual, it leaps off the page.' - Imtiaz Dharker, Judge for the 2022 Mselxia Women's Poetry Pamphlet Competition
Mslexia has announced that Courtney Conrad's pamphlet I Am Evidence is the winner of their 2022 Women's Poetry Pamphlet Competition, judged by Imtiaz Dharker. The winner was revealed by Mslexia in their latest issue, and the pamphlet is published by Bloodaxe Books. I Am Evidence includes poems which also won Courtney Conrad an Eric Gregory Award in 2022.
Courtney read live from the pamphlet at our September online launch event on Tuesday 19 September 7pm BST, alongside Jen Campbell and Nicole Sealey. This event was livestreamed on our YouTube channel and is now available to watch online: https://youtube.com/live/XMOWG0Q2foA.
'Courtney Conrad is one of the most promising voices to emerge in the British literary world. A voice of affirmation, testimony, survival and revival. The Jamaican spirit of remixing and mashing up English into new and deeper coherences. These poems are evidence of a truth-telling lyrical arrival.' – Raymond Antrobus
Courtney Conrad is a Jamaican poet who now lives in London. She received a Bridport Prize Young Writer Award in 2021. She was shortlisted for The White Review Poet's Prize, the Manchester Poetry Prize, Oxford Brookes International Poetry Competition and Aesthetica Creative Writing Award's Poetry Prize, and was longlisted for the National Poetry Competition and for the Women Poets' Prize (Rebecca Swift Foundation).
Courtney's powerful work interrogates the tensions within Caribbean migration, gender-based violence and national politics. Migrating from Kingston as a teenager, she is unflinching in her attempts to capture the vibrancy and violence of her experiences in both the UK and Jamaica. Her poetry draws together subversive diasporic imagery, national political commentary and shatteringly personal narrative in its exacting response to the political corruption and violence she witnessed as a young girl in Jamaica in the wake of its colonial subjugation under the British Empire.
'The poems in this pamphlet speak from a visceral place in the face of political and personal violence. But what Conrad does is make the language itself the means of defiance. This is English remade, remashed. It hacks out a route to survival through its agility and its music and is unstoppable. So, I expect, is this poet.' – Imtiaz Dharker, Judge of the Mslexia Poetry Pamphlet Competition 2022 on the winning pamphlet I Am Evidence
Read more about Courtney Conrad and her journey into writing poetry on the Mslexia website here.
'Conrad is forging her own distinctive Jamaican poetic seeped in a literary orality, which enables the witness bearing of: the persevered, the forsaken, the rock bottom, the hold on better must come, all speaking to a fragile existence. Yet these are not downtrodden but celebrated as resilient. Conrad continues the tradition of Jamaican poets like Louise Bennett, Jean 'Binta' Breeze and Olive Senior who unapologetically empowered the working-class voice.' – Malika Booker
The Mslexia Women's Poetry Pamphlet Competition was previously judged by Seren's now retired poetry editor Amy Wack with the pamphlets published by Seren. Bloodaxe took over from Seren with effect from the 2022 competition. Two previous winners, Sarah Wimbush (in 2019) and Yvonne Reddick (2016), went on to have their first book-length collections taken on by Bloodaxe. Four winners, Polly Atkin (2012), Cath Drake (2013), Ilse Pedler (2015) and Bryony Littlefair (2017), had book-length collections published by Seren, while Mara Bergman (2012) was taken up by Arc and Jane Lovell by Indigo Dreams. The most recent winner was Sammy Weaver (2021) for her pamphlet Angola, America.
[06 September 2023]