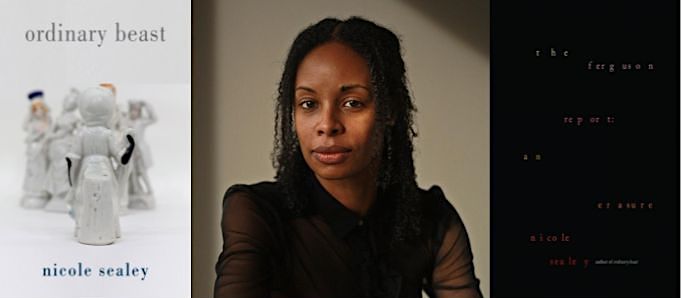 Nicole Sealey's The Ferguson Report: An Erasure reviewed in The Guardian
Two poetry books by the American poet Nicole Sealey are published together in the UK by Bloodaxe Books on 21 September 2023. Nicole will be launching them at Bloodaxe's joint online reading and discussion event on 19 September at 7pm BST - scroll down for details.
Nicole Sealey's debut collection Ordinary Beast was first published in the US by Ecco in 2017, and was a finalist for the PEN Open Book Award and the Hurston/Wright Legacy Award. The first UK edition of Ordinary Beast is published by Bloodaxe in September 2023 at the same time as Nicole Sealey's second book of poetry, The Ferguson Report: An Erasure, an excerpt from which won the Forward Prize for Best Single Poem in 2021.
Nicole Sealey was born in St Thomas, United States Virgin Islands, and raised in Apopka, Florida. She is a visiting professor at Boston University and teaches in the MFA Writers Workshop in Paris program at New York University. In 2017, she started The Sealey Challenge, an annual online community challenge to read one book of poetry each day for the month of August.
~~~~~
An extract from The Ferguson Report: An Erasure was featured in the Spring 2021 edition of Poetry London, and can be read online here.
A pre-publication review of The Ferguson Report: An Erasure can be read in The Guardian here.
'Sealey takes the US justice department's investigation into the titular city's police department after the 2014 killing of Michael Brown by one of its officers, then erases most of its words to reveal the underlying violence. Individual letters are picked out to form fragments, ratcheting up the tension as the eye moves down the page ... From the strangulated legalese emerges a bleak, shocking beauty.' - Rishi Dastidar, The Guardian (Poetry Books of the Month), on The Ferguson Report: An Erasure
~~~~~
The Ferguson Report: An Erasure
In August 2014, Michael Brown – a young, unarmed Black man – was shot to death by a police officer in Ferguson, Missouri. What followed was a period of protests and turmoil, culminating in an extensive report that was filed by the Department of Justice detailing biased policing and court practices in the city. It is a document that exposes the racist policies and procedures that have become commonplace – from disproportionate arrest rates to flagrant violence directed at the Black community. It is a report that remains as disheartening as it is damning
Now, award-winning poet Nicole Sealey revisits the investigation in a book that redacts the report, an act of erasure that reimagines the original text as it strips it away. While the full document is visible in the background – weighing heavily on the language Sealey has preserved – it gives shape and disturbing context to what remains.
Nicole Sealey won the Forward Prize for Best Single Poem in 2021 with an excerpt from The Ferguson Report: An Erasure, earning the judges' praise for creating 'new moments of lyrical beauty and contemplation' out of 'stifling obfuscations' to shine 'a light on all that the report tries to hide', with Shivanee Ramlochan calling it 'a poem of resonant cultural and social value'.
The Ferguson Report: An Erasure is published by Knopf in the US and Bloodaxe in the UK. Nicole Sealey's debut, Ordinary Beast (2017), is published in the UK by Bloodaxe at the same time.
Ordinary Beast
The ranging scope of enquiry undertaken in Ordinary Beast – at times philosophical, emotional, and experiential – is evident in each thrilling twist of image by the poet. In brilliant, often ironic lines that move from meditation to matter of fact in a single beat, Sealey's voice is always awake to the natural world, to the pain and punishment of existence, to the origins and demises of humanity. Exploring notions of race, sexuality, gender, myth, history and embodiment with profound understanding, Sealey's is a poetry that refuses to turn a blind eye or deny. It is a poetry of daunting knowledge.
Nicole Sealey reads 'even the gods' from Ordinary Beast
Nicole Sealey reads her poem 'even the gods' from Ordinary Beast. Part of the Adrian Brinkerhoff Poetry Foundation's Read By series of poetry films. Directed by Jean Coleman and produced in collaboration with 92nd Street Y's Unterberg Poetry Center.
Live-streamed launch reading by Jen Campbell, Courtney Conrad and Nicole Sealey, 19 September 2023

Jen Campbell, Courtney Conrad and Nicole Sealey launched their new poetry collections at Bloodaxe's live-streamed launch event on Tuesday 19 September 2023, 7pm BST. All three poets read live and discussed their new collections with each other and with the host, fellow Bloodaxe poet John Challis. Courtney Conrad's pamphlet I Am Evidence is published as the winner of the 2022 Mslexia Women's Poetry Pamphlet Competition, judged by Imtiaz Dharker.
Now available to watch on our YouTube channel: https://www.youtube.com/watch?v=XMOWG0Q2foA
[06 September 2023]