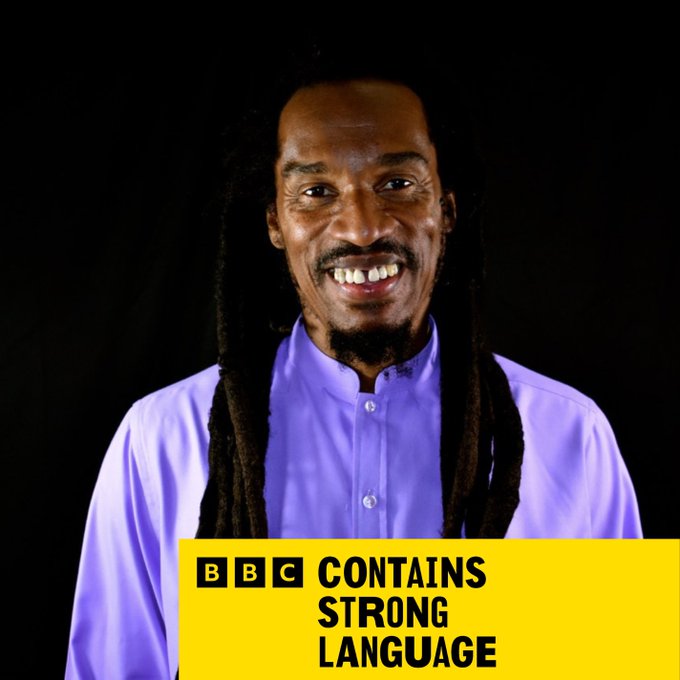 Benjamin Zephaniah Interviews

Benjamin Zephaniah has published four books with Bloodaxe. His three collections Too Black, Too Strong (2001), Propa Propaganda (1996) and City Psalms (1992) were followed in 2013 by the DVD-book Benjamin Zephaniah: To Do Wid Me, a film portrait of Benjamin which draws on live performances and informal interviews.
Too Black, Too Strong (2001) includes poems written while Benjamin was working with Michael Mansfield QC and other Tooks barristers on the Stephen Lawrence case. It addresses the struggles of black Britain more forcefully than all his previous books, and includes his powerful poem 'What Stephen Lawrence Has Taught Us'.
~~~
'The Old Truth' from Benjamin Zephaniah's City Psalms is the featured poem for 21 May 2020 in Beshara Magazine's 'Poems for These Times' series. Read here.
~~~
INTERVIEW WITH BENJAMIN ZEPHANIAH ON BBC RADIO 3

The Verb: Benjamin Zephaniah, BBC Radio 3, Friday 14 October 2022, 10pm - a BBC Radio 4 Pick of the Week choice
An extended interview with Benjamin Zephaniah was broadcast on BBC Radio 3's The Verb on 14 October 2022. The programme was recorded in front of an audience at the BBC Contains Strong Language Festival at the Birmingham Hippodrome in September. He was in conversation with host Ian McMillan.
Benjamin read his poems 'Overstanding' and 'Dis Poetry' from City Psalms, and his poem for children 'Drivosaurus Rex', which is included in Benjamin Zephaniah: To Do Wid Me. He also read 'Having a Word' and talked about his poem 'Appeal Dismissed', both from Too Black, Too Strong, the collection which includes the poems written during his residency with Tooks barristers' chambers in London.

'The Verb this week is a special extended conversation with the poet, performer, playwright and activist Benjamin Zephaniah. Benjamin's been publishing and performing his work for adults and children since the early 1980s, and recently committed his life, so far, to print in his autobiography The Life and Rhymes of Benjamin Zephaniah. The programme was recorded in front of a live audience at the BBC's Contains Strong Language Festival in Benjamin's home city of Birmingham.'

Opens with 'Overstanding'. 'Dis Poetry' is read at 16:33, 'Drivosaurus Rex' at 30:30. 'Appeal Dismissed' and Tooks residency discussed at 33:32 and 'Having a Word' at 39:00.
Listen here.

Pick of the Week, BBC Radio 4, Sunday 16 October 2022, 6.15pm

This 'terrific interview' with Ian McMillan on The Verb was chosen by radio producer Geoff Bird for his BBC Radio 4 Pick of the Week on 16 October., along with two other programmes featuring Bloodaxe poets.
Letters to a Young Woman Poet with Penelope Shuttle and Grace Nichols is introduced at 7:35, Clare Shaw at 11:03, and Benjamin Zephaniah features from 30:50, opening with a clip of him reading 'Dis Poetry'.
Available until 6pm on 17 November 2022. Listen here.


TV INTERVIEW ON THE SOUTH BANK SHOW

The South Bank Show, Sky Arts, Sunday 6 December 2020, 10.45pm (also available on Freeview, channel 11)

Benjamin Zephaniah was Melvyn Bragg's guest on The South Bank Show on 6 December. His poetry for adults is published by Bloodaxe. The interview with Melvyn Bragg was recorded early in 2020.

The whole programme focused on Benjamin's poetry. Many clips from films of him performing his poetry over the years were used. He talked about his life growing up in Birmingham, meeting Bob Marley and working with Nelson Mandela, and about the importance of poetry in his life. He was filmed giving a talk to students at Brunel University, where he is teaching the next generation of performance poets.

Poems featured on the programme were: Dis Poetry' and an extract from 'Us and Dem' from City Psalms, 'No Problem' from Propa Propaganda and an extract from 'Naked' from Too Black, Too Strong.

Poems featured The South Bank Show that also feature in Pamela Robertson-Pearce's DVD film To Do Wid Me are 'Naked', 'I Love Me Mudder', 'No Problem' 'Dis policeman keeps on kicking me to death', 'Dis Poetry', 'Us and Dem'.

Benjamin also read some poems that don't appear in Bloodaxe titles: 'Body Talks', 'Room for Rent', 'De Riddym of the Pen' and 'People Need People'. He also read extracts from 'Free South Africa' and 'One Tribe'.

'The ground-breaking performance poet gets candid with Melvyn Bragg as he discusses his life and performs a selection of his most personal poems.'

Watch here.
POEM AND INTERVIEW ON WORLD AT ONE

World at One, BBC Radio 4, Friday 28 August 2020, 1pm

Benjamin Zephaniah read his updated version of 'I Have a Scheme' (from Propa Propaganda) on BBC Radio 4's World at One on 28 August to mark the 57th anniversary of Martin Luther King's famous speech. He then spoke to Mark Mardell about his own experience of racism, including the death in police custody of his cousin Mikey Powell, and about his hopes for Britain in 2020.
The poem is available as a separate clip here. The interview is no longer available.
GUARDIAN PODCAST INTERVIEW WITH BENJAMIN ZEPHANIAH

The Guardian, Today in Focus podcast, online Wednesday 15 July 2020

Half-hour Guardian podcast: Benjamin Zephaniah and George the Poet in conversation with Anushka Asthanh.

'Benjamin Zephaniah and George the Poet are two of Britain's most successful contemporary poets. They discuss why, despite being born a generation apart, their work is still exposing racial injustice.'
Listen via The Guardian website here.


INTERVIEW IN THE GUARDIAN

The Guardian, Tuesday 7 July 2020

An interview with Benjamin Zephaniah ran in The Guardian of 7 July. Benjamin was talking about his turbulent lockdown, and his involvement in the Black Lives Matter movement since the death of George Floyd in Minneapolis. The interview ends on a hopeful note, with Benjamin saying 'I do feel a poetry time coming. I feel pregnant with some poetry.'

Read via the Guardian's website here.



INTERVIEW ON RADIO 4'S FRONT ROW
Front Row: Benjamin Zephaniah, BBC Radio 4, Thursday 14 May 2020, 7.15pm

A half-hour special with Benjamin Zephaniah was broadcast on Radio 4's Front Row on 14 May.

'As one of Britain's best known and loved poets, Benjamin Zephaniah's work has long been featured on the school curriculum. Lately he's also become a familiar face on television, not least in Peaky Blinders, set in his home city of Birmingham, as well as appearing as a regular panelist on BBC Question Time. But his journey to national literary figure and Professor of Poetry and Creative Writing at Brunel University has been a remarkable one. There was the relentless racism he faced as in childhood in the 1960s; there was violence within his family, and repeatedly from the police. Zephaniah was involved in crime as a young man. But he knew from an early age that he wanted to be a poet. And he found his voice in a fusion of dub style improvisation and West Indian Music, pioneering live performance poetry on television.

Benjamin Zephaniah joins Front Row from his home in rural Lincolnshire for an extended interview with presenter Samira Ahmed which explores his roots as a poet, his thoughts on the Coronavirus crisis and its impact on frontline workers, and to premiere a new poem he's written in praise of the NHS entitled 'Praise the Saviour'.'

Listen via the Front Row website:
https://www.bbc.co.uk/programmes/m000j1k9
PODCAST INTERVIEW
EX LIBRIS podcast, Episode 7: Benjamin Zephaniah, 17 December 2019

Benjamin Zephaniah gave an hour-long interview to Ben Holden for the EX LIBRIS podcast – a series in which the world's greatest writers are interviewed in their favourite libraries and bookshops. Benjamin Zephaniah chose the Newham Bookshop, his home-from-home when he lived in London. He was interviewed together with the shop's owner Vivian Archer.

Benjamin spoke about his autobiography The Life and Rhymes of Benjamin Zephaniah (Scribner), and about how he came to be a poet – something he'd dreamed of since the age of 8. He read his poems 'The Death of Joy Gardner' from Propa Propaganda and an extract from 'Rong Radio', which he performs on film in the DVD-book Benjamin Zephaniah: To Do Wid Me.

'Benjamin Zephaniah speaks truth-to-power like nobody else. A Kung Fu stylist, dub musician, Peaky Blinder, renegade activist, vegan force-of-nature, and much-loved 'people's poet', Benjamin has lived many lifetimes.

He tells Ex Libris in that inimitable raw and sonorous manner about how poetry saved his life; of his mother's Windrush Generation and its Caribbean oral tradition; being dyslexic and finding a path away from prison; slamming the phone down on Nelson Mandela and exchanging notes with Bob Marley; and why there should be a library on every high street.

Zephaniah also speaks touchingly of the great personal debt - both financial and artistic - that he owes his fellow Ex Libris guest, celebrated bookseller Vivian Archer; not to mention her legendary store Newham Bookshop, which Benjamin fondly calls a 'home-from-home'.
Click here to listen.


Imtiaz Dharker was interviewed for Episode 3 of the Ex Libris podcast. She chose to meet in Paris's Shakespeare & Co, where she was interviewed together with the shop's proprietor, Sylvia Whitman. Her interview can be heard here.

[13 May 2020]