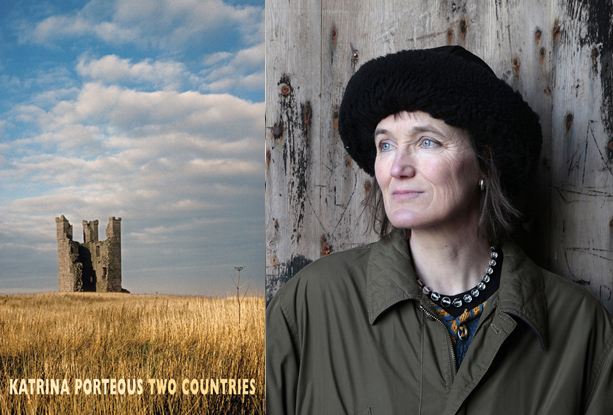 Katrina Porteous on BBC Radio 4 & Radio 3
Northumberland-based poet Katrina Porteous has contributed to a number of programmes on Radio 4. She has also written poems especially for radio.
Katrina's most recent collection is Edge (2019), her first to draw upon her long involvement in scientific projects, following two earlier collections, The Lost Music (1996) and Two Countries (2014), concerned with the landscapes and communities of North-East England.
The Verb: Endangered Languages and Indigenous Writing, BBC Radio 3, Friday 9 July 2021, 10pm

Katrina Porteous was a guest on Radio 3's The Verb on 9 July. She spoke about writing in the Northumbrian dialect, and read two extracts from one of her long dialect poem 'The Wund an' the Wetter' (Two Countries). An archive recording of Katrina speaking to the fisherman Charlie Douglas, who features in Katrina's debut collection The Lost Music, was also played.

'Ian is joined by 'Gathering Moss' and 'Braiding Sweetgrass' author Robin Wall Kimmerer who is an enrolled member of the Citizen Potawatomi Nation, poet Katrina Porteous who has written in the coastal Northumbrian dialect, and linguist Dr Diane Nelson who studies endangered languages, to explore indigenous writing and language, and its relationship with the natural world. Plus a 'Verb Drama' set on a Cornish fishing boat by actor and writer Miles Sloman.'

Katrina Porteous features at the top of the programme, at 18:45 and again briefly at 40:12. The recording of Charlie Douglas features at 21:26.
Available until Sunday 8 August 2021, 10.45pm. Downloadable as a podcast. Listen here.


RADIO 4 INTERVIEW WITH KATRINA PORTEOUS
Open Country: Time and the Tides, BBC Radio 4, Thursday 15 July 2021, 3pm (repeated Saturday 17 July, 6.07am) - a BBC Radio 4 Pick of the Week choice

Poet and historian Katrina Porteous was invited back to Radio 4's Open Country – this is her third appearance on the programme, the last time being in October 2020. She read from her new Guillemont Press book with Phoebe Power (Sea Change), but began the programme by reading 'The Pitman's Boot' from her 2014 Bloodaxe collection Two Countries.

'With its beaches, rugged cliffs and imposing headlands, the Durham coastline is a dramatic landscape, stretching from Sunderland to Hartlepool in North East England. Today it's designated as an Area of Outstanding Natural Beauty owing to its Magnesian Limestone grasslands, wildflower meadows and ancient woodlands. But this coastline was once the site of several of Durham's last deep coal mines and notorious for its 'black beaches' and heavily polluted landscape. In the late 1900s, after the closure of the pits, it was transformed in a multi-agency clean-up to remove well over a million tonnes of colliery spoil which had been tipped onto the coast. Today it's "a wonderful conglomeration of human and geological layers" says archaeologist and artist Rose Ferraby. Rose along with poets Katrina Porteous and Phoebe Power revisit this landscape which inspired a book of illustrated poems and prose as part of the National Trust's People's Landscape project which explores the role landscapes have played in social change. We hear from a former miner and a litter picker, discover beauty in an abandoned mattress, watch a butterfly through the lens of a child's camera, uncover a kaleidoscope of colours, catch up on memories of life working underground and wind-blow corn cockles above ground.'

This edition of Open Country was one of 'Today's Choices' in Radio Times and was a Radio 4 Pick of the Week choice.

Listen here.
Part of Katrina Porteous' interview, along with 'an incredible poem' (Sean Cooney) from Sea Change, was selected for Radio 4's PIck of the Week on 18 July 2021.
Listen here (from 27:21).
INTERVIEW WITH KATRINA PORTEOUS ON RADIO 4's OPEN COUNTRY - A BBC RADIO 4 PICK OF THE WEEK

Open Country: The Bord Waalk of Amble, BBC Radio 4, Thursday 29 October 2020, 3pm (repeated Saturday 31 October, 6.07 am)

Poet and historian Katrina Porteous was interviewed for this programme about a new bird sculpture trail from Low Hauxley to Warkworth on the Northumberland coast where she lives. Featurin interviews with Amble residents and new poetry for the walking trail app from Katrina Porteous.

Katrina's interview was used at the beginning and end of the programme, as well as several times in between. She read her new poems 'The Sandmartins' and 'Cubby' (about eiderducks) – written especially for the walking trail app. She spoke about how her residency at the school at Amble had led her to meet the fishermen there, which in turn prompted her to start writing about the fishing community in her debut collection The Lost Music (1996).

Katrina's most recent collection is Edge (2019), which gathers together her scientific collaborations. This is her second appearance on Open Country (see below).

Katrina features at the very beginning, then at 11:20, 15:58, 17:33 and 22:53.
Listen here.
Katrina's reading of her new poem 'Cubby' on Open Country was chosen for Radio 4's Pick of the Week on 1 November 2020.
INTERVIEWS WITH KATRINA PORTEOUS

Fence Me In, BBC Radio 4, Sunday 4 August 2019, 1.30pm

Northumberland poet Katrina Porteous contributed to a half-hour Radio 4 feature looking at how artists' creativity is affected by the acoustics of a space. She read extracts from her poem 'Dunstanburgh', which is included in her 2014 collection Two Countries. The original radio poem can be heard on the ebook with audio.

'Adam Fowler records artists at work in different locations - from the ramparts of a ruined Northumberland castle to a small, echoing chamber - to test how their creativity is affected by the acoustics of a space.

Poet Katrina Porteous demonstrates how her radio poem, Dunstanburgh Castle: A Secret as Old as the Stones, was informed by the acoustics of different parts of the ruins, from tiny garderobes to open expanses reverberant with the call of kittiwakes and the pulse of waves.'

Click here to listen. Katrina features at 3.19, 9.10, 22.20 & 26.42.

Katrina gives an account of the radio programme on her blog here.


Open Country, BBC Radio 4, Thursday 7 September 2017, 3pm

Poet and historian Katrina Portous was a guest on Radio 4's Open Country on 7 September. She spoke about the history of Tughall Mill, and read an extract from her poem 'Shanky', which is included in her most recent Bloodaxe collection Two Countries.

'Tughall Mill in Northumberland has just been bought by the National Trust for £1.5million so what do you get for that amount of money? Helen Mark gets an exclusive first look around the 200 acre site which includes a stretch of the coast which is home to a breeding colony of little terns - our second rarest seabird. She meets the rangers who've been camping on the shore for months protecting the terns from tides and predators - using an interesting array of defence methods. Beyond the shoreline lies a working farm and a mixture of pasture, woodland and the Long Nanny burn which the Trust is currently surveying to identify which species nest at the site.

The land used to belong to the Duke of Northumberland estates and is home to a historic mill. Esteemed poet Katrina Porteous lives nearby and has taken a keen interest in the buildings, along with Harry Beamish. They join Helen to explore the buildings while the Trust decides what might happen to them.

Click here to listen. Katrina interviewed from 15.13.



Making History, BBC Radio 4, Tuesday 18 July 2017, 3.30pm

Poet and historian Katrina Porteous contributed to a discussion about Hadrian's Wall on Radio 4's Making History. She read several extracts from her long poem about the Roman Wall, 'This Far and No Further'. This poem is included in her 2014 Bloodaxe title Two Countries. The e-book edition of this includes audio of the radio version of this poem, which layers Katrina's reading of the poem with other voices, including those of the children of Haltwhistle First School performing the chants. On Making History, Katrina read three extracts from the poem herself, and talked about the 'contested landscape' that surrounds the Wall.

'Katrina Porteous reads extracts from her poem `This Far and No Further' which draws upon the voices and sounds of those living in the wall's shadow.'

Click here to listen. (Roman Wall discussion starts 6.15; Katrina contributes at 10.13, 12.05 & 15.51 & clip used in intro.)


The Listeners, BBC Radio 4, 3-part series Tuesday 22 December 2015 to Tuesday 5 January 2016, 9pm

Poet Katrina Porteous was one of the professional listeners featured in this three-part radio series which aired on BBC Radio 4 from 22 December 2015.
Katrina Porteous has spent much of her life in County Durham and Northumberland writing about the fishing communities and coastal landscape where she lives. 'A poem begins and ends in listening' she says. The first programme included an extract from Katrina's radio poem about Dunstanburgh Castle. The poem is included in full in Katrina's 2014 collection Two Countries.
In the second programme Katrina discusses how listening to the soundscape of places has influenced her work. In the third, Katrina describes sounds as "the heartbeat of a place". Episode 3 of The Listeners, which aired on 5 January 2016, was Pick of the Day in The Radio Times.
All three programmes are available to listen to on the BBC website. Click here to listen.
[12 August 2019]