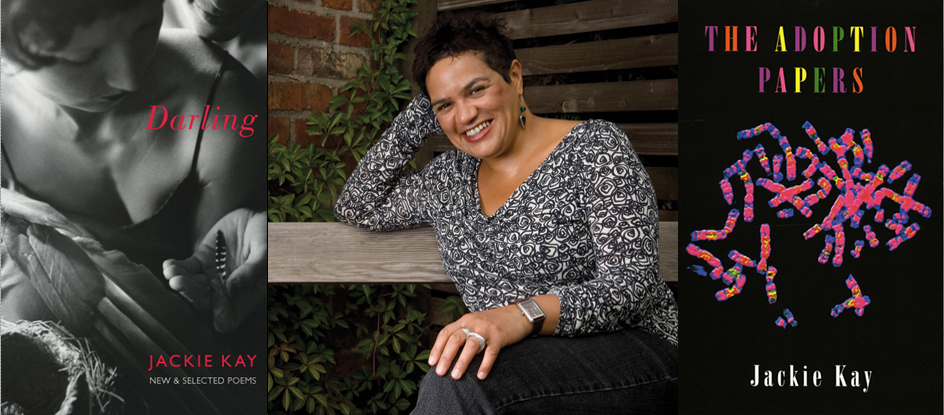 Jackie Kay, Scotland's new Makar, on TV & Radio

Manchester-based Scottish poet Jackie Kay, who was given first publication by Bloodaxe, has been a regular guest on TV and radio since her appointment as Scotland's new Makar (Poet Laureate) in March 2016. She took over from Liz Lochhead, and will be Makar for a period of five years.

The South Bank Show, Sky Arts, Wednesday 20 July 2016, 8pm

'Melvyn Bragg sits down with Scotland's national poet and one of the UK's best-loved literary figures Jackie Kay, for a fascinating chat about her life and career.'

The programme aired on 20 July and is available for 30 days:
https://www.sky.com/watch/channel/sky-arts/the-south-bank-show/episodes/season-5/episode-6
Woman's Hour Takeover Week, Wednesday 15 June 2016

Jackie was guest editor of BBC Radio 4's Woman's Hour on Wednesday 15 June 2016, part of 'takeover week'. She invited fellow poet Imtiaz Dharker onto the programme to talk about writing poems to commission.
Click here to listen the the whole programme
Click here to listen to Imtiaz Dharker reading her poem 'Beware the Books' on Woman's Hour (NB strong language warning)
Essential Classics, BBC Radio 3, 28 March to 1 April 2016

Jackie Kay was Sarah Walker's guest on BBC Radio 3's Essential Classics from 28 March to 1 April 2016. Click here to download the podcast
Scotland's First Minister Nicola Sturgeon chose Jackie Kay for the Guardian's 'My Hero' column on 19 March, and The Observer ran a profile of Jackie Kay on 20 March. This feature included the whole of Jackie Kay's touching poem about her ageing parents, 'George Square', orginally from Life Mask and now included in her Bloodaxe retrospective Darling: New & Selected Poems.


Jackie Kay was given first publication by Bloodaxe Books, who published her debut collection The Adoption Papers in 1991. As this is a set text on many courses, this remains in print as a stand-alone edition.

In 2007 Bloodaxe published Darling: New & Selected Poems. This includes most of the poems from Jackie Kay's four previous books of poetry from Bloodaxe, The Adoption Papers (1991), Other Lovers (1993), Off Colour (1998) and Life Mask (2005). Darling also includes a small selection of Jackie Kay's poetry for children. Jackie Kay then moved to Picador, who published her memoir Red Dust Road in 2010 followed by her next poetry collection Fiere in 2011.
Jackie Kay also co-edited, with Gemma Robinson and James Procter, the anthology Out of Bounds: British Black & Asian Poets, published by Bloodaxe in 2012.
[21 July 2016]