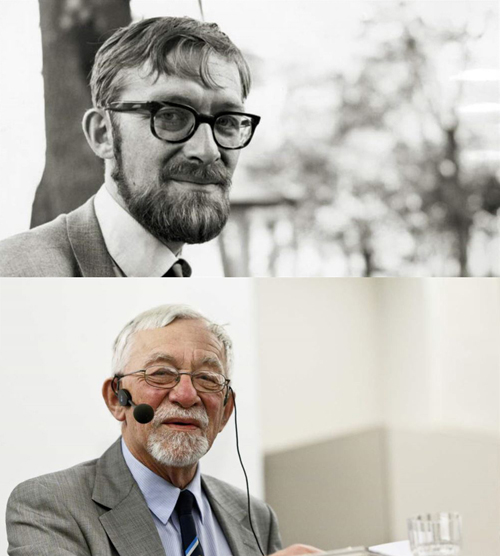 Lars Gustafsson (1936-2016)
The Swedish poet Lars Gustafsson died yesterday after a short illness, aged 79. He would have celebrated his 80th birthday on 17 May. Also a renowned novelist, philosopher and cultural critic, Gustafsson was one of Europe's leading literary figures.
Much of his writing is concerned with the search for moral consciousness and the relationship between personal experience and self-awareness, imbued with a philosophically founded scepticism toward language. His poetry is renowned for relating the metaphysical to the mundane with a particular clarity and precision, illuminating the potency of ordinary objects and everyday events as he addresses critical issues that have concerned great thinkers over the centuries. His Selected Poems – his first UK poetry publication – translated by John Irons, was published by Bloodaxe in November 2015, and was a Poetry Book Society Recommended Translation.
Born in Västerås, Sweden, in 1936, he published his first novel Vägvila: ett mysteriespel på prosa (Rest on the Way: A Mystery Play in Prose), at the age of 21. He was one of the most prolific Swedish writers since August Strindberg, he producing a voluminous flow of poetry, novels, short stories, critical essays and articles from the 1950 onwards, gaining international recognition with literary awards such as the Prix International Charles Veillon des Essais in 1983, the Heinrich Steffens Preis in 1986, Una Vita per la Litteratura in 1989, and a John Simon Guggenheim Memorial Foundation Fellowship for poetry in 1994, as well as a Nobel nomination. His best-known novel – championed by John Updike – was The Death of a Beekeeper (1968). His last published novel was Dr Wassers Recept (Dr Wasser's Prescription, 2015).
Earlier English translations of his poetry published in the US included The Stillness of the World Before Bach (1988), Elegies and Other Poems (2000) from New Directions, and A Time in Xanadu (2008) from Copper Canyon.
From 1983 he served as a professor at the University of Texas at Austin, where he taught Philosophy and Creative Writing, until retiring in 2006, and he held several visiting lectureships and residencies in Germany, where he was awarded the prestigious Thomas Mann Prize in 2015 for not just for his work but specifically for its influence on German culture. In his later years he was an outspoken figure in public debates over copyright and digitisation, and a strong supporter of the role of the internet in the dissemination of information, art and culture.
[03 April 2016]