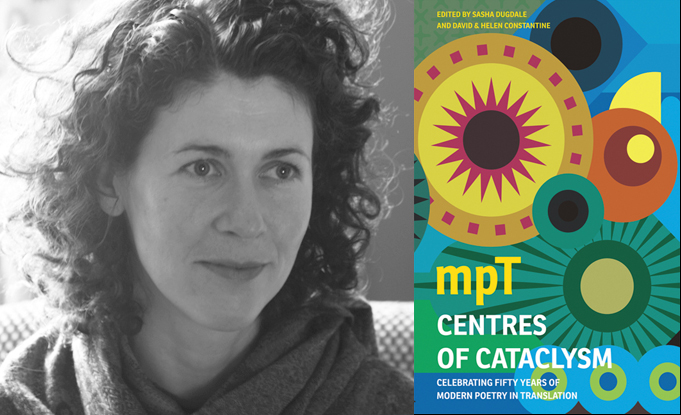 Sasha Dugdale interviewed on Irish Radio
Modern Poetry in Translation is celebrating its 50th anniversary in 2016. Founded by Ted Hughes and Daniel Weissbort in 1965, the magazine has played a unique role over the past fifty years in bringing the best in world poetry to English-language readers. MPT's 50th anniversary anthology, Centres of Cataclysm, was published by MPT in association with Bloodaxe Books in March 2016. The anthology was launched with two translation study days, and with events in London and Paris.

Arena, RTÉ Radio 1, Tuesday 16 August 2016, 7-8pm

Sasha Dugdale was interviewed about the anthology she co-edited, Centres of Cataclysm, on RTE Radio 1's week-nightly arts show Arena on 16 August. She spoke about the history of the Modern Poetry in Translation magazine, which was founded by Ted Hughes and Daniel Weissbort in 1965, and about different approaches to translation. Sasha explained the thoughts behind the structure of this anthology, which has poems about cataclysm – war, genocide and conflict – at its centre, with other themes radiating out from that.

Sasha read two poems that were included in the first issue of MPT magazine: Miroslav Holub's 'The fly', translated from the Czech by George Theiner, and Yehuda Amichai's 'A Room by the Sea', translated from the Hebrew by Dom Moraes. The Israeli poet Yehuda Amichai was the only non-Eastern European poet to be featured in that first issue. His poem appeared on the first page of that first issue.
Click here to listen (archived in chapters)

Press reviews:
Sean O'Brien's review of the anthology are in The Guardian of Saturday 23 July 2016.
Online reviews:
London Grip, July 2016

'So many poems in so many languages rendered into standard English or dialects of English and so many shared experiences or emotions – it makes me think that perhaps poetry is that elusive, sought-after thing: a universal language that speaks for and from all corners of society… There is simply no room here for me to praise all of the new discoveries I have made across the spectrum from polemical and protest poems to elegies and love poems.' – Richey McCafferey, London Grip


The Oxford Culture Review, Saturday 16 July 2016

'The work is deliberately universalizing — 'the anguish of each is the anguish of all'. In today's society such a message is timely and necessary. The poems selected are stunning in themselves, but the collection becomes an overwhelmingly beautiful testament to humanity's ability to endure, to create from nothing. At every second 'the word spoken under duress becomes a word of affirmation: a protecting and stating of our own humanity'.' - Tilly Nevin, The Oxford Culture Review
Read Sasha Dugdale's Poetry Spotlight interview here
[13 December 2016]