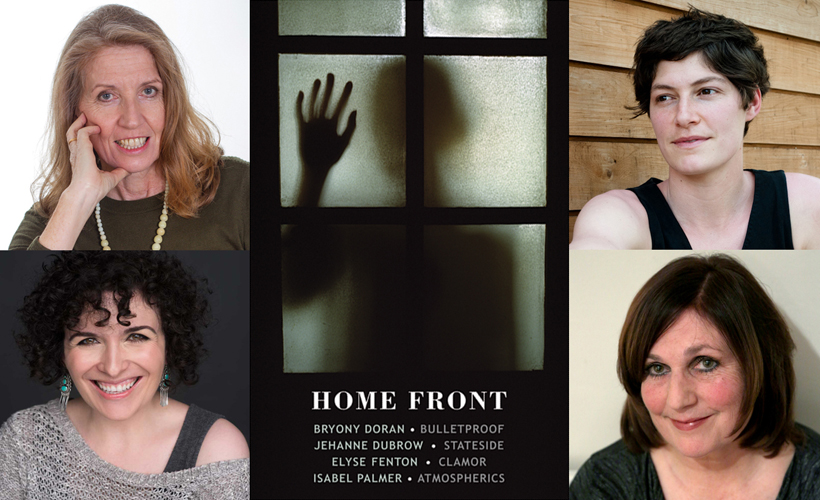 Home Front Interviews
Home Front
brings together four collections by four writers: Bryony Doran and Isabel Palmer (pictured top left and bottom right), both mothers of young British soldiers who served in Afghanistan; and two American poets, Jehanne Dubrow, wife of a serving US naval officer deployed to the Persian Gulf and other conflict zones, and Elyse Fenton, wife of a US army medic posted to Iraq.
The two British poets, Bryony Doran and Isabel Palmer, read their poems at a special Remembrance Sunday event at Dulwich Literary Festival on 13 November 2016. The event was introduced by Ruth Padel and Neil Astley, and ended in two minutes' silence at 11am. Bryony and Isabel gave some interviews ahead of publication of Home Front on 11 November 2016.
Cherwell, Friday 11 November 2016

Isabel Palmer was interviewed for a feature in the Oxford University magazine Cherwell. The piece appeared in print on 11 November and was accompanied by photographs of all four poets with work included in Home Front. The book combines the collections of four female poets on the experiences of war for those left behind. Isabel Palmer's debut collection Atmospherics is published in Home Front alongside collections by Bryony Doran, Jehanne Dubrow and Elyse Fenton.

'The new voices in this quadruple collection are powerful, unusual and varied. They have so many stories to tell, and they are calling for listeners.' - Katherine Mennis, Cherwell
Click here to read the feature


Sheffield Telegraph, Thursday 10 November 2016

An interview with Bryony Doran ran in her local paper, the Sheffield Telegraph, on 10 November.
'When her only son travelled to fight with the Army in Afghanistan, Sheffield writer Bryony Doran found an outlet for her feelings of uncertainty through creating poetry. Now Bryony's collection, Bulletproof, is being published in a book called Home Front along with the work of three other female poets with husbands and sons who have served in conflict zones.'

Click here to read the article
The Yorkshire Post, Wednesday 9 November 2016

An interview with
Bryony Doran
ran in
The Yorkshire Post
of 9 November. Bryony Doran's first full-length collection
Bulletproof
is included in
Home Front
.
"The anthology gives the female perspective of how it feels to be at home paralysed with fear. This perspective is so very rarely told. TV reports usually focus on the war and the victims. War poets are nearly always men. I hope soldiers will read this book and find greater understanding of how the women in their lives feel. And I hope it will go on to be a classic war poetry book." – Bryony Doran
Bryony Doran has written a blog about the Home Front book cover. 'For seven months I lived my life as if there was a pane of glass between myself and the rest of the world.'


Swindon Advertiser, Tuesday 8 November 2016

Isabel Palmer wrote an article for the Swindon Advertiser, her local paper. It was published on 8 November and was illustrated in the print edition with a specially taken photograph of Isabel holding a copy of Home Front, along with photographs of her son Harry taken in Afghanistan and her father, also named Harry, who fought in the Second World War.
A film of Isabel Palmer reading her poem 'BFPO' from her collection
Atmospherics
can be seen
here
.
[18 October 2017]