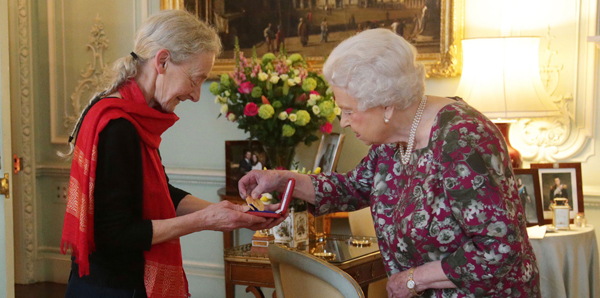 Gillian Allnutt Awarded Queen's Gold Medal for Poetry

The Queen has presented the County Durham-based poet Gillian Allnutt with the Queen's Gold Medal for Poetry 2016. The presentation took place in the Private Audience Room at Buckingham Palace on 21 February 2017 at 12.30pm. The Poet Laureate, Professor Dame Carol Ann Duffy, was also present.

The Medal, awarded for excellence in poetry, was made on the basis of Gillian Allnutt's body of work. Her poetry has been published by Bloodaxe Books since 1994.

Gillian Allnutt's 2007 retrospective How the Bicycle Shone: New & Selected Poems drew on six published books, including her T S Eliot Prize-shortlisted Bloodaxe collections Nantucket and the Angel and Lintel. Her most recent collections, both from Bloodaxe, are indwelling (2013) and wake (2018).

The Poet Laureate, Dame Carol Ann Duffy, said:

'From her first collection published in the early 1980s, Gillian Allnutt's work has always been in conversation with the natural world and the spiritual life. Her writing roams across centuries, very different histories and lives, and draws together, without excuse or explanation, moments which link across country, class, culture and time. The North is a constant touchstone in her work; canny and uncanny, its hills and coast, its ancient histories and its people. Her poems progress over the years to a kind of synthesis of word-play and meditation. In her work the space between what is offered and what is withheld is every bit as important as what is said. She has the power to comfort and to astonish in equal measure. In her outlook, her imagination, her concerns and her lyric voice she is unique.'

On hearing that she was to be presented with the award, Gillian Allnutt commented:

'When Carol Ann Duffy e-mailed in November asking for my phone number - to talk, as she said, about 'a poetry thing' - I was truly surprised and delighted when the 'thing' turned out to be nothing less than The Queen's Gold Medal for Poetry.

I am sad, though, that my mother is no longer here. She was always a staunch supporter of my choice to be a poet and she would have been so proud. Born in 1924, two years before the Queen, she often used to tell us, my sisters and me, about the way the Princesses Elizabeth and Margaret Rose helped, through their visible presence, to keep the home fires burning during the war.

One of my own earliest memories is of standing at the gate in front of my great-aunt's house in New Cross, South London, in the summer of 1953, waiting for the royal open-top car to come by as part of the Coronation celebrations. It was hot, I was four, the Queen was held up. She did come, though, as I remember.

And now I look forward to the honour of meeting her in person. When I undertook to do a writing residency with asylum seekers in 2009/10 I felt privileged and grateful to have contact with those people through something, writing, that is so central a part of me. It is an equal privilege, now, and I am grateful, to be able to imagine meeting the Queen herself - and in connection with nothing less than that same old, dear old 'poetry thing'.'

Gillian Allnutt joins four other Bloodaxe poets who have been honoured with the Queen's Gold Medal for Poetry: Imtiaz Dharker (2014), John Agard (2012), Fleur Adcock (2006) and the late R S Thomas (1964).
History of the Gold Medal for Poetry

The Gold Medal for Poetry was instituted by King George V in 1933 at the suggestion of the then Poet Laureate, John Masefield. The Medal is awarded for excellence in poetry, on the basis either of a body of work over several years, or for an outstanding poetry collection issued during the year of the award. The poet will be from the United Kingdom or a Commonwealth realm, and the poems will have been published. The front of the medal bears the crowned effigy of The Queen. The idea of the reverse, which was designed by the late Edmund Dulac, is 'Truth is emerging from her well and holding in her right hand the divine flame of inspiration – Beauty is Truth and Truth Beauty'.
Click here to read the story on the Buckingham Palace website
RADIO 3 INTERVIEW WITH GILLIAN ALLNUTT

Free Thinking, BBC Radio 3, Thursday 23 February 2017, 10pm

Gillian Allnutt was interviewed on Radio 3's Free Thinking on 23 February. She as in conversation with Philip Dodd about her poetry and her reaction to winning the Queen's Gold Medal for Poetry. She read her poem 'Rain' from How the Bicycle Shone: New & Selected Poems and 'Shostakovich' from her 2013 collection in-dwelling, accompanied by the piece of music that prompted the poem.

'Gillian Allnutt discusses a life in words and winning the Queen's Gold Medal for Poetry.'

Click here to listen
(Intro & Gillian's interview from 27.18)


RECENT PRESS INTERVIEW

Northern Echo/North Yorkshire Advertiser, Weekend, Saturday 18 February 2017

A feature on Gillian Allnutt ran in the Weekend section of the Northern Echo on 18 February. This was an 'about to meet the Queen' piece, and in it Gillian spoke about her writing process.
Click here to read the feature

POEM FEATURE

A poem from How the Bicycle Shone was discussed by Carol Rumens in her Guardian Poem of the Week column:
'... Allnutt writes from a strongly personal sense of history. Sometimes described as a "spiritual" poet, she belongs to the contemplative tradition, and she is scholarly and deft in handling religious subject-matter. But her poems love the world, too. They have a lapidary quality, and are brightly dotted with the names, places, small scenes and treasured objects of everyday life...How the Bicycle Shone is a remarkably cohesive volume, showing how faithful Allnutt has remained to her imaginative sources. The poems often interrelate, even across decades, and much of the collection is best read as an extended sequence.... to fully savour the craft of one of the most trustworthy poets currently writing, you need to read the book.' - Carol Rumens, Guardian Poem of the Week
Click here to read the poem and the full commentary

[23 February 2017]