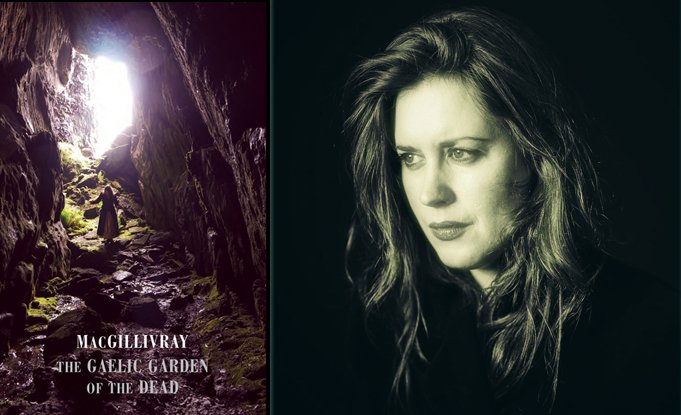 MacGillivray on The Verb
'I am a big admirer of MacGillivray's The Nine of Diamonds and feel that this new collection is equally, if not more, impressive. The Gaelic Garden of the Dead is three "Books of the Dead" bound as one. Includes 10 pattern poetry dream diagrams and 35 death sonnets deconstructed to Mary Queen of Scots.' – Asif Khan, Director of the Scottish Poetry Library, in The Bookseller
MacGillivray is the Highland name of Oxford-based Scottish writer, performance artist and musician Kirsten Norrie. Her second collection, The Nine of Diamonds: Surroial Mordantless, was published by Bloodaxe in October 2016. Her third collection, The Gaelic Garden of the Dead, was published on 21 February 2019 and was launched with readings in London, Edinburgh and Oxford.
The Verb: Along The River, Friday 17 May 2019, 10pm
As part of Radio 3's Along The River season, The Verb of 17 May was devoted to a discussion about rivers. MacGillivray spoke about and read an extract from her deconstructed sonnet sequence from her latest collection, The Gaelic Garden of the Dead, and then went on to read a poem commissioned by The Verb 'On Seeing The Poet's Drowned Corpse Float By'. In the podcast Kirsten spoke more about the process of and reason behind decontructing the 35 Petrarchan sonnets she had written for each of the 35 steps Mary Queen of Scots took to execution.
Click here to listen. (MacGillivary features from 25.39 and again at 43.17)
A film of Kirsten Norrie in conversation with John Robb about her work can be seen here.
Click here to read an interview with MacGillivray in connection with her appearance at Newcastle Poetry Festival in May 2017.
View trailer for The Nine of Diamonds, shot on the Isle of Skye
View film of MacGillivray reading poems from The Nine of Diamonds
Poet, artist and musician MacGillivray was on the shortlist for New Music Performer of the Year, one of the New Music Scotland Award She was up against the BBC Scottish Symphony Orchestra, Red Note Ensemble and Robert Irvine. MacGillivray incorporates her extraordinary music-making into her poetry readings.
[22 May 2019]