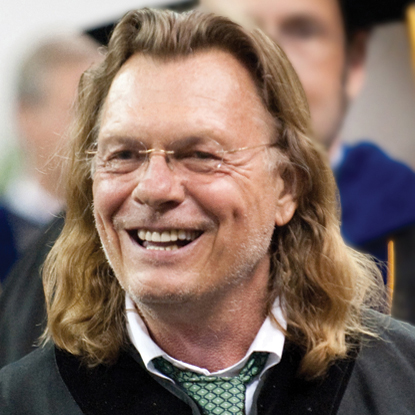 Thomas Lux (1946-2017)
We are very saddened by the news of Thomas Lux's death. He died, from lung cancer, at his home in Atlanta, Georgia, on Sunday 5th February. He was 70.
Thomas Lux was born in Northampton, Massachusetts, in December 1946 to working-class parents, and raised on a dairy farm. He studied at Emerson College, Boston, and later, briefly, at the University of Iowa. He taught for 27 years at Sarah Lawrence College, and did spells of teaching at many other universities across the States before becoming Bourne Professor of Poetry and director of Poetry@Tech at the Georgia Institute of Technology in Atlanta.
After starting out as a neo-surrealist American poet in the 1970s, Lux 'drifted away from surrealism and the arbitrariness of all that. I got more interested in subjects, identifiable subjects other than my own angst or ennui.' The later Lux writes more directly in response to more familiar but no less strange human experience, creating a body of work that is at once simple and complex, wildly imaginative and totally relevant. He uses humour or satire 'to help combat the darkness… to make the reader laugh - and then steal that laugh, right out of the throat. Because I think life is like that, tragedy right alongside humour.'
Each of Lux's multi-faceted poems is self-contained, whether it is musing or ranting, lamenting or lambasting, first person personal or first person universal. 'Usually, the speaker of my poems is a little agitated,' said Lux, 'a little smart-ass, a little angry, satirical, despairing. Or, sometimes he's goofy, somewhat elegiac, full of praise and gratitude.'
He published twelve collections of poetry. His "switchover" collection was Half Promised Land in 1986, which marked a sea change in his work. Split Horizon in 1994 won him the Kingsley-Tufts Award, making it possible for him to devote much more time and energy to his poetry at a crucial stage in the evolution of his work. His later books include New and Selected Poems 1975-1995, published in 1997, which shows the poet before and after his "recovery" from Surrealism, and was followed by The Street of Clocks (2001), The Cradle Place (2004), God Particles (2008), Child Made of Sand (2012) and To the Left of Time (2016). He published two books of poetry in Britain, The Street of Clocks - from Arc in 2001 - and his Selected Poems (2014) from Bloodaxe. He also edited I Am Flying Into Myself: Selected Poems of Bill Knott (2017).
Many poetry lovers in Britain and Ireland will have fond memories of his recent readings at Aldeburgh Poetry Festival, Cúirt International Festival of Literature in Galway, Newcastle Centre for the Literary Arts and Hull Literature Festival. The Cúirt event led to the publication of his first UK Selected Poems, from Bloodaxe in 2014: see that book's page on this website to read some of his poems.
Thomas Lux reads from his Selected Poems
Neil Astley filmed Thomas Lux reading his poems and talking about his life and work in November 2014 at Snape Maltings, Suffolk, where he was performing at Aldeburgh Poetry Festival. This film includes nine poems from his Selected Poems: 'Wife Hits Moose', 'A Little Tooth', 'The People of the Other Village', 'An Horatian Notion', '"I Love You Sweatheart"', 'Refrigerator, 1957', 'Cucumber Fields Crossed by High-Tension Wires', 'Plague Victims Catapulted Over Walls into Besieged City' and 'Tarantulas on the Lifebuoy'. It is one of 50 videos included in the DVD-anthology In Person: World Poets, filmed and edited by Pamela Robertson-Pearce and Neil Astley (Bloodaxe Books, May 2017).
[06 February 2017]