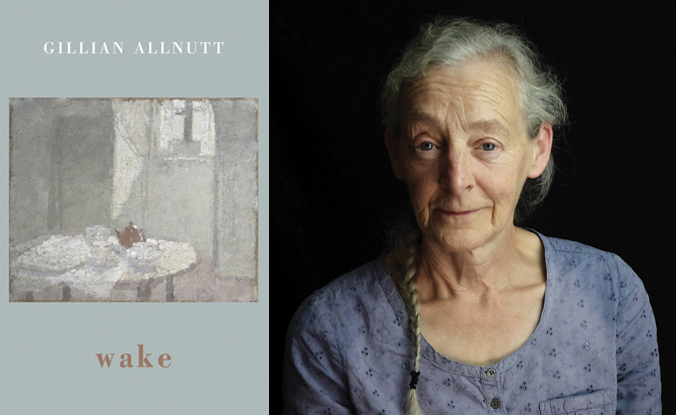 Gillian Allnutt Interviews
'Her writing roams across centuries, very different histories and lives, and draws together, without excuse or explanation, moments which link across country, class, culture and time… Her poems progress over the years to a kind of synthesis of word-play and meditation. In her work the space between what is offered and what is withheld is every bit as important as what is said. She has the power to comfort and to astonish in equal measure.' – Dame Carol Ann Duffy, for the Queen's Gold Medal for Poetry Award Committee
County Durham-based poet Gillian Allnutt was awarded the Queen's Gold Medal for Poetry 2016 by the Queen on 21 February 2017. The Medal, awarded for excellence in poetry, was made on the basis of Gillian Allnutt's body of work. Her poetry has been published by Bloodaxe Books since 1994.

Gillian Allnutt's 2007 retrospective How the Bicycle Shone: New & Selected Poems drew on six published books, including her T S Eliot Prize-shortlisted Bloodaxe collections Nantucket and the Angel and Lintel. This was followed by indwelling (2013) and then wake, (2018).
INTERVIEW WITH GILLIAN ALLNUTT IN MONK

MONK magazine, Issue 2, October 2021, online 5 April 2022

An eight-page interview with Gillian Allnutt, focusing on poetry and spirituality, featured in the second issue of MONK, an international magazine exploring creativity and spirituality. The article is now available online. The magazine also featured her new poem about Mary Magdalene, commissioned by BBC Radio 2 in spring 2021. The article is entitled 'Under Northern Skies: Divinations of a Warrior Poet'.
Read here.

RADIO 4 INTERVIEW ABOUT WAKE

Front Row, BBC Radio 4, Thursday 31 May 2018, 7.15pm

Gillian Allnutt was interviewed live on Front Row on 31 May 2018. She spoke to Samira Ahmed about her new poetry book wake, her first new collection since winning the Queen's Gold Medal for Poetry 2016.

Gillian spoke first about the title wake, and how it suggests both looking back (wake) and forward (awake). She was asked about her poems 'belsen' and 'Near the Peace Garden' and read 'early spring', 'The word Quire' and the final poem 'wake'. She also read and spoke about her poem 'desuetude' for the podcast.

'Gillian Allnutt's career as a poet stretches over four decades. In 2016 she was awarded the Queen's Gold Medal for Poetry. The poet discusses and reads from her new collection, wake.'

Click here to listen. Archived in chapters (final item). Download the podcast to hear an extra poem.

'a clear, authentic experience of humanity, and an empathic engagement with the world.' - Carla Scarano on Gillian Allnutt's wake. Read in full on London Grip here.


PODCAST INTERVIEWS WITH GILLIAN ALLNUTT

READ, podcast posted Wednesday 9 May 2018

A podcast interview with Gillian Allnutt recorded by READ (Research English at Durham) at the StAnza International Poetry Festival in St Andrews in March 2018. Gillian spoke to Suzannah V. Evans about her life in poetry, about growing up in North-East England, and about how she has wanted to be a writer since the age of seven.

Gillian read three poems from her 2007 Bloodaxe retrospective How the Bicycle Shone: New & Selected Poems: 'Rocking-chair', 'a poem for my mother' and 'Lizzie Sidall: Her Journal (1862)'.

Click here to listen.
The Poetry Review Podcast, online June 2017

'You listen for the poem to say itself': Emily Berry talks to Gillian Allnutt about meditation, fragmentation and the 'hinterland' of the poem.
Gillian read 'magdalen', 'Portrait of Hester by her husband' and 'abutment' from her collection wake.
Click here to listen.
PRESS INTERVIEW WITH THE FRIEND

The Friend, Friday 10 November 2017

A three-page interview with Gillian Allnutt is in the 10 November issue of The Friend, the magazine for Quakers. At the end of the interview Gillian speaks about her forthcoming collection Wake, published in May 2018. She says: 'It's called Wake, in both senses: watching over the dead, over my old life, and waking to the new.'

'To read her poems is to be struck by their elemental, worn, limber intelligence, what Adam Thorpe, the poet, playwright and novelist, praises as their sense of 'half-revealed mystery'. Her startling, beautiful, mythic work was recognised earlier this year with the award of the Queen's Gold Medal for Poetry.' – Jonathan Doering, The Friend

Partially available online without subscription: click here.

GILLIAN ALLNUTT ON WINNING THE QUEEN'S GOLD MEDAL FOR POETRY

Free Thinking, BBC Radio 3, Thursday 23 February 2017, 10pm

A fifteen-minute interview with Gillian Allnutt aired on Radio 3's Free Thinking on 23 February. She was in conversation with Philip Dodd about her poetry and her reaction to winning the Queen's Gold Medal for Poetry. She read her poem 'Rain' from How the Bicycle Shone: New & Selected Poems and 'Shostakovich' from her 2013 collection indwelling, accompanied by the piece of music that prompted the poem.

'Gillian Allnutt discusses a life in words and winning the Queen's Gold Medal for Poetry.'

Click here to listen
(Intro & Gillian's interview from 27.18. Available to download)
POEM FEATURE

A poem from How the Bicycle Shone was discussed by Carol Rumens in her Guardian Poem of the Week column:
'... Allnutt writes from a strongly personal sense of history. Sometimes described as a "spiritual" poet, she belongs to the contemplative tradition, and she is scholarly and deft in handling religious subject-matter. But her poems love the world, too. They have a lapidary quality, and are brightly dotted with the names, places, small scenes and treasured objects of everyday life...How the Bicycle Shone is a remarkably cohesive volume, showing how faithful Allnutt has remained to her imaginative sources. The poems often interrelate, even across decades, and much of the collection is best read as an extended sequence.... to fully savour the craft of one of the most trustworthy poets currently writing, you need to read the book.' - Carol Rumens, Guardian Poem of the Week
Click here to read the poem and the full commentary

[21 August 2018]