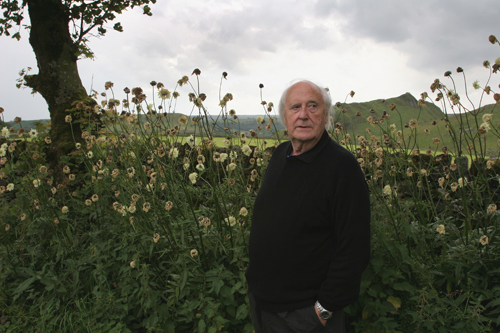 ROY FISHER (1930-2017)
The poet Roy Fisher died on 21 March 2017, aged 86, after a short illness. He had been housebound for several years, preferring to remain in his much loved house in the Derbyshire Peak District than to be looked after in a care home.
Playing the language, pleasuring the imagination and teasing the senses, Fisher's witty, inventive and anarchic poetry gave lasting delight to his many dedicated readers for over half a century.
He published over 30 poetry books, including four with Bloodaxe since 1996, most notably The Long and the Short of It: Poems 1955-2010, which Ian McMillan chose on Desert Island Discs, praising Fisher as 'Britain's greatest living poet'. This retrospective covers the entire range of Fisher's work, from its fraught beginnings in the 1950s through major texts of the 1960s and 1970s such as City, The Ship's Orchestra and 'Wonders of Obligation', to A Furnace, his 1980s masterpiece, and and then the later work set in the scarred and beautiful North Midlands landscape where he lived for over 30 years, notably the Costa Poetry Award-shortlisted Standard Midland (2010), which was added to the 2012 expanded edition of The Long and the Short of It. His final collection, Slakki: New & Neglected Poems, edited by Peter Robinson, was launched at a celebratory event in October 2016 in Birmingham Cathedral, which Roy was unable to attend, due to frail health.
Reviewing Fisher's poetry in The Guardian, Sean O'Brien wrote: 'Fisher stands outside, or alongside, whatever else is happening, an English late modernist whose experiments tend to come off. He is a poet of the city – his native Birmingham, which he describes as "what I think with". He is a redeemer of the ordinary, often a great artist of the visible… His range is large: he suits both extreme brevity and book-length exploration; his seeming improvisations have a way of turning into architecture. The best place to start is The Long and the Short of It. It might look and sound like nothing on earth at first, but then it becomes indispensable.'
Writing in the Times Literary Supplement of 8 March this year, William Wootten wrote: 'The Long and the Short of It: Poems 1955–2010 (2012) should be read by anyone with a serious interest in post-war English poetry.' August Kleinzahler said of him: 'There is no poet alive whose work has challenged or interested me more'. For Elaine Feinstein, 'the personality that emerges from Fisher's poetry, for all his influences, is altogether English: ironic, humorous, self-deprecating and unpretentiously local'.
Fisher was the subject of numerous critical essays and several studies, including The Thing About Roy Fisher: Critical Essays on the Poetry of Roy Fisher, edited by Peter Robinson and John Kerrigan (Liverpool University Press, 2000), and of The Unofficial Roy Fisher, edited by Peter Robinson (Shearsman Books, 2010). His first US Selected Poems, edited by August Kleinzahler, was published by Flood Editions in 2011.
Born in Handsworth, Birmingham, he became interested in jazz as a teenager, playing with local bands, and was especially influenced by Chicago musicians such as Bud Freeman, Pee Wee Russell, and the pianist Joe Sullivan, whom he celebrated in one of his best-known poems, 'The Thing About Joe Sullivan'. For much of his life he combined music and poetry with teaching. His music features in Tom Pickard's film profile, Birmingham's What I Think With (Pallion Productions, 1991).
After studying English at Birmingham University, Fisher taught in schools and colleges, and went on to lecture in American Studies at Keele University from 1971 until his retirement in 1982.
Roy Fisher was born on 11 June 1930, the son of Emma Jones (1891-1965) and Walter Fisher (1889-1959), a family of craftsmen jewellers on his father's side and professional gardeners on his mother's. He was married twice, to artist Barbara Venables in 1953, with whom he had two children (his son Ben predeceasing him in 2009), and in 1987 to the playwright Joyce Holliday. He moved to his Derbyshire home at Earl Sterndale in 1986. He died on 21 March 2017, and leaves a daughter, Sukey.
Wikipedia has a well-researched summary of Roy Fisher's life and work on this page: https://en.wikipedia.org/wiki/Roy_Fisher
Ian McMillan pays tribute to Roy Fisher on The Verb's webpages, along with an extract from his 45-minute interview with Roy that was first broadcast on Radio 3 in 2010.
'I was proud to be able to choose his Selected Poems, The Long and the Short of It, published by Bloodaxe, as my book on Desert Island Discs, and I know that I'l be returning to that book over and over again in the next few weeks and months, now that one of the most important inhabitants of the island has gone.' - Ian McMillan
Click here to listen to Roy Fisher on The Verb and to read Ian McMillan's piece in full.
Michael Caines tribute in the Guardian here.
The Poetry Society pays tribute to Roy Fisher here.
Roy Fisher: The Long and the Short of It
Roy Fisher reads a selection of poems from The Long and the Short of It: 'The Thing About Joe Sullivan' (from 1965), 'The 'Entertainment of War' (1957), 'The Nation' (1984), 'Talking to Cameras' (1991), 'Birmingham River' (1991), 'For Realism' (1965) and 'It Is Writing' (1974). Pamela Robertson-Pearce filmed him at his home in Earl Sterndale, Derbyshire, in October 2008. The audio of Fisher playing jazz piano is from Tom Pickard's film, Birmingham's What I Think With (Pallion Productions, 1991).
Author photo: Jemimah Kuhfeld
[22 March 2017]