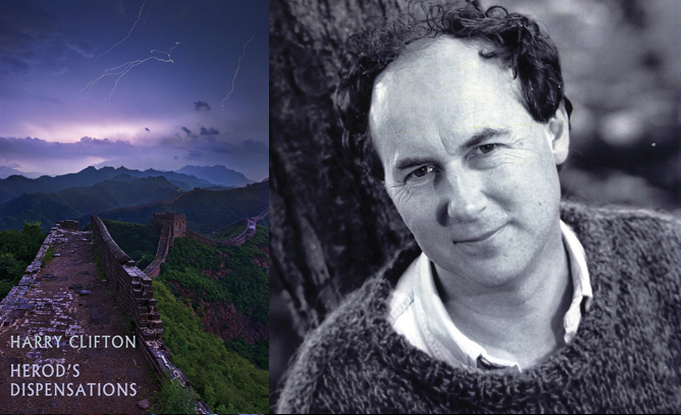 Harry Clifton Interviews
Eminent Irish poet Harry Clifton's new collection Herod's Dispensations, published by Bloodaxe on 28 March 2019, revisits – in meditations on death and migration – the territories of the Far East from his early years, in the light of a new nomadic age.
Harry Clifton has published nine other books of poetry, most recently his Bloodaxe titles The Winter Sleep of Captain Lemass (2012), The Holding Centre: Selected Poems 1974-2004 (2014) and Portobello Sonnets (2017). He served as the fifth Ireland Professor of Poetry in 2010–2013.
Harry Clifton wrote about re-visiting China in an article for The Irish Times. Poems about China are at the heart of his new poetry collection.

The Poetry Programme, RTÉ Radio 1, Sunday 12 May 2019, 7.30pm
An eighteen-minute-minute interview with Harry Clifton was broadcast on RTE Radio 1's The Poetry Programme on 12 May. He was talking to Olivia O'Leary about his new collection Herod's Dispensations. Harry read and spoke about the poems 'Autumn in Chengdu' (the third poem in his 'Red Earth Sequence', 'A Flight into Egypt (from which the collection takes its title), 'Therese and the Jug' and 'Come and See Us Sometime'.
'Olivia O'Leary meets Harry Clifton, former Ireland Professor of Poetry. Born in Dublin, Harry Clifton spent much of his life abroad working as a lecturer in Nigeria and aid worker in the Far East and then as a writer in Europe, mostly Paris. He is a former Ireland Professor of Poetry and his work has received numerous awards. He joins Olivia to read from his latest collection, Herod's Dispensations.'
Click here to listen. 1st item (programme begins at 4.40):


Arena, RTE Radio 1, Wednesday 20 March 2019, 7pm
Harry Clifton was interviewed on RTE Radio 1's week-nightly arts show Arena on 20 March. He was speaking about and reading from his new collection Herod's Dispensations. He read the poems 'Daytime Sleeper' and 'Art, Children and Death'.
'Harry Clifton talks about his latest collection of poetry "Herod's Dispensations", which covers themes like mortality, history and civilization.'
Click here to listen (archived in chapters).
PORTOBELLO SONNETS INTERVIEWS

Portobello, the district in Dublin where the Irish poet Harry Clifton lives, is a microcosm of a changing, cosmopolitan Ireland. HIs new book Portobello Sonnets, written on his return from sixteen years in continental Europe, is at once a celebration of place, a coming to terms with age and a rediscovering of the universal in the local.
Arena, RTE Radio 1, Friday 17 March 2017, 7-8pm
Harry Clifton spoke to Sean Rocks about Portobello Sonnets on RTE Radio 1's Arena on St Patrick's Day. He was speaking about the area of south Dublin that inspired his new collection of poetry, Portobello Sonnets. He read and spoke about sonnets numbers 1, and 29 (For Marina, who cut my hair) and concluded by reading the final sonnet in the sequence, number 35.

Click here to listen (divided into chapters)

An interview with Harry Clifton about Portobello Sonnets is on his US publisher's website (Wake Forest published their edition in November 2016).
'Returning to Portobello "was like rebuilding an identity from the ground up': Click here to read the interview
[14 May 2019]