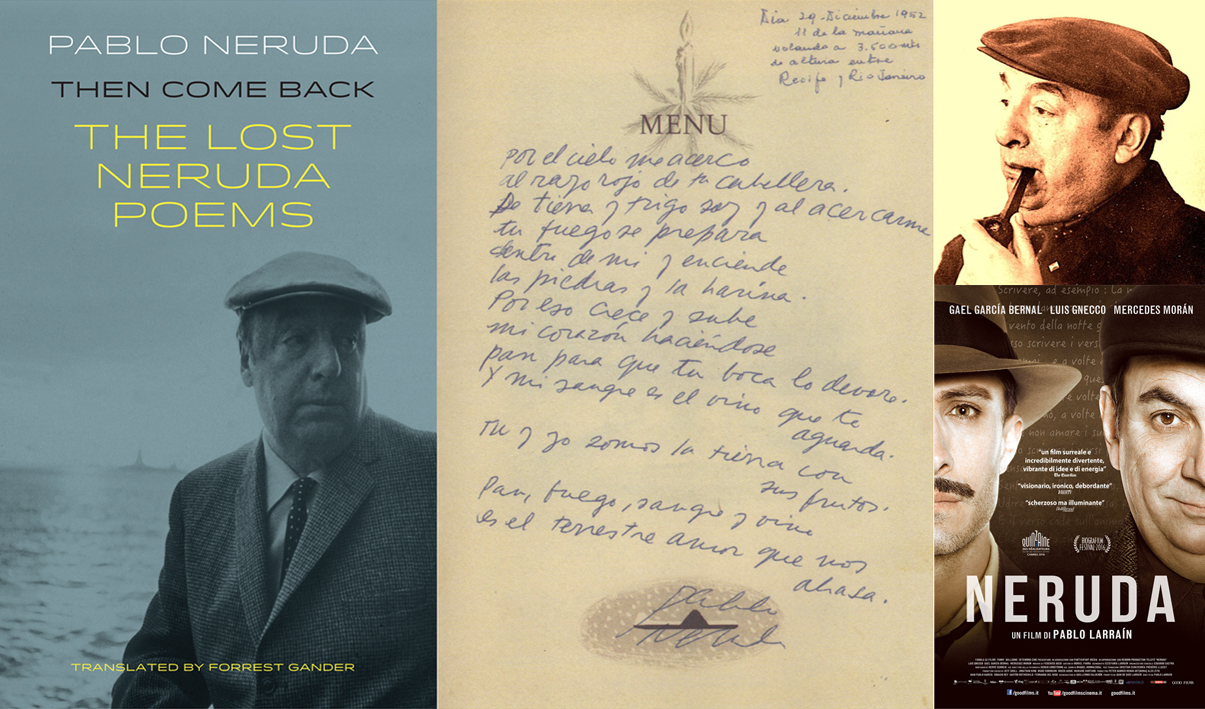 Neruda's 'Lost' Poems on BBC Radio 3 & 4
'The greatest poet of the twentieth century, in any language.' – Gabriel García Márquez

Recently-discovered poems by the Nobel Prize-winning Chilean poet Pablo Neruda have been published for the first time in the UK on 27 April 2017. Then Come Back: The Lost Neruda Poems, translated by Forrest Gander, was published by Bloodaxe Books in the same month as the biopic Neruda by Pablo Larraín has its UK release. Then Come Back gathers together 21 previously unknown poems that were discovered by archivists of the Neruda Foundation in Chile when they were cataloguing Neruda's papers in 2014. The poems were written between the early 1950s and Neruda's death in 1973. They show his mature imagination and writing at work, and include love poems, odes, anecdotes, and poems of political engagement.
Then Come Back was discussed on BBC Radio 3's Free Thinking in April, and a poem from it read in Spanish and English on Radio 4's Mother Tongue in August 2017.
Mother Tongue: Close Encounters, BBC Radio 4, Sunday 6 August 2017, 4.30pm, repeated Saturday 12 August, 11.30pm

The fourth episode of this new globe-trotting poetry series presented by poet Helen Mort included the poem 'Crossing the Sky' from Bloodaxe's book of newly-discovered poems by the Chilean Nobel Laureate Pablo Neruda: Then Come Back: The Lost Neruda Poems. It was read in both Spanish and in Forrest Gander's English translation by Alejandro de Mesa. The book is published by Bloodaxe in the UK and by Copper Canyon in the US.

'We also hear a lost poem from the Chilean poet Pablo Neruda. It's one of a small number of previously unpublished poems recently discovered among his papers and published in the collection Then Come Back.'

The programme is available until 12 September 2017. Neruda poem at 20.30. Click here to listen.


Free Thinking, BBC Radio 3, Wednesday 26 April 2017, 10pm

Free Thinking hosted a discussion about the lost poems of Neruda and the new biopic Neruda on 26 April. Critic Maria Delgado and biographer & translator Adam Feinstein discussed the Chilean poet with presenter Philip Dodd.

The new Bloodaxe publication Then Come Back: The Lost Neruda Poems was highly praised, and discussed in detail. Extracts from poems No 21 'Those two solitary men…' and Poem 2 'Never alone, with you' were read in Spanish and the English translation. Both critics singled out Poem 20, 'a humorous attack on the telephone' as one of their favourites.

'The breadth of his work is just outstanding… These new poems allow for the rediscovery of Neruda by a new generation… they are really quite delightful.' – Maria Delgado, speaking about Then Come Back: The Lost Neruda Poems on Radio 3's Free Thinking

The new biopic Neruda, a film by Pablo Larraín, was also discussed.

Click here to listen. Neruda discussion from 32.40.


RTE RADIO 1 ARENA PROFILE OF NERUDA
Arena, RTE Radio 1, Friday 7 April 2017, 7-8pm

RTE Radio 1's week-nightly arts show Arena broadcast a profile of Pablo Neruda to coincide with the new biopic Neruda, a film by Pablo Larraín, which was released in the UK and Ireland on 7 April. As part of this, their contributor Jessica Traynor read and quoted from the English translations of a number of poems by Neruda, all of which are from Bloodaxe's 2010 retrospective The Essential Neruda: Selected Poems, edited by Mark Eisner. She read 'Twenty Love Poems: 1 Body of woman', as well as extracts from 'The Heights of Macchu Picchu: X Stone upon stone' and 'Ode to Wine'.

Click here to listen


UK RELEASE OF THE BIOPIC NERUDA
Neruda, the critically acclaimed film by director Pablo Larraín (Jackie, No) and starring Gael Garcia Bernal and Luis Gnecco, was released in the UK on 7 April 2017. Click here to view the trailer.
[15 August 2017]