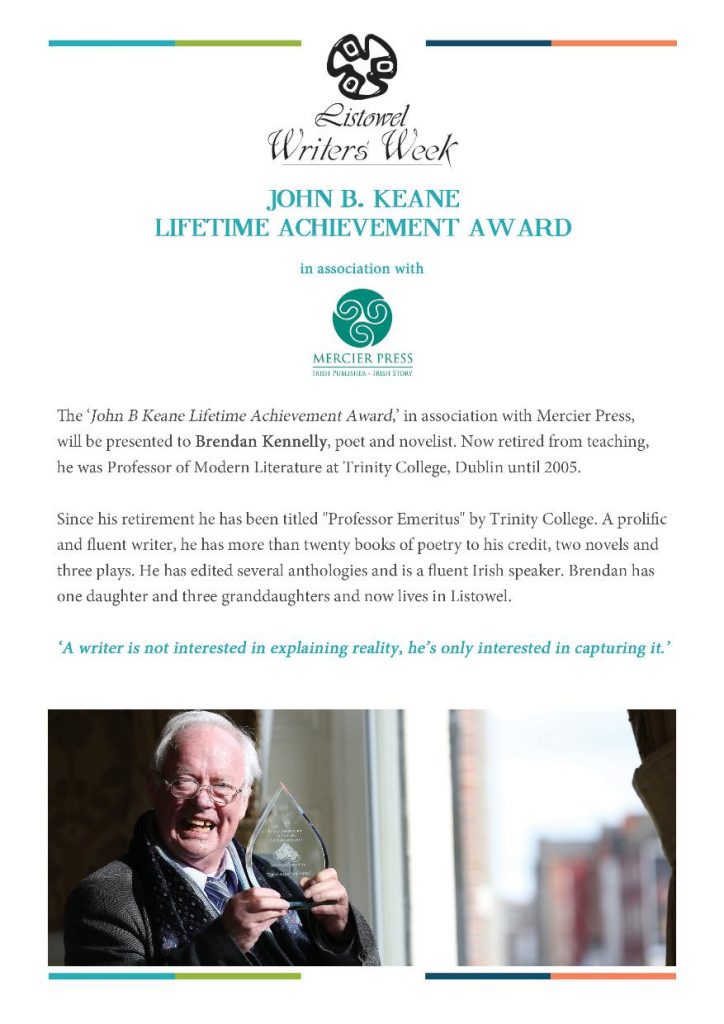 Brendan Kennelly Lifetime Achievement Award
The Irish poet Brendan Kennelly has been honoured with the John B. Keane Lifetime Achievement Award. He was presented with the award at the
opening ceremony of Listowel Writers' Week
on the evening of Wednesday 31 May 2017. He received a standing ovation.
Brendan is one of Ireland's most distinguished and best loved poets, as well as a renowned teacher and cultural commentator. Born in 1936 in Ballylongford, Co. Kerry, he was Professor of Modern Literature at Trinity College, Dublin for over 30 years, and retired from teaching in 2005. Brendan Kennelly celebrated his 81st birthday on 17 April this year. He is now based back in his native Co Kerry, where much of his family still lives.
He has published more than 30 books of poetry, including
Familiar Strangers: New & Selected Poems 1960-2004
(2004), which includes the whole of
The Man Made of Rain
(1998). He is best-known for two controversial poetry books,
Cromwell
, published in Ireland in 1983 and in Britain by Bloodaxe in 1987, and his epic poem
The Book of Judas
(1991), which topped the Irish bestsellers list: a shorter version was published by Bloodaxe in 2002 as
The Little Book of Judas
. His third epic,
Poetry My Arse
(1995), did much to outdo these in notoriety. All these remain available separately from Bloodaxe, along with his more recent titles:
Glimpses
(2001),
Martial Art
(2003),
Now
(2006),
Reservoir Voices
(2009),
The Essential Brendan Kennelly: Selected Poems
, edited by Terence Brown and Michael Longley (2011), and
Guff
(2013).
Ryan Tubridy Show, RTE Radio 1, Wednesday 31 May 2017, 9am

Brendan Kennelly was interviewed on this live edition of the Ryan Tubridy Show recorded in Ballybunion in County Kerry. Brendan spoke about his love for both Dublin and Kerry, and recited the poem 'I am Kerry like my mother before me' by Siegerson Clifford. The item ended with Ryan Tubridy congratulating Brendan on his Lifetime Achievement Award.
'Celebrated Kerry poet Brendan Kennelly spoke to Ryan Tubridy this morning during their visit to Ballybunion, all part of their tour along the Wild Atlantic Way.'
Click here to listen to the whole interview with Brendan
A clip of Brendan's interview was featured on
RTE Highlights
Brendan Kennelly was also honoured by the
Sunday Independent
newspaper in February 2017. The paper ran their tributes over two weekends on 5 and 11 February 2017. Both features were accompanied by poems from
The Essential Brendan Kennelley: Selected Poems
. The four-page feature in Part One included an
interview with Brendan Kennelly
in County Kerry and concluded with an
article by by BBC journalist Fergal Keane
.
'Brendan Kennelly gave words to grief in the finest poem ever written about the Famine. 'My Dark Fathers' is one of the truly great poems to emerge from the fractured history of our island…' – Fergal Keane,
Sunday Independent
RTÉ Culture: Poem of the Week, online from Monday 23 January 2017
RTÉ's Culture's poem of the week for 23 January was Brendan Kennelly's well-loved poem 'Begin', as read by Brendan on
Sunday with Miriam
back in October 2016.
The piece includes links to Brendan's
Sunday with Miriam
interview of 9 October 2016, and to
The Poetry Programme
's Brendan Kennelly special from 30 April. The page was illustrated with photographs of Brendan, and included a link to
The Essential Brendan Kennelly: Selected Poems
.
Click here to view & listen
2016 IRISH RADIO FEATURES ON AND WITH BRENDAN KENNELLY
Sunday with Miriam, RTÉ Radio 1, Sunday 9 October 2016, 10-11am
Miriam O'Callaghan travelled to Co Kerry to meet Brendan Kennelly, in a special edition of the programme to mark Brendan's 80th birthday ahead of a tribute event at the Abbey Theatre in Dublin on 23 October 2016. Brendan spoke to Miriam about his life and career, about growing up in Ballylongford, and about returning to Kerry earlier in 2016. Brendan read some of his poems, all from memory: 'I see you dancing, father', 'Begin', 'Raglan Lane', an extract from Cromwell and 'The Gift'. Some of his favourite pieces of music were played.
The Poetry Programme: Brendan Kennelly Special, RTÉ Radio 1, Saturday 30 April 2016, 7.30pm
To mark Brendan Kennelly's 80th birthday, The Poetry Programme celebrated his life and poetry. Julien Clancy visited Ballylongford and spoke with Brendan's family and friends. The programme also featured archive clips of Brendan speaking on RTÉ Radio and poetry readings from the CD accompanying his Bloodaxe title The Essential Brendan Kennelly.

Click here to listen
To mark Brendan's 80th birthday, Bloodaxe posted audio recordings of five of his most popular poems on SoundCloud, which you can hear by clicking on the links below:
These recordings are taken from
The Essential Brendan Kennelly
, which is published both in paperback with an accompanying audio CD and as an enhanced ebook with audio, both editions including 36 audio files of Brendan reading his poetry.
You can also see Brendan reading five poems, including 'Begin', on
this video link
, and reading at Dublin's Abbey Theatre from his collection
Reservoir Voices
on
this video link
.
His available books are all shown
here
.
[01 June 2017]