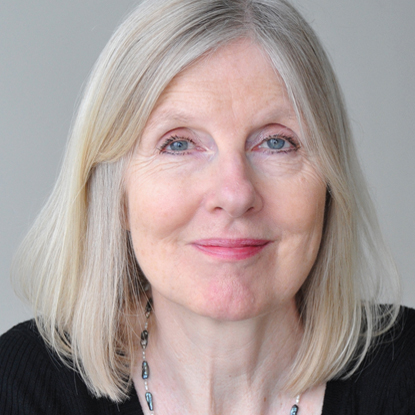 Helen Dunmore (1952-2017)
We are immensely saddened by the news that Helen Dunmore died on 5 June 2017. She was 64, and had been suffering from cancer.
She was one of Bloodaxe's first writers, publishing her first collection, The Apple Fall, in 1983, and went on to publish all her poetry with Bloodaxe. Her latest collection, Inside the Wave, which was her tenth poetry book, appeared in April of this year, includes poems relating to mortality drawing on premonitions and experiences of death and serious illness. She also published her final novel, Birdcage Walk, this spring, along with an article in The Guardian on facing mortality and what we leave behind, which can be read here. The day before she died, Inside the Wave was The Observer's Poetry Book of the Month, accompanied by the poem 'Terra Incognita' from the collection. Her final poem, 'Hold out your arms', written on 25 May just ten days before her death, was read on Front Row and published in The Guardian (it can be read here), and has been added to the reprint of Inside the Wave, which is now available.
Helen was widely admired as a poet, novelist, short story and children's writer. Her poetry books have been given the Poetry Book Society Choice and Recommendations, Cardiff International Poetry Prize, Alice Hunt Bartlett Award and Signal Poetry Award, and Bestiary was shortlisted for the T.S. Eliot Prize. Her poem 'The Malarkey' won the 2010 National Poetry Competition. Her earlier work is available in Out of the Blue: Poems 1975-2001 (2001), which was followed by Glad of These Times (2007), The Malarkey (2012). She published twelve novels and three books of short stories with Penguin, including A Spell of Winter (1995), winner of the Orange Prize for Fiction, Talking to the Dead (1996), The Siege (2001), Mourning Ruby (2003), House of Orphans (2006) and The Betrayal (2010), as well as The Greatcoat (2012) with Hammer, and The Lie (2014), Exposure (2016) and Birdcage Walk (2017) with Hutchinson.
Born in 1952 in Beverley, Yorkshire, she studied English at York University, and after graduating in 1973 lived in Finland for two years, before moving to Bristol.
In her tribute to Helen Dunmore in The Guardian, Kate Kellaway writes:
'She was – first and last – a poet. Her first collection, The Apple Fall, was published when she was 30, her last, Inside the Wave, in April this year. It was her 1988 collection, The Raw Garden, that established her, celebrating nature without flattery. She had an eye for the imperfection that makes beauty interesting (she read 'Wild Strawberries', a poem from this collection, beautifully on Radio 3's The Verb in February this year). In 2007, her poem 'The Malarkey', submitted anonymously, won the National Poetry Competition. It was, she said, about "what time takes away and how we take time for granted". Her last collection is her most spare and moving. Inside the Wave is smooth as a sea pebble and liminal – poised between life and death.' – Kate Kellaway, The Guardian
The Poetry Society's obituary includes some of the many tributes from writers and readers that have been posted on social media.
TRIBUTES ON BBC RADIO 3 & RADIO 4

Last Word, BBC Radio 4, Friday 16 June 2017, 4pm, repeated Sunday 18 June, 8.30pm

Radio 4's obituary programme included a recording of Helen reading the tile poem from Glad of These Times at the end of their 16 June edition. This recording was taken from The Verb: Helen Dunmore Special, originally broadcast in February 2017 and repeated on 9 June in tribute to Helen (no longer available online).

Click here to listen: (final item)

Front Row, BBC Radio 4, Friday 9 June 2017, 7.15pm

Radio 4's poet-in-residence Daljit Nagra paid tribute to Helen Dunmore on Front Row on 9 June. He described Helen as 'first and foremost a poet', and noted that Helen had been writing poetry for over a decade before she started writing novels. He was one of the judges for the National Poetry Competition the year that Helen Dunmore's poet (submitted anonymously) was the 'unanimous' winner. He quoted the first three tercets from that poem, which is the title poem of Helen Dunmore's 2012 collection The Malarkey. A clip of Samantha Bond's reading of Helen Dunmore's final poem 'Hold Out Your Arms', first broadcast on Front Row of 7 June, was also played.

Click here to listen

Woman's Hour, BBC Radio 4, Wednesday 7 June 2017, 10am

Presenter Jane Garvey paid tribute to Helen Dunmore on Woman's Hour on 7 June, and played a clip from Helen's last appearance on the programme, when she was speaking about her novel Exposure.
Click here to listen.


Front Row, BBC Radio 4, Wednesday 7 June 2017, 7.15pm
Front Row ran a tribute to Helen on 7 June. It followed an interview with the winner of the Bailey's Prize for Women's Fiction; Helen Dunmore was the first writer to win this prize back in 1990 when it was The Orange Prize. Helen's final poem 'Hold out your arms', written just 10 days before she died, was read by Samantha Bond. John Wilson noted that the poem is included of the reprint of Helen's final collection Inside the Wave.

Click here to listen.

The Verb: Helen Dunmore Special, BBC Radio 3, Friday 9 June 2017, 10pm (first broadcast 17 February 2017)
In tribute to Helen Dunmore The Verb repeated their extended interview with Helen that was recorded at her home last year, and which was first broadcast on 17 February 2017 The re-run went out on 9 June, and was preceded by a tribute from Ian McMillan:

'The whole of the literary world reacted with deep sadness to the death this week of the poet, novelist and creative writing teacher Helen Dunmore. We'd like to pay our own tribute to her by giving us all another chance to hear the programme we recorded with her last year, when she'd recently had the diagnosis of the disease that led to her death. What comes through here is the deep humanity, the empathy and the sympathy, and her love of language and the people who speak it and write it.' - Ian McMillan, speaking on Radio 3's The Verb, 9 June 2017
Programme details are here (no longer available to listen to).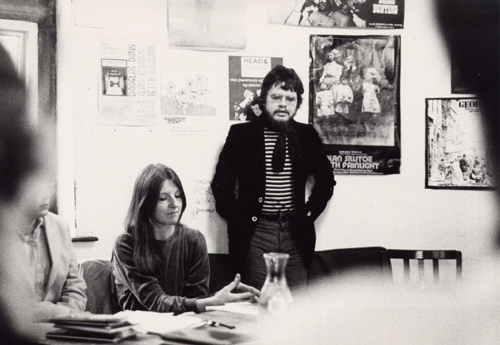 Helen Dunmore pictured in 1983 at the launch of her first collection, The Apple Fall, at Newcastle's Morden Tower. Neil Astley is introducing her with (far left) her fellow reader Carol Rumens. Photo by David James.
Helen Dunmore reads six poems
Filmed at her home in Bristol in June 2007, Helen Dunmore reads six poems: Wild strawberries', 'When You've Got', 'Candle poem', 'City lilacs', 'Glad of these times' and 'Dolphins whistling' from Out of the Blue: Poems 1975-2001 (2001) and Glad of These Times (2007). This film is from the DVD-book In Person: 30 Poets, filmed by Pamela Robertson-Pearce, edited by Neil Astley.
ONLINE INTERVIEW WITH HELEN DUNMORE
Poetry Spotlight, 5 October 2016
Helen Dunmore spoke to Poetry Spotlight in October 2015 about the underworld, illness and her then forthcoming collection Inside the Wave. Click here to read the interview
RADIO 4 INTERVIEWS WITH HELEN DUNMORE
Open Book, BBC Radio 4, Sunday 12 March 2017, 4pm, repeated Thursday 16 March, 3.30pm

A special edition of Open Book, recorded at Helen Dunmore's home in Bristol, aired on 12 March. Helen Dunmore was speaking about her new novel Birdcage Walk. She also spoke movingly about being diagnosed with a serious illness while writing this novel, and how that affected her work.
Click here to listen

[13 June 2017]