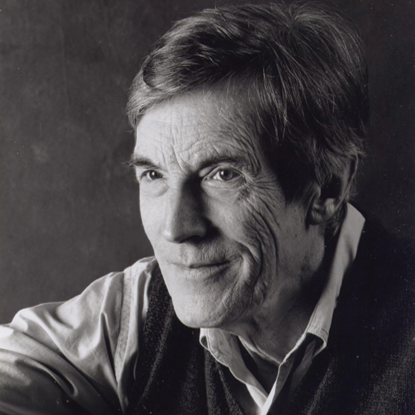 Richard Murphy (1927-2018)
The distinguished Irish poet Richard Murphy has died at the age of 90. He is known particularly for poems drawing on the people and history of the west of Ireland with classical rigour and 'unvarnished' clarity. He emerged in the 1950s with John Montague and Thomas Kinsella as one of the three major poets in the new Irish poetic renaissance.
His most celebrated work includes the poems written during his 20s and 30s when he lived on an island off the Irish coast, where he combined writing with running a boat, fishing and living off the land;; his sonnet sequence The Price of Stone (1985); and his vivid memoir The Kick (2002), which featured both island and literary life. His retrospective, The Pleasure Ground: Poems 1952-2012 – covering the work of sixty years – was published by Bloodaxe in 2013.
He died at his home near Kandy in Sri Lanka, where he had been living since 2007 and where he built a clay-tiled Octagon for writing, meditation and yoga on a hill-top just above his house. Born of an Anglo-Irish family in 1927 at Milford, near Kilmaine, County Mayo, he spent part of his childhood in Ceylon, where his father was the last British Mayor of Colombo. The other beloved place of his youth was the Aran island of Inishbofin. From the age of eight, he attended boarding schools in Ireland and England, winning a scholarship to Oxford at 17.
After years of displacement, marriage and divorce, he returned to Inishbofin in 1959 and settled for twenty years at Cleggan, writing there and on Omey and alone on High Island. He moved to Dublin in 1980, detaching himself from the beloved country of his past the better to reach it in poetry.
Richard Murphy won the Æ Memorial Award for his poetry in 1951. His lyric 'Years Later', which concludes the narrative of 'The Cleggan Disaster', won first prize in the Guinness Awards at the Cheltenham Literary Festival of 1962. The poem was submitted with a pseudonym and the judges were George Hartley, founder of the Marvell Press, Sylvia Plath, and the critic John Press.
His collection Sailing to an Island (Faber) was the Poetry Book Society Spring Choice in 1963. The Battle of Aughrim followed from Faber, and from Knopf in the US, in 1968. He received an Arts Council Award in Britain 1967 and received the Marten Toonder Award from the Arts Council of Ireland in 1980. He became a Fellow of the Royal Society of Literature in 1969 and a Member of Aosdána in 1982, and received the American Irish Foundation Literary Award in 1983. He received the Society of Authors Foundation Award in 2002.
The Price of Stone (Faber, 1985) was a Poetry Book Society Recommendation. One of the fruits of his long cultural engagement with Sri Lanka, The Mirror Wall (Bloodaxe Books, 1989), his translations of ancient travellers' love poems graffitied on the wall of a fortress at Sigiriya, received a Poetry Book Society Translation Award. His Collected Poems (Gallery Press, Ireland, and Wake Forest University Press, USA, 2000) was shortlisted for the Irish Times Poetry Prize. The Kick: a Memoir (Granta Books, 2002) was shortlisted for the J.R. Ackerley Prize in 2002.
His retrospective The Pleasure Ground: Poems 1952-2012 was published by Bloodaxe Books in Britain and by Lilliput Press – under the title Poems 1952-2012 – in Ireland in 2013, and was a Poetry Book Society Special Commendation. It expands the scope of his much acclaimed Collected Poems of 2000 to include a selection of new poems along with an appendix featuring illuminating commentary on the historical and personal background of some of his most notable work, including 'The Cleggan Disaster', 'The God Who Eats Corn', The Battle of Aughrim, and the poems of High Island.
Reviewing the book in The Irish Times, Michael Longley offered fulsome praise: 'Oscillating from beginning to end and from page to page between narrative and lyric, public and private, love poem and elegy, The Pleasure Ground is a hugely significant achievement. Now well into his ninth decade, Richard Murphy continues to be a poet of great fortitude and resource, one of the finest of our time.'
His last book, In Search of Poetry (Clutag Press, 2017), is a diary of the period when he wrote the sonnets of The Price of Stone, which ventriloquise buildings with which he had strong personal associations
The Irish Times published a full tribute to Richard Murphy on 31 January by many fellow poets, including Ireland's President Michael D. Higgins.
Click on this link to read their tributes.
Three of Richard Murphy's poems can be read on his book page on this website via this link [click on View Extract].
Richard Murphy leaves a daughter, Emily, three surviving siblings, Mary, Chris and Edward, and two grandchildren Theodora and Caspar Lee.
[Richard Murphy: born 6 August 1927, died 30 January 2018]
Richard Murphy reads 'Sailing to an Island'
Richard Murphy reads his poem 'Sailing to an Island' at his home near Kandy in Sri Lanka in 2015. From a film in progress by Peadar King first shown at INISH Festival on Inishbofin in May 2015.
Richard Murphy's house in Sri Lanka and the Octagon he built on the hill above.
[01 February 2018]