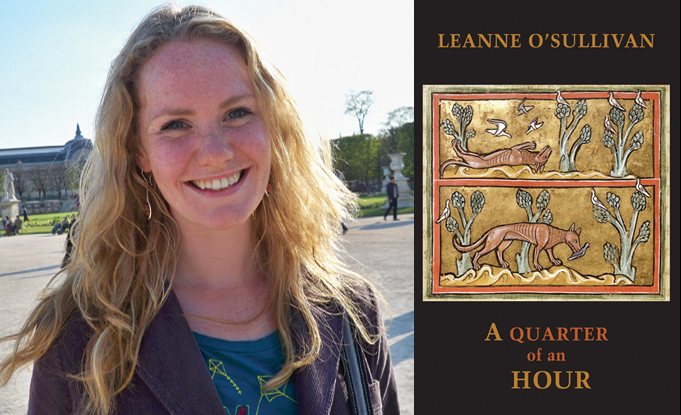 Leanne O'Sullivan: Press & Radio Interviews
'In each of her four books, Leanne O'Sullivan has managed the balancing act of fashioning striking individual poems while developing a book-length project. Skilful and soulful, her achievements as a writer are as clear as ever in her powerful new book, A Quarter of an Hour.' - John McAuliffe, The Irish Times
'The poems in the collection are… accessible, and yet multi-layered. To reach this degree of apparent simplicity while also rewarding the attentive reader with subtle echoes and variations is remarkable. So is the delicate balance between emotional tension and restraint that the poems achieve. A Quarter of an Hour is a rich, nuanced, and powerful volume, which confirms Leanne O'Sullivan's mastery of her art.' - Florence Impens, Dublin Review of Books

Cork poet Leanne O'Sullivan's new book-length sequence of poems explores the mysterious world of memory loss as experienced by her husband after a rare brain infection. A Quarter of an Hour was launched at the Cork International Poetry Festival on 13 February and in the UK at the Newcastle Poetry Festival in May. She will be giving more readings in Ireland in summer 2018. For details, click here.

In 2013 a brain infection caused Leanne's husband Andrew to fall into a coma lasting three weeks. When he came round, it was to almost complete memory loss. In beautiful poems that draw on Greek and Irish myth, Leanne charts her husband's illness from the moment it struck, through her long bedside vigil, and the years of total memory loss, to the slow process of gradual recovery of memory. The animals and birds that filled his mind at that time, and which he felt helped draw him back to reality, are depicted in poems that also raise awareness of other losses, such as ecological changes in the Arctic. Leanne spoke to the Irish Examiner about her husband's illness and miraculous recovery here.
A Quarter of an Hour was published on World Encephalitis Day. Leanne O'Sullivan's husband Andrew's illness was caused by herpes simplex encephalitis - the cold sore virus - which traveled into his brain.
IRISH RADIO INTERVIEWS

Arena, RTE Radio 1, Tuesday 20 February 2018, 7-8pm
Leanne O'Sullivan was interviewed on Arena. During this 16-minute interview, Leanne spoke about her husband's illness, his memory loss and the gradual process of recovery – the starting point of her book-length sequence of poems A Quarter of an Hour. She read her poems 'Lightning', 'The Cailleach to the Widow (after Lucille Clifton)', 'When Words' and 'Note'.

Click here to listen.

The Poetry Programme, RTE Radio 1, Sunday 25 March 2018, 7.30pm
A seventeen-minute interview with Leanne O'Sullivan went out in the first of the new series of The Poetry Programme on 25 March.
Introducing Leanne, Olivia O'Leary described A Quarter of an Hour as 'an extraordinary narrative of her husband's loss of memory through illness and his long two-year recovery.' Leanne read a selection of poems from the collection that reflect this frightening time, thoughts on loss and memory, and the role of animals, both the imaginary creatures that seemed to guide her husband back, and the real animals threatened by climate change. The poems read were 'Prayer', 'His Vision', 'Elegy for the Arctic', 'Love, where are we now?...' and 'Ghost', all from A Quarter of an Hour.
Click here to listen. Leanne's interview is the first item.


John McAuliffe's review in The Irish Times can be read in full here.
To read Florence Impens' wonderful essay-review in Dublin Review of Books, click here.
[19 June 2018]