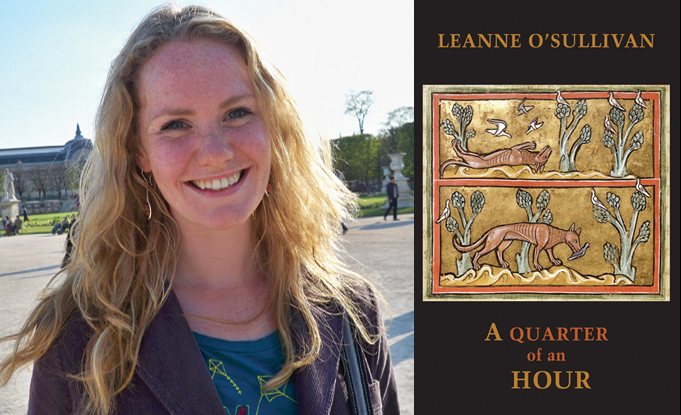 Leanne O'Sullivan Poetry Unbound Podcast, Interviews & Books of the Year
'It's been a wonderful year for poetry, and if I had to pick one book, I'd pick Leanne O'Sullivan's A Quarter of an Hour. It follows her husband Andrew, who had a terrible brain infection… and she's made a most marvellous book of love poems out of the conversation with Andrew.' – Theo Dorgan, speaking to Joe Duffy on Liveline, RTE Radio 1 (Books of the Year)
'New poetry collection highlights: Hannah Sullivan, Colm Keegan, Amy Key, Leanne O'Sullivan and Doireann Ni Ghríofa.' - Sinéad Gleeson, The Irish Times (Books of the Year 2018)
'I loved... Leanne O'Sullivan's beautifully imagined and well-made account of her husband's recovery from illness, A Quarter of an Hour.' - John McAuliffe, The Irish Times (Poetry Books of the Year)
'At once tender, exploratory and grace-filled, this finely orchestrated collection attests to the wholeness of natural life and, resonant with folkloric wisdom, it re-awakens the spirit to a fresh sense of the mystery and precariousness of our world. It is an astonishing achievement.' - Maurice Riordan, Judge, Farmgate Cafe National Poetry Award
Cork poet Leanne O'Sullivan's
A Quarter of an Hour
is book-length sequence of poems explores the mysterious world of memory loss as experienced by her husband after a rare brain infection. It won the inauguaral Farmgate Cafe National Poetry Award, and was shortlisted for both the
Irish Times
Poetry Now Award and the Pigott Poetry Prize 2019.
In 2013 a brain infection caused Leanne's husband Andrew to fall into a coma lasting three weeks. When he came round, it was to almost complete memory loss. In beautiful poems that draw on Greek and Irish myth, Leanne charts her husband's illness from the moment it struck, through her long bedside vigil, and the years of memory loss, to the slow process of gradual recovery of memory. The animals and birds that filled his mind at that time, and which he felt helped draw him back to reality, are depicted in poems that also raise awareness of other losses, such as ecological changes in the Arctic.
Theo Dorgan chose
A Quarter of an Hour
as his poetry book of the year on Joe Duffy's
Liveline
, RTE Radio 1,
on 19 December 2018. Listen
here
(forward to 1.03).
Leanne spoke to The Irish Examiner about her husband's illness and his miraculous recovery here.
Leanne O'Sullivan's poem 'Note' from A Quarter of an Hour (along with the title poem from Esther Morgan's T S Eliot Prize-shortlisted collection Grace) were among those 'poems to soothe the soul' chosen by Deborah Alma of the Poetry Pharmacy in The i Paper of 23 May 2020. Read the feature here.
The Daily Telegraph, Monday 14 September 2020

A feature on the August set of Poems on the Underground ran in The Telegraph of 14 September. Due to the lack of advertising on the tube during the pandemic, many more posters than usual were distributed across the underground network. They include one featuring Leanne O'Sullivan's poem 'Note' from her fourth collection A Quarter of an Hour. Leanne was pictured in colour for the article.
Bloodaxe poets George Szirtes and Imtiaz Dharker are helping with the Poems on the Underground poster selections. The choices for August 2020 set were carefully made to capture the mood of the times. The article ended with a comment from Imtiaz:

'Poetry reminds us we are human. The more reminders we have of that, the better.' – Imtiaz Dharker, The Telegraph

Article available in full by subscription. Sign up to see some articles for free.
https://www.telegraph.co.uk/books/authors/poems-providing-hope-comfort-wary-commuters/

PODCAST ON LEANNE O'SULLIVAN'S POEM 'LEAVING EARLY'

Poetry Unbound podcast, Friday 3 April 2020

Leanne O'Sullivan's multi-layered poem 'Leaving Early' from A Quarter of an Hour is featured on a special episode of the American podcast Poetry Unbound. This 3 April episode is dedicated to healthcare workers around the world.

Irish poet Pádraig Ó Tuama chose to read and discuss 'Leaving Early' because 'this poem, while it's written in an entirely different circumstance, has so many echoes for now.'

The poem is about one of the nurses who cared for Leanne's husband as he lay in a coma for three weeks following a brain infection. A Quarter of an Hour charts his illness, total memory loss, and gradual recovery in poems that are 'revelatory and strangely uplifting.' (Poetry Ireland Review)

The podcast, along with the poem and the full transcript, are here.

Extracts from Irish poet Pádraig Ó Tuama's Poetry Unbound podcast were broadcast on BBC Radio Ulster's arts show The Ticket on 9 April. Some of Pádraig Ó Tuama's comments on what it is like for healthcare workers during the pandemic were played, followed by his beautiful reading of Leanne O'Sullivan's poem 'Leaving Early' from her fourth collection A Quarter of an Hour. No longer available to listen to.

PODCAST FEATURING A POEM FROM THE MINING ROAD

Unlaunched Books podcast, Episode 3, online 16 April 2020

Poets John McAuliffe, Seán Hewitt and Victoria Kennefick host the new Unlaunched Books podcast from Poetry Ireland.

Leanne O'Sullivan's poem 'A Healing' from her 2013 Bloodaxe collection The Mining Road was read by Mountains to Sea festival Director Liz Kelly, who called Leanne 'one of my favourite poets'.

Liz read the poem at 36.30. Listen via SoundCloud. The first half hour of the episode is devoted to an interview with fellow Bloodaxe Cork poet Roisin Kelly about her debut collection Mercy.
https://soundcloud.com/poetryireland/unlaunched-books-episode-3

IRISH RADIO INTERVIEWS WITH LEANNE O'SULLIVAN
The Lyric Feature: Home Againe, Lyric FM, Sunday 9 December 2018, 6pm

Leanne O'Sullivan contributed to a programme written and presented by John McAuliffe about the work of the Elizabethan poet Edmund Spenser. Leanne was speaking about how her husband losing his memory led her to read Spenser's The Faerie Queene. She read half of her poem 'Anamnestes' from A Quarter of an Hour. This is one of two poems in the book prompted by The Faerie Queene.

Click here to listen. Leanne's contribution is from 26:00.

Arena, RTE Radio 1, Tuesday 20 February 2018, 7-8pm
Leanne O'Sullivan was interviewed on Arena. During this 16-minute interview, Leanne spoke about her husband's illness, his memory loss and the gradual process of recovery – the starting point of her book-length sequence of poems A Quarter of an Hour. She read her poems 'Lightning', 'The Cailleach to the Widow (after Lucille Clifton)', 'When Words' and 'Note'.

Click here to listen.

The Poetry Programme, RTE Radio 1, Sunday 25 March 2018, 7.30pm
A seventeen-minute interview with Leanne O'Sullivan went out in the first of the new series of The Poetry Programme on 25 March.
Introducing Leanne, Olivia O'Leary described A Quarter of an Hour as 'an extraordinary narrative of her husband's loss of memory through illness and his long two-year recovery.' Leanne read a selection of poems from the collection that reflect this frightening time, thoughts on loss and memory, and the role of animals, both the imaginary creatures that seemed to guide her husband back, and the real animals threatened by climate change. The poems read were 'Prayer', 'His Vision', 'Elegy for the Arctic', 'Love, where are we now?...' and 'Ghost', all from A Quarter of an Hour.
Click here to listen. Leanne's interview is the first item.


REVIEW COVERAGE
'In each of her four books, Leanne O'Sullivan has managed the balancing act of fashioning striking individual poems while developing a book-length project. Skilful and soulful, her achievements as a writer are as clear as ever in her powerful new book, A Quarter of an Hour.' - John McAuliffe, The Irish Times
John McAuliffe's review in The Irish Times can be read in full here.
'The poems in the collection are… accessible, and yet multi-layered. To reach this degree of apparent simplicity while also rewarding the attentive reader with subtle echoes and variations is remarkable. So is the delicate balance between emotional tension and restraint that the poems achieve. A Quarter of an Hour is a rich, nuanced, and powerful volume, which confirms Leanne O'Sullivan's mastery of her art.' - Florence Impens, Dublin Review of Books
Florence Impens' wonderful essay-review in Dublin Review of Books can be read in full here.
[21 March 2019]